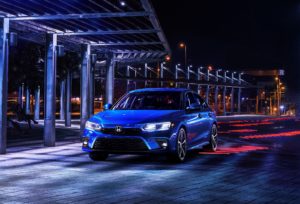 Honda on Wednesday revealed the production version of a next-generation 2022 Civic it said featured an "(e)nhanced architecture and stronger body" and ADAS and airbag upgrades.
A Honda spokesman said more details on the body structure and lightweighting would be available following a press event in late May. However, the OEM still offered collision repairers several pieces of relevant information in the news release Wednesday.
The 2022 Civic carries the next-generation Honda Advanced Compatibility Engineering body architecture, which Honda said was meant to cut weight and meet future collision standards.
"This is achieved with the extensive use of lightweight materials, such as aluminum and various grades of high-strength steel, as well as an expanded application of structural adhesives," Honda wrote in a news release.
The prior-generation Civic used an aluminum bumper beam and a composite lower front bulkhead but otherwise drew on steel for protection and lightweighting (And Honda is very specific about how you repair, replace and weld that metal). It'll be interesting to see if Honda leans on nonferrous substrates more this time. Honda did also note Wednesday that the chassis contained an "all-new and lighter aluminum front subframe with an efficient truss and rib structure," which produced stability and rigidity.
"The Advanced Compatibility Engineering™ (ACE™) body structure in the new Civic has been enhanced for even better compatibility with larger vehicles," Honda wrote. "This includes improved occupant protection in angled frontal collisions, with a new upper A-pillar structure, side frame and lower firewall structure—all designed to route crash energy around the cabin. Side impact protection also has been improved, with stiffer structures in the roof, side sill and B-pillar, doors, and the rear wheel arch and C-pillar."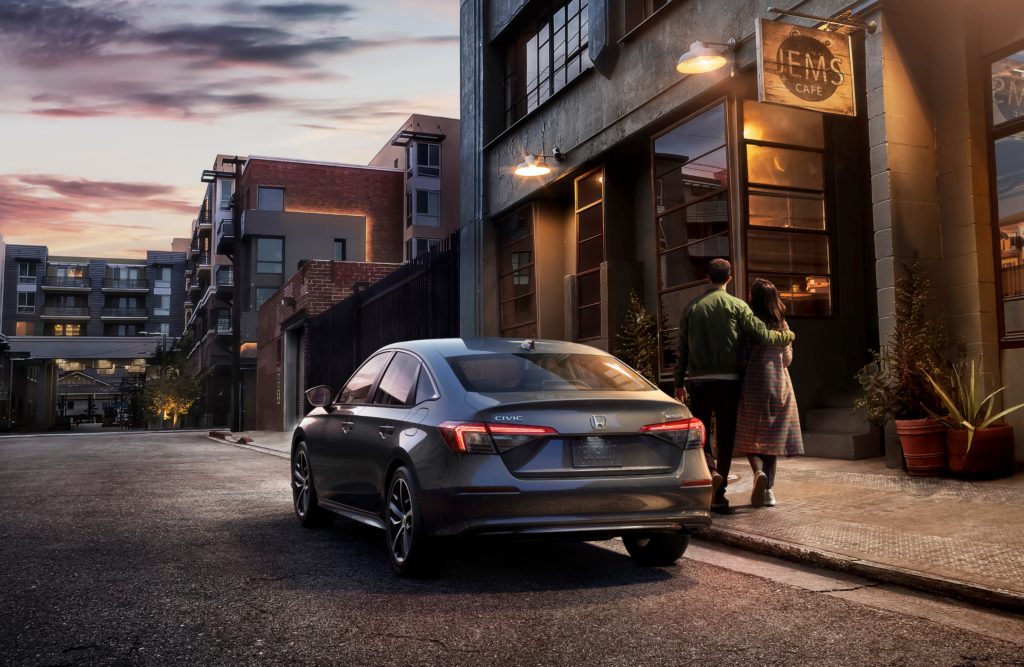 The outgoing 2016-21 Civic carried Honda's 1,500-megapascal "door rings," which spread the light, strong metal throughout the A- and B-pillars and side sills and reaching back to the C-pillar. After the door rings end, the sedan's C-pillar shifts to 590 MPa steel. The old Civic's rear wheel arches were mild steel, and the kickout panel appears to be 440 MPa, based on a Honda Body Repair Information.
Honda said the 2022 Civic body would be "the most rigid in Civic history, with an 8 percent improvement in torsional rigidity and 13 percent improvement in bending rigidity versus the previous generation." This would seem to suggest some combination of higher-strength steels, structural component redesigns and revised joining strategies.
The stiffness would improve the ride and handling and reduce noise, vibration and harshness, including cutting road and wind sounds, according to Honda.
Moving down to the suspension, Honda said the MacPherson front struts have "new low-friction ball joints," and Honda expanded and upgraded bushings within the rear suspension.
Over on the outside of the vehicle, repairers will encounter parts designed not just for their customer but for anyone that customer should happen to strike with the vehicle.
"The 2022 Civic features a new front bumper beam safety plate designed to decrease leg injuries and a hood with an embossed inner structure designed to improve head protection performance," Honda wrote. It's an additional form of crashworthiness shops must recognize.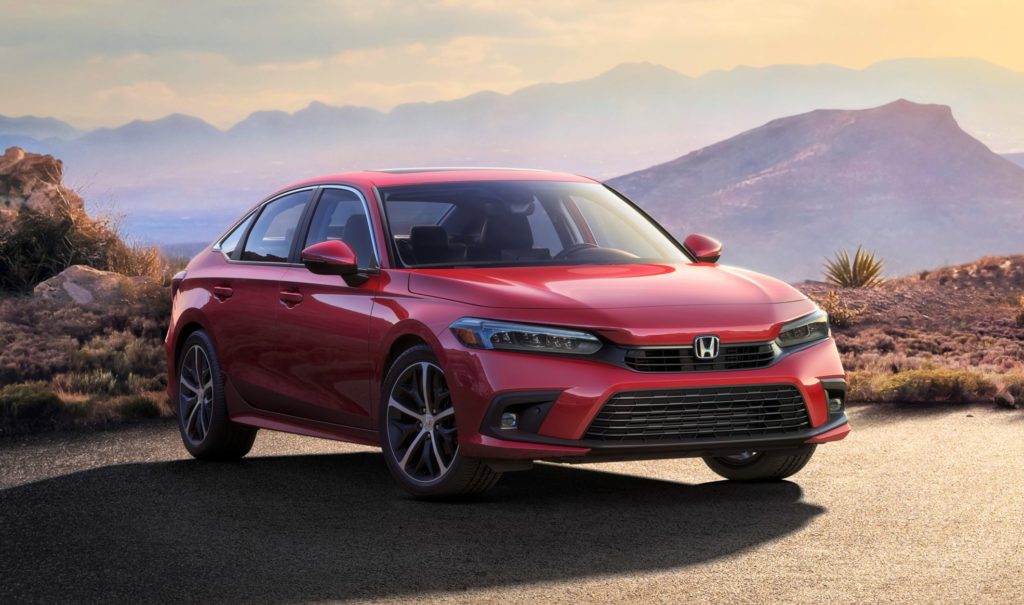 Other exterior details include:
The side mirrors are attached to the doors.
Honda highlighted certain body lines. "A sharp shoulder character line carves a gentle arc from the front fender to the taillights, giving continuity to the design," the OEM wrote. "The lower character line carries up from the bottom of the front door, rising across the rear doors, and through the rear fenders for an enhanced sense of motion."
The trunk lid is "upswept and aerodynamically efficient"
The taillights are LEDs, as are "the wide-set headlights, daytime running lights, parking lights, and available fog lights."
Painters will encounter eight colors, including three new ones: "Sonic Gray Pearl," "Meteorite Gray Metallic," and the Civic-exclusive "Morning Mist Blue Metallic."
Finally, body shops will note 10 airbags, including the first rear seat side airbags found on a Civic. The OEM also will upgrade the driver and passenger front airbags in what it called "a world's first application." (Emphasis Honda's.) The driver's airbag "uses an innovative donut-shaped structure to cradle and hold the head to reduce rotation," while the passenger airbag features a three-chamber design.
ADAS
As far as advanced driver assistance systems, Honda continues to offer standard the Honda Sensing suite which includes features like autobraking and lane-keeping. The OEM indicated it ceased to use radar in favor of a better camera.
"The standard Honda Sensing® suite of active safety and driver assistive technologies uses a new single-camera system that provides a wider field of view than the previous radar-and-camera based system," Honda wrote. "Combined with software advances and a new, more powerful processor, the system is also capable of more quickly and accurately identifying pedestrians, bicyclists and other vehicles, along with road lines and road signs."
Honda said it expanded Honda Sensing's adaptive cruise control capabilities to include a Traffic Jam Assist edition able to work in low-speed congestion. The OEM also said certain artificial intelligence braking and steering behavior should feel more natural.
The Touring trim also will come standard with eight sonar sensors, which enable the Civic's first low-speed braking capability. The feature will let the car autobrake for an obstacle in slow-moving situations like parking.
More information:
"All-New 11th Generation Civic Sedan Fully Revealed in Production Form with Sporty Design, Advanced Technology, Cutting-Edge Safety Features"
Honda position statements and Body Repair News bulletins/overviews
Featured images: The 2022 Honda Civic Touring is shown. (Provided by Honda)
Share This: