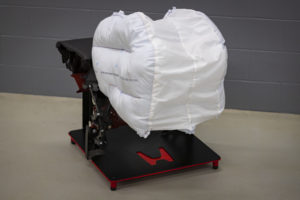 Honda last month announced it would begin installing "an innovative new passenger front airbag technology" in new vehicles starting in 2020.
Honda spokeswoman Jessica Pawl confirmed it "will be standard on the vehicle it debuts on, as well as future vehicles in which it is implemented."
Honda said the new three-chamber airbag was meant to address more frontal crash scenarios than a traditional airbag.
"It is particularly beneficial in angled frontal impacts in which lateral collision forces can cause an occupant's head to rotate severely or slide off the airbag, increasing the chance of serious injury," the OEM wrote in a news release Aug. 23.
Honda likened the design to a "baseball catcher's mitt."
"Unlike conventional airbag systems that rely on a single inflatable compartment, the new system utilizes four major components: three inflated compartments — a center chamber and two outward-projecting side chambers that create a wide base across the dash — along with a 'sail panel' that stretches between the two side chambers at their outermost edge," the OEM wrote. "Operating something like a baseball catcher's mitt, the sail panel catches and decelerates the occupant's head while also engaging the side chambers, pulling them inward to cradle and protect the head, mitigating the potential for injury."
Honda said it worked with Autoliv and studied "real-world crash events" to create the airbag.
"This new airbag technology represents Honda's continuing effort to advance safety performance in a wider variety of crash scenarios and reflects the innovative thinking that our engineers are bringing to the challenge of reducing traffic injuries and fatalities," Honda R&D Americas President Jim Keller said in a statement. "Guided by Honda's 'Safety for Everyone' commitment, our engineers recognize that their work on this type of breakthrough safety technology will have  far-reaching effects on peoples' lives for many years to come."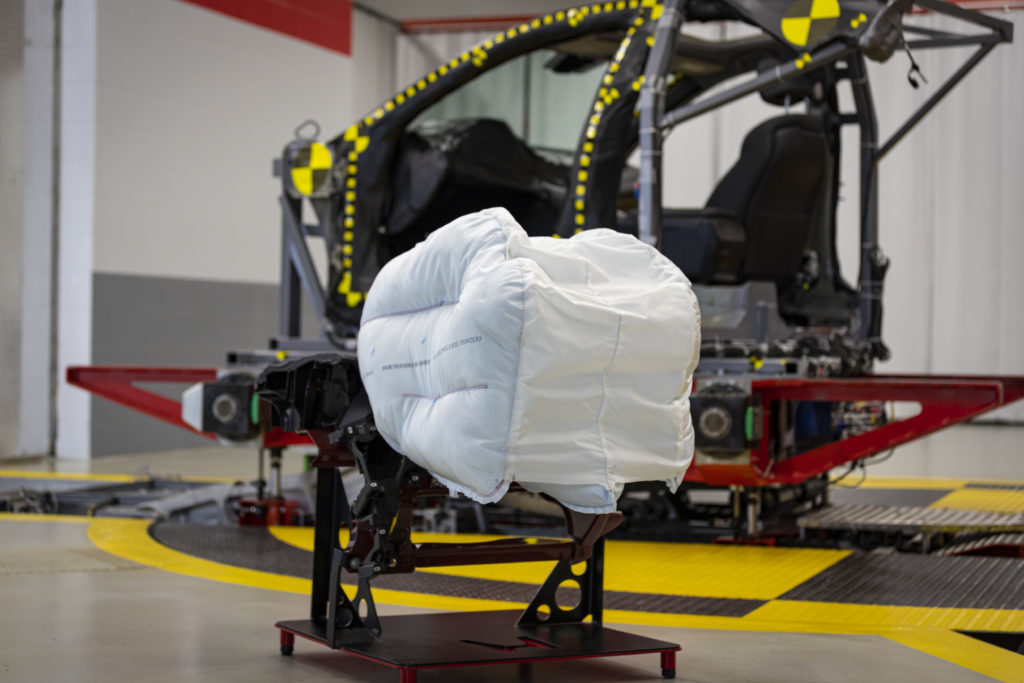 The news release raises the question of if the new airbag format would add severity to a collision repair but save insurers money on bodily injury or other medical claims.
Pawl said she couldn't at this time share information on the cost of the new airbag compared to a traditional one.
The airbags for now are limited to the passenger-side of the vehicle, Pawl confirmed.
"Honda's new airbag is specifically a passenger front airbag and is being introduced based on its readiness for the mass market," she wrote.
"The design, mechanics and packaging of a driver's bag are substantially different, but that's something we are continuing to work on."
Asked if the vehicles would spread to Acuras and if any vehicles would be left out of the rollout, Pawl replied: "This technology needs to be integrated with the fundamental vehicle design and so it's something that will be tied to major new model launches, which is a process that will take a number of years. I can't really be more specific than that."
Safety through ADAS, self-driving tech
Honda also Aug. 23 provided an update on the rollout of its advanced driver assistance system suites Honda Sensing and AcuraWatch, systems which are likely to erode collision repair frequency — and even severity.
Honda in 2018 reported that an Insurance Institute for Highway Safety study of "more than 327,000 total insured vehicle years" of 2016 Accords, Civics and Pilots found lower frequency and lower repair orders.
"When looking at the benefits of Honda Sensing, particularly the utility of the Forward Collision Warning and Collision Mitigation Braking System (with automatic emergency braking or AEB), the study concluded that even if a crash is not avoided, it is likely the striking vehicle at least slowed before the crash due to those systems, and noted the likelihood of injury is reduced when speed is reduced," Honda wrote.
Severity fell $379, and property damage claim frequency fell nearly 11 percent if a vehicle had Honda Sensing equipped. Injury frequency fell 28 percent.
Every 2019 or newer Honda offers the Honda Sensing suite standard or as an option. All 2019 and newer Acura sedans and SUVs carry AcuraWatch standard.
Honda in 2018 said the Honda Sensing suite included:
• Collision Mitigation Braking System (CMBS™) – can apply brake pressure when an unavoidable collision is determined
• Forward Collision Warning (FCW) – can detect the presence of vehicles in front, activating audio and visual alerts to warn the driver if they are at risk of collision
• Lane Keeping Assist (LKAS) – can help bring the vehicle back to the center of a detected lane when unindicated lane drift is determined
• Road Departure Mitigation (RDM) – can adjust steering and braking if you cross detected lanes without signaling
• Adaptive Cruise Control (ACC) – can maintain a set following interval behind detected vehicles as well as maintain a set speed (Minor formatting edits.)
Acura describes similar features in AcuraWatch.
Honda said it was "aggressively" installing both suites and would make them standard "on nearly all" models by 2022. The OEM is among the automakers who've committed to make at least autobraking standard by 2022.
The company also said it sought to sell cars with "highly automated highway driving capability" in 2020 — and "SAE Level 4 automated vehicles for personal use" in 2025. It made a similar promise in 2017, and it's interesting to see that the company hasn't backed off now that it's closer to the deadline.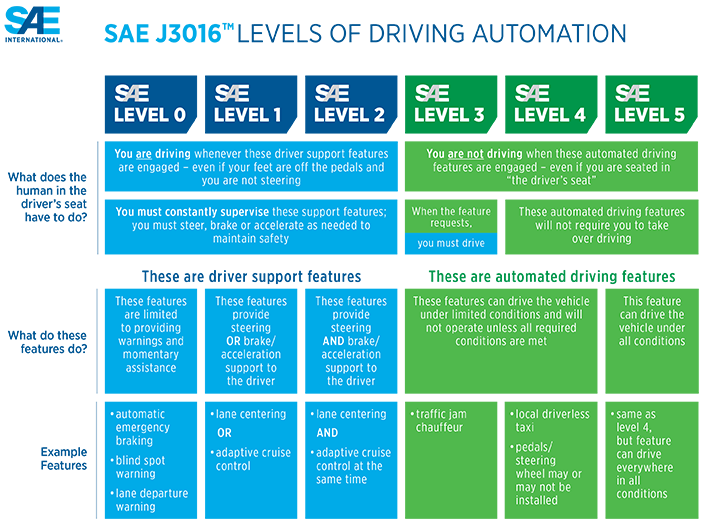 General Motors subsidiary Cruise recently dialed back its delivery date for self-driving Chevrolet Bolts "beyond the end of the year," delaying execution on an earlier promise to have the tech in 2019.
In Level 4, the human isn't necessary; the vehicle can self-drive just fine — but within in a designated set of conditions. (For example, a well-mapped portion of a city at speeds 20 mph or less.) Level 5 is a vehicle able to go on-road anywhere an average human driver could reasonably go.
More information:
"Honda Announces New Passenger Front Airbag Design to Reduce Traffic Injuries and Fatalities in Wider Variety of Frontal Collisions"
Honda, Aug. 23, 2019
"Honda Reaches One Million Vehicles with Honda Sensing® on U.S. Roads"
Honda, April 10, 2018
"SAE International Releases Updated Visual Chart for Its 'Levels of Driving Automation' Standard for Self-Driving Vehicles"
SAE, Dec. 11, 2018
Images:
Honda last month announced it would begin installing "an innovative new passenger front airbag technology" in new vehicles starting in 2020. (Provided by Honda)
SAE's levels of automation are explained in this graphic issued by the organization Dec. 11, 2018, following a revamp of the definitions. (Provided by SAE)
Share This: