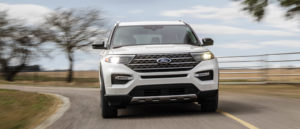 Ford on Monday issued position statements barring all bumper fascia repairs on vehicles equipped with advanced driver assistance systems.
"Repair of bumper fascias using fillers, reinforcement tape, hot staples or plastic welding can adversely affect ADAS operation," Ford wrote Monday in separate but essentially identical position statements for Ford and Lincoln vehicles. "For this reason, Ford Motor Company is limiting repairs on front and rear bumper fascias on all Ford Motor Company vehicles equipped with any ADAS features to topcoat refinish only. …
"Any bumper fascia damage that requires substrate repairs must be replaced."
Ford warned that repairing "sonic-welded sensor retainer rings or tabs" is also forbidden, "due to possible misalignment and incorrect operation of the sensor."
Ford encouraged repairers to only use new OEM parts when replacing a bumper, citing the risk someone had repaired a reconditioned or recycled one once before.
A shop's ability to refinish the bumper fascia isn't absolute. Ford bans topcoat refinishing which exceeds 12 mills (300 microns) of coating, and it said repairers should measure this with an ultrasonic paint thickness gauge. The OEM suggested the PosiTector 200 or Phase II UTG-2900 it sells on the official Ford equipment site Rotunda.
Finally, customers and shops might be unable to use certain bumper adornments, according to Ford. Ford says that wraps, aftermarket accessories and even bumper stickers "in the area of the fascia can create system operation concerns."
Ford ended the position statement with a plug for using its own scan tools and following OEM procedures.
More information:
Ford "Bumper Fascia Repair with Advanced Driver Assistance Systems (ADAS)" position statement
Ford, May 3, 2021
Lincoln "Bumper Fascia Repair with Advanced Driver Assistance Systems (ADAS)" position statement
Ford, May 3, 2021
Ford Rotunda tools and equipment website
Featured image: The 2021 Ford Explorer King Ranch edition is shown. (Provided by Ford)
Share This: