Mazda will not require dealer sponsorship, cap the number of facilities, or ban alternative parts in its certified Mazda Collision Network, the OEM confirmed Saturday in an interview exploring and explaining multiple aspects of the program announced Tuesday.
"Dealer sponsorship is not required to join the network," Mazda aftersales and technical services division Vice President Rob Milne wrote in an document Saturday replying to our emailed questions. "Mazda dealers have working relationships with their local collision repair facilities and are actively referring their business partners to the program. Repairers may apply to join the program with or without a dealership referral."
Mazda North America said the OEM had about 620 dealers in 2020. They sold 279,076 Mazdas last year, an increase from 2019 despite the COVID-19 pandemic economy.
"We have a strategy in place to build out our network and provide vehicle owners with the convenience of using a nearby facility that has demonstrated its commitment to proper and safe repair of Mazda vehicles," Milne wrote. "Currently, there is not a specific target number of locations or a cap on participation. As the network grows, ongoing evaluation will consider factors such as the proximity of the shops to our dealer network locations and Mazda Vehicles in Operation (VIO) in each market."
Certified shops will have the flexibility to use alternative parts, though Mazda only recommends OEM components.
"As per our position statement: 'Mazda North American Operations recommends that all maintenance and collision repairs are performed using Mazda Genuine Parts,'" Milne wrote. "There is no requirement for 100% OEM part usage at this time."
The automaker also has opted not to restrict the sale of certain parts (such as structural component) exclusively to the Mazda Certified Network. Some OEMs have adopted such parts restrictions as a quality control measure.
"Currently there are no restrictions on Mazda parts," Milne wrote. "We will continue to evaluate this as vehicle technology evolves."
Restricted parts can provide an easy marketing tool for certified repairers by creating a captive audience for their work. Without such a policy, more effort could be necessary by the certified shops, their dealers and the OEM to get Mazda owners to visit certified shops.
Mazda in a FAQ posted last week said it won't be promoting shops at the moment a crash is detected, but "(a)s vehicle connectivity increases, a process will be considered. Certified shops will be promoted on a facility locator and on the www.mazdausa.com website, Mazda said last week.
"Once the online locator is available, Mazda will also promote the Network through its Customer Experience Center by directing Mazda customers to the shop locator and answering consumer FAQs," Mazda wrote in the FAQ. "Additionally, participating shops that are 'Active' in the Network can highlight their involvement on their websites and at their facilities using the Mazda-provided digital logo and printed Network member certificate."
We asked if Mazda planned a more active form of promotion than a locator, such as email blasts to consumers or dealers providing information to customers.
"Plans are to bring awareness to the program by hosting program information and the shop locator on MazdaUSA.com, Milne wrote. "When the shop locator is available, Mazda will work with its dealers and Customer Experience Center to refer customers to the shop locator for their collision needs as needed. Additional program promotions are being evaluated."

Mazda tapped Mitchell to administer the certified collision repair network and provide its virtual audits. The OEM will also require certified auto body shops to have Mitchell's estimating software and use it for Mazda repairs. This decision is interesting in light of GM's recent announcement it would drop an identical requirement after three years and join many other certifying OEMs in being information provider-agnostic.
"The program seeks to deliver vehicles that are properly and safely repaired consistent with Mazda repair procedures, and to provide excellent service to the vehicle owner," Milne explained of the Mitchell software requirement. "Like most OE programs, it is difficult to monitor the vehicle repairs through onsite inspection of repairs in process. Mitchell's Freedom Platform tracks KPIs that measure performance related to repair quality – and this capability is not available in an 'open platform' environment. Mazda will receive metrics on not just CSI and cycle time on all repairs, but also important indicators of quality repair, such as acknowledgment of OE repair procedures related to each specific repair, performance of pre- and post-scans, and completion of a QA process."
The General Motors-Mitchell partnership led to Mitchell carrying integrated OEM repair procedures GM had embraced and said would be updated to reflect changes to official GM instructions more rapidly than other third-party aggregators. (Mitchell said its software continues to feature faster repair procedure updates even after the GM-Mitchell certified repair partnership ended.)
But other automakers have warned that third-party aggregator websites might fail to accurately reflect the repair procedures found in the official OEM instructions online. They encourage auto body shops to use the official OEM websites.
We asked Mazda to discuss the Mitchell repair procedure integration and if it was confident the information provider could consistently match www.mazdaserviceinfo.com.
"Mitchell's editorial process involves the Mitchell editors accessing Mazda repair information directly from the Mazda technical site and updating it in the TechAdvisor database used by the Mitchell Cloud Estimating platform," Milne wrote. "Mitchell and Mazda continue to work on enhancements to this process to expedite updates. Having metrics around repair procedure usage is a key component of the network. With Mitchell Cloud Estimating and its integrated repair procedures, we're able collect these metrics and act on the insight they provide."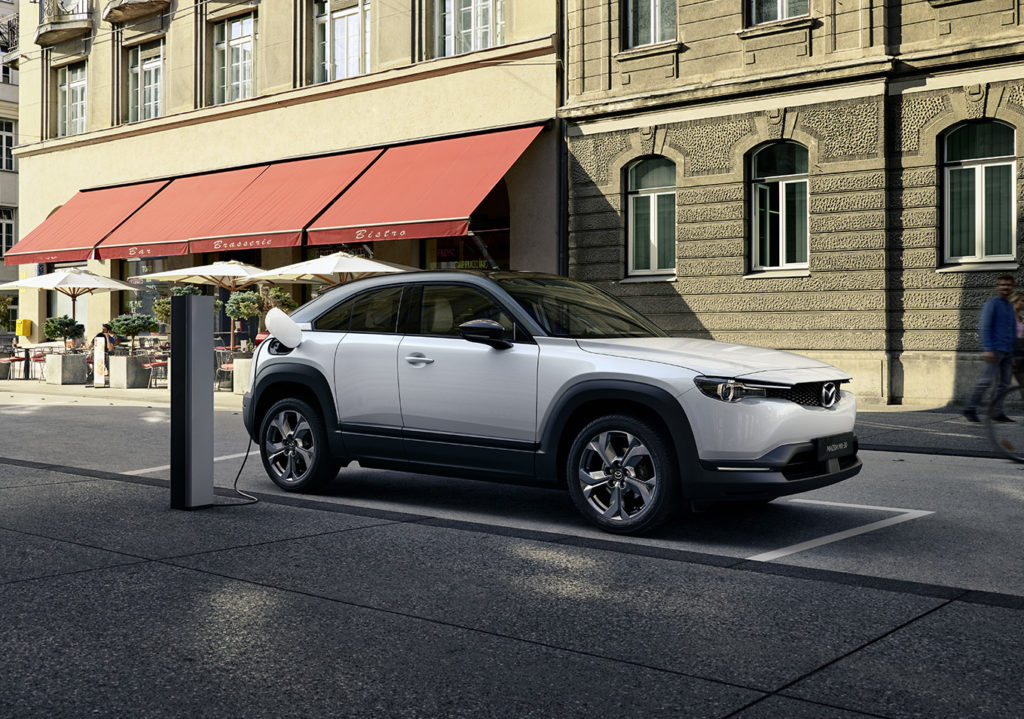 Mazda also has displayed confidence in Mitchell's third-party aftermarket scan tools, approving models running only aftermarket scanning software to meet its certified shop equipment requirements. Mazda-certified shops can use either the official Mazda IDS software; the asTech; the AirPro; an unspecified Opus IVS device or devices; or the Mitchell MD-500, MD-350, MD-200 or MD-OEM, according to the OEM's program equipment list. Pre- and post-repair scans are required.
Some other certifying OEMs have allowed aftermarket scanning devices, but only if the tool is running official OEM software, such as through the SAE J-2534 standard or the asTech's ability to connect to a remote OEM scan tool. OEM software that's been incorporated into a third-party operating system doesn't count.
Some of Mitchell's scan tool portfolio lacks J-2534 capabilities. We asked Mazda about its decision to accept the full Mitchell product line and asked if the Opus, AirPro, and asTech devices were permitted to run aftermarket software too.
"Mazda has a close working relationship with Bosch and, as a result, we have approved the Bosch diagnostic tools that are utilized in the Mitchell Diagnostics products," Milne replied. "As the program matures, we will continue to review tool and equipment needs and, as new technology comes to market, we will make any adjustments necessary to the approved tool and equipment list. The current list reflects all approved solutions currently."
Mazda also clarified another aspect of its required equipment list.
The automaker mandates that its certified network have "(s)teel dent removal/pulling system with stud welder/pins and pulling attachments." We asked about glue pulling, an alternative which provider KECO says has been growing in popularity. Milne said that was OK too.
"Either a stud-welding dent pulling equipment, or a glue-pulling dent kit is acceptable," he wrote.
Shops can learn more about the Mazda Collision Network and apply to join it here.
More information:
"Mitchell Teams With Mazda North American Operations to Launch U.S. Collision Repair Network"
Mitchell, May 4, 2021
Mazda core certified program requirements
Mazda Collision Network information and applications
Mazda Collision Network brochure
Images:
A 2019 Mazda MX-5 Miata RF is shown. (Provided by Mazda)
Mazda is launching a certified auto body repair program. (Provided by Mitchell)
The fully electric 2022 Mazda MX-30 is shown. (Provided by Mazda)
Share This: