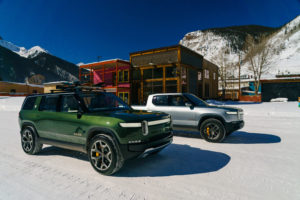 The electric vehicle manufacturer Rivian says it will offer its own auto insurance for its inaugural R1T truck and R1S SUV, which begin deliveries this summer.
The OEM said customers would find it easy to get a quote when buying a Rivian, and it plans to offer a discount by default in recognition of its standard "Driver+" advanced driver assistance suite.
In fact, Rivian is apparently so confident in its ADAS that it will lower the rates further for consumers who consistently use the hands-off, eyes-on Active Driving Assistance feature. The technology involves the vehicle handling the steering and speed while the consumer supervises and stands ready to take over if a problem appears imminent. It's basically rewarding drivers for letting the car take over more of the driving.
"With Active Driving Assistance engaged, you can keep your hands off the wheel and feet off the pedals and your vehicle will automatically steer, adjust speed, and change lanes on your command on the highway," Rivian writes in a customer-facing Q&A. "Because our sensor technology is so comprehensive and improves your safety, when you opt into the insurance rewards program, the more often you engage Active Driving Assistance, the larger the reward you could earn at renewal. Insurance rewards will be offered in select states with plans to expand soon."
According to Rivian, Driver+ uses 11 cameras, five radars and 12 ultrasonic sensors.
If the OEM (who is underwritten by Nationwide) is betting the insurance product's financial health on the vehicle's ability to avoid crashes, it might be more responsive than traditional insurers to collision repairers who wish to fix vehicles properly.
Rivian highlights its certified auto body shops as an important element of its insurance.
"We understand our vehicle, our technology and our repair costs better than anyone," the OEM writes. "This allows us to quickly and comprehensively diagnose issues — many times even remotely — as well as identify solutions faster. This efficiency not only helps get your vehicle back to you more quickly, it helps us offer lower premiums.
"With Rivian Collision Centers and Service Centers performing the work, we can ensure high-quality repairs. By working as one team with Rivian Service and Parts, we're confident your experience using Rivian Insurance will be transparent and less stressful, allowing you to get back to enjoying your vehicle faster."
The R1T Launch Edition coming in June starts at $75,000, but the base model will cost $67,500 when it goes on sale in January 2022. The R1S Launch Edition arriving in August starts at $77,500, and the base model arriving in January starts at $70,000.
Rivian said customers can also bundle its insurance with home and boat coverage.
Rivian did not respond to a request for more information on Rivian Insurance.
More information:
Featured image: The fully electric Rivian R1S SUV, left, and the fully electric Rivian R1T truck are shown in a 2019 photo. (Ben Moon for Rivian)
Share This: