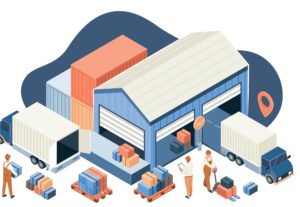 A semiconductor shortage has been a hot topic for automobile manufacturing, and reports of a collision part shortage have arisen and persisted "since early January," according to PartsTrader Chief Innovation Officer and industry analyst Greg Horn.
But while OEMs are likely to continue to have supply constraints, collision industry data so far this year showed little indication the aftermarket was so afflicted, Horn demonstrated in a quarterly presentation Tuesday.
Horn dismissed the notion that shipping tie-ups in the Port of Los Angeles and Suez Canal had affected collision parts supply.
He did note Texas outages which affected the supply of seat foam and plastic trim. However, Horn said this constraint like the semiconductor shortage only applied to parts intended to be installed at the factory — not in the aftermarket.
The only tangible collision parts issue he said he'd heard was a COVID-19 illness-related disruption in two OEMs' Mexican operations.
"We haven't heard of anything on the aftermarket (parts) side," Horn said.
But the parts inventory itself wasn't affected by COVID-19 — workers just weren't available to ship them, according to Horn.
"That is a very temporary situation," Horn said.
Enterprise length-of-rental data related to collision repair found customers borrowing cars for just a tenth of a day longer in the first quarter of 2021 compared to 2020, Horn said. The 13.3-day rental duration for January-March was "essentially flat" over the prior year, he said.
Essentially, if parts shortages were an issue, such a trend wasn't showing up in cycle times.
Horn then presented data from PartsTrader, which he said now processes $100 million in parts sales monthly.
According to a slide, quoted delivery times fluctuated between 2.1 and 2.2 days in January-April 2021. April's 2.2 days for parts delivery had barely risen from the two days quoted in April 2020. Horn called the trend "incredibly flat" and suggested it meant sellers weren't finding parts out of stock and having to source them from further away.
Looking at parts for just the 2020 and 2021 model years, "we actually see a decrease in the quoted time," Horn said. He called this "truly amazing."
Quoted delivery times in January-April ran 2.8 days each month with the exception of March, which stood at 2.6 days. A year ago, vendors were quoting 3.1 days in April 2020.
Horn also presented information on the amount of vendors competing for business.
The average estimate includes 10 parts needing replacement, according to Horn. Each of those parts averaged 8.1 quotes in April 2021 "according to the insurance company's parts policy," Horn said. In April 2020, the average part had 8.3 quotes.
For the 2020 and 2021 model years, the number of quotes rose between April 2020 and April 2021, from 4.4 quotes to 5.1 bids. Horn attributed the increase to more dealer groups using PartsTrader than a year ago.
The data here seems to suggest sellers still have access to parts, for a vendor without inventory would have no reason to bid.
Finally, Horn presented pricing data for five classes of parts: new OEM, OEM "Conquest," recycled, aftermarket and "OEM Surplus."
Three of the categories hadn't seen much change.
OEM conquest parts were "fairly flat," Horn said. They averaged $263 in the first quarter of 2019, fell to $257 in the first quarter of 2020 and dropped to $256 in the first quarter of 2021. So far, conquest parts averaged $265 this quarter on PartsTrader.
Recycled parts were "very, very flat," according to Horn. They climbed from $247 in the first quarter of 2019 to $250 in the first quarter of 2021. Second-quarter pricing to date averaged $253.
Aftermarket parts dropped $2, from $145 in January-March 2019 to $143 during the same time this year. They're back to $145 so far this quarter.  "The really interesting thing is that that has been the most competitive" in terms of price consistency, Horn said.
OEM and "OEM surplus" were the only two categories that appeared to have any kind of notable change over the past two years.
"OEM Surplus" parts fell from an average of $224 in the first quarter of 2019 to $207 in the first quarter of 2021. They're at $210 to date this quarter.
Horn said this decrease could primarily be attributed to manufacturers who supply parts to automakers having less demand from OEMs due to factors like idled plants. Surpluses subsequently arise.
"Those are going through the OEM Surplus," Horn said. "When you have a surplus of surplus, you get a lower average price."
Finally, OEM parts without conquest — which Horn estimated to account for 6.5 out of the 10 parts on an average estimate — rose from $144 in the first quarter of 2019 to $156 in the first three months of 2021. They've climbed again so far this quarter to $161.
But Horn said that "competitive tension" fostered by the PartsTrader platform among parts departments drives down those prices below MSRP.
"As we look at all of those components, we really don't see any impact on the collision industry through the middle of May, when it comes to parts shortages," Horn said.
More information:
"Q2 2021 PartsTrader Industry Update—Live Update from Greg Horn"
PartsTrader YouTube channel, May 18, 2021
Featured image: Automakers might be experiencing a semiconductor shortage, but the collision industry doesn't seem to be experiencing a replacement parts shortage, a PartsTrader analyst said May 18, 2021. (Rudzhan Nagiev/iStock)
Share This: