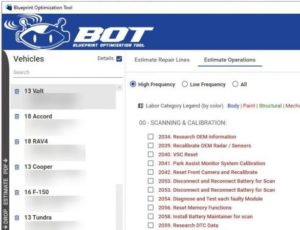 The Society of Collision Repair Specialists and OEConnection on Wednesday announced they had added more than 350 operations to the Blueprint Optimization Tool, including line items for work related to inspection, scanning and calibration.
The BOT software allows a collision repairer to automatically apply the "SCRS Guide to Complete Repair Planning" document to an estimate and identify work the shop might be performing but had not included on the sheet. For example, not-included operations.
SCRS said it considered user feedback to determine the line items with the largest demand. "These are operations often performed and overlooked on preliminary repair plans," SCRS wrote in a news release Wednesday.
Board member Robert Grieve (Nylund's Collision Center) in April told an SCRS open board meeting that shops in 38 states have added more than 20,000 operations suggested by the BOT since the software's 2020 launch.
"As an association, our objective first and foremost is to provide help and solutions to collision repair businesses," SCRS Chairman Bruce Halcro (Capital Collision Center) said in a statement. "The collision repair professionals around our table developed this product because they couldn't find an existing solution to meet their needs. It was designed by these repairers, for their own use, and then made commercially available once it met their strict parameters. Our focus has always been to address the needs of the repair facilities we support. I think these updates speak to the desire to listen to the end-user and incorporate feedback into a continually evolving product."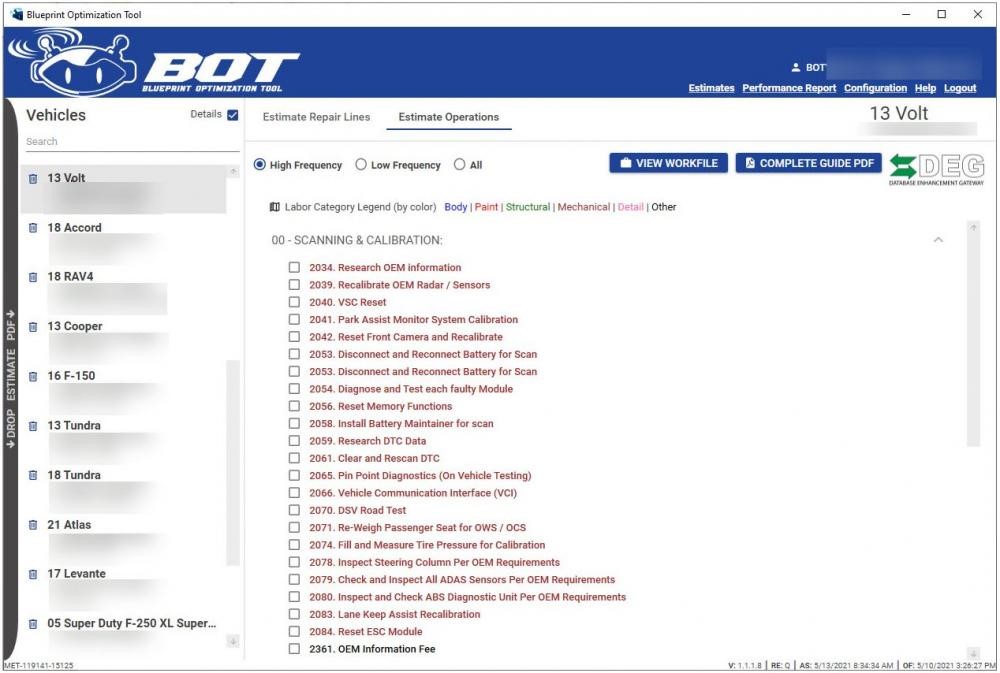 The free "Guide to Complete Repair Planning" includes more than 1,000 suggested line items shops might have forgotten to place on an estimate. SCRS said the BOT now contains more than 1,500 entries following the update.
"The hefty upgrade represents the first major addition to the Guide since the launch of the BOT," SCRS wrote. "This demonstrates how the product will continue to evolve alongside the vehicles we repair, and with feedback from the product's user base."
The PDF version of the guide doesn't contain the new operations; repairers will have to deploy the BOT to review them.
OEConnection will email users with instructions about adding the new items to their software, SCRS said Wednesday.
"We are firm believers that the BOT technology has the ability to fundamentally change how easily collision repair businesses realize added value from their existing processes," Pete Tagliapietra, director of OEC subsidiary and SCRS BOT collaborator NuGen IT, said in a statement. "Our work with OEC® and SCRS has been 100% aligned since day one, in creating meaningful solutions that help connect the dots for repairers; to let them more easily capture the operations that make up a proper repair and lead to greater success through accuracy. The update represents an important step forward to our commitment to be responsive to the needs of the industry."
SCRS also recently upgraded the BOT to allow repairers to track their usage, such as the average number of line items added, and compare it to other repairers.
Screenshots shared by SCRS show a user informed he or she has added an average of six line items per estimate on 34 percent of sheets after having the BOT check their work. This beat the "Top 25%" of shops, which only averaged 5.5 operations on 22 percent of estimates, according to the image.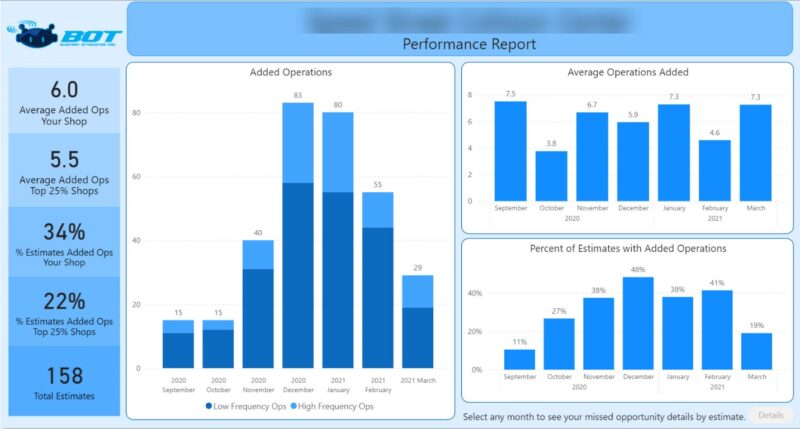 Another screenshot shows a user's ability to see the number of operations added on specific vehicles they had repaired as well as the overall estimate gross total.
Those interested in the BOT can also watch live demos every other Wednesday at 2:30 p.m. ET. Register here to watch the webinars.
SCRS members can subscribe to the BOT for a price of $99 per location per month, with additional terminals running $21.75 per month. Nonmembers pay $139 per location and $29 per additional terminal monthly. SCRS also charges a one-time $75 installation fee in either case.
A promotional OEConnection video says BOT users recognize an 8:1 return on investment. Another benefit might be better insurer relations; SCRS and Vehicle Collision Experts in April said they've found carriers expressing pleasure at the consistency the BOT fosters in shops.
More information:
Society of Collision Repair Specialists Blueprint Optimization tool website
Images:
The Society of Collision Repair Specialists and OEConnection on May 19, 2021, announced they had added more than 350 operations to the Blueprint Optimization Tool, including line items for work related to inspection, scanning and calibration. (Screenshot of BOT provided by SCRS)
A new feature in the Society of Collision Repair Specialists' Blueprint Optimization tool lets individual users track how the software has been used on their estimates. (Provided by SCRS)
Share This: