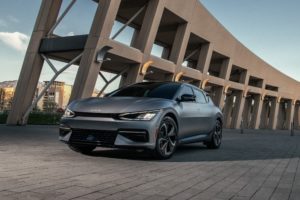 Kia this week said the 2022 EV6 — the OEM's first fully electric vehicle — would predominantly be built from steel.
It said Tuesday the crossover sits on the E-GMP electric vehicle platform and had a "(s)trong body structure utilizing 75 percent high-strength steel (HSS) and ultra-high strength steel (UHSS)."
Kia said this statistic referred to the entire body rather than merely the chassis-and-battery platform.
Battery packs create significant mass an OEM might consider offsetting with nonferrous materials like aluminum, magnesium or composites — with aluminum closures and fenders possibly attractive options. But Kia confirmed Wednesday it hadn't used such materials except in a few area.
"In the body, there are no aluminum panels," the OEM wrote in an email. "No magnesium.  No plastics.  But aluminum is used in chassis elements like the knuckles and the lower control arms (front and rear).  Under the car, where the rockers and the battery case connect are extruded aluminum elements that add rigidity and save weight."
Kia also said Wednesday the E-GMP platform in the EV6 includes a five-link rear suspension and the "(w)orld's first mass-produced integrated drive axle (IDA) to enhance ride comfort and handling, combining wheel bearings with the drive shaft to save weight."
"The E-GMP modular platform maximizes development efficiency and enables the Kia brand to expand its dedicated EV portfolio across multiple vehicle segments – sedans, CUVs, SUVs – in a short time and with minimal complexity," Kia wrote in a Tuesday news release. "The architecture provides an adaptable foundation with a long wheelbase and wide stance."
Moving back to the exterior, Kia pointed out EV6 details like flush door handles, a high rear end which "serves as a spoiler," dynamic front headlamps and lighting spanning the rear of the vehicle. It also said the crossover would include a "Digital Tiger" grille format which would be "Kia's new tiger nose design."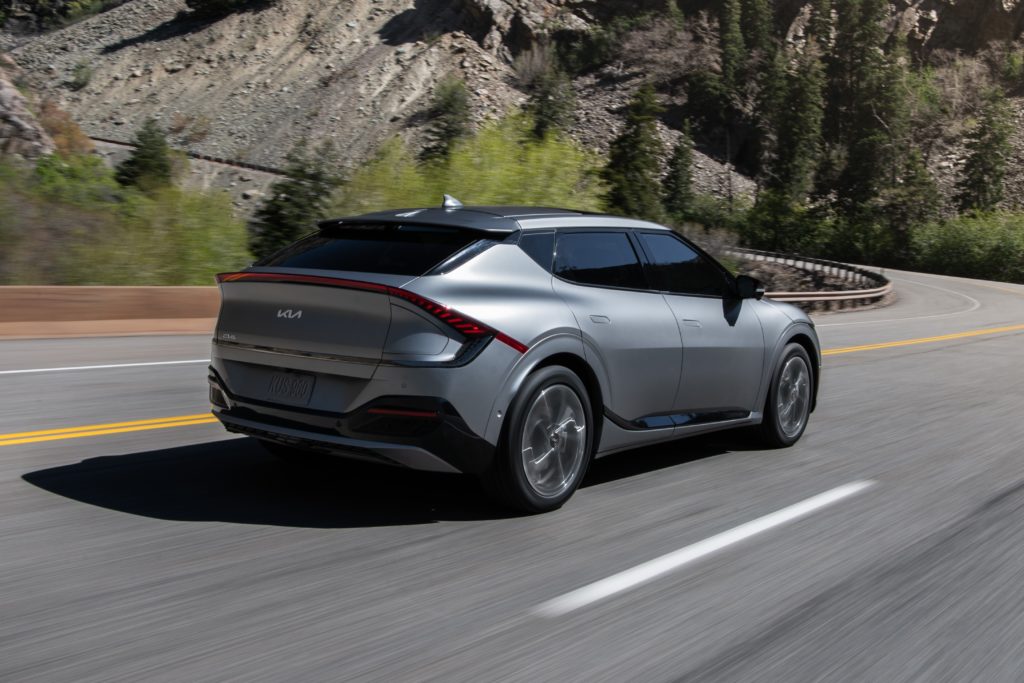 The EV6 will go on sale early next year.
Other details potentially of interest to shops:
The EV6 will offer two battery sizes: 58 kilowatt-hours and 77.4 kWh and the option for either all-wheel drive or rear-wheel drive. It's possible it can achieve up to 300 miles of range on a single battery charge, depending on the vehicle configuration. It will support both 400-volt and 800-volt direct current, with the latter permitting the owner to charge nearly 70 miles in less than 5 minutes with a 350-kilowatt charger.
The charge port is in the back of the vehicle.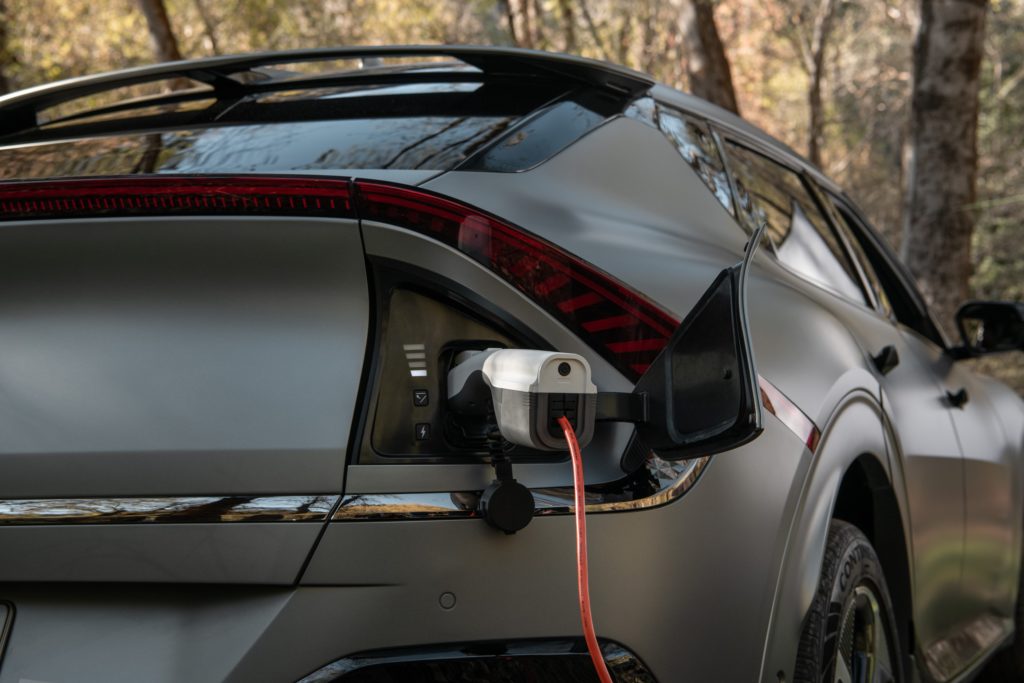 You can use the vehicle like a portable generator for tools and tailgates for 36 hours on a full charge. A 110-volt outlet can be found in front of the second row of seating.
The front seat frames include "ultra-light 'giga-steel' to maximize rear seat space/knee room" with a thin design.
Common among electric vehicles, there's a small trunk in the front of the vehicle.
The vehicle can display a head-up display on the windshield "in a large three-dimensional image that appears to be over the hood of the car" as an option on some trims.
Kia counts 21 pieces of ADAS as standard on the EV6, including blind spot autobraking; front autobraking, including for front-cross traffic and oncoming traffic when turning left; rear cross-traffic autobraking; highway driving assist combining adaptive cruise control and lane centering; and automatic high beams.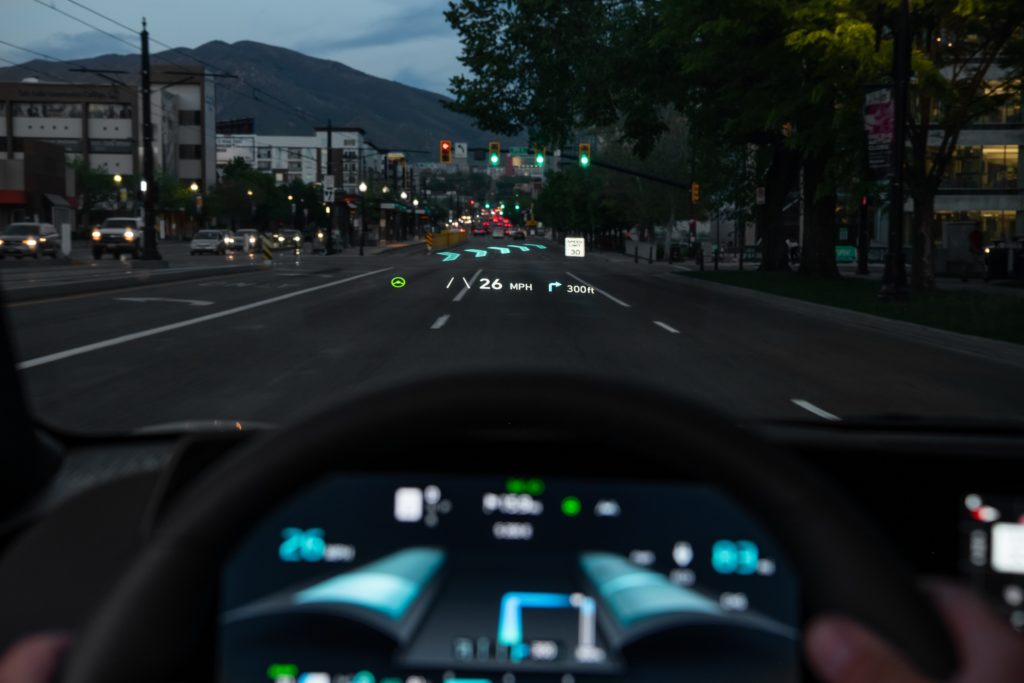 More information:
"All-new Kia EV6 crossover ushers in new era of electric driving excitement"
Kia, May 18, 2021
Images:
The fully electric 2022 Kia EV6 is shown. (Provided by Kia)
The fully electric 2022 Kia EV6 will have an option for a head-up display on some trims. (Provided by Kia)
Share This: