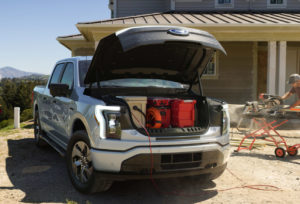 Ford on Wednesday revealed an all-electric 2022 F-150 Lightning it said would have a "massive lockable frunk" an "upgraded frame" and be built out of aluminum.
"The military-grade aluminum alloy body and upgraded frame support the advanced battery, while the first F-Series independent rear suspension and low center of gravity help improve isolation from the road, provide a more stable ride and reduce steering roll – while maintaining the durability and reliability expected from F-150," Ford wrote in a news release Wednesday.
Ford called the frame "all-new" and featuring "the strongest steel ever put in an F-150 frame." The truck can hold 2,000 pounds and tow up to 10,000 pounds, according to Ford. Ford will offer an "Onboard Scales" feature that weighs the payload and factors it into the electric range communicated to the user. The standard battery is expected to get 230 miles of range on a charge, while an extended-range version seeks to make 300 miles. (Ford says this data excludes the Platinum version.)
The vehicle will have two motors and come standard with four-wheel drive and four drive modes. Ford noted that the battery lay behind "(r)ugged underbody protection," mentioning "metal skid plates shielding both the battery and inboard motors from tough terrain." The battery case itself is waterproof and "surrounded by crash-absorption protection," according to Ford.
The OEM said it would manage the powertrain's heat with "a state-of-the-art liquid cooling system and powertrain layout that expertly manages heat distribution across the vehicle." The OEM also described the cooling systems and parts as "(i)mproved."
"Whether they're hauling a bed full of firewood through snow or towing a trailer on a road trip, customers need to be able to rely on their truck's performance," Lightning chief engineer Linda Zhang said in a statement. "This all-electric truck has been engineered with dual in-board motors, which means it can take on rough terrain. Our team of engineers has run the same arduous test regimen our F-150 customers have learned to expect from Ford."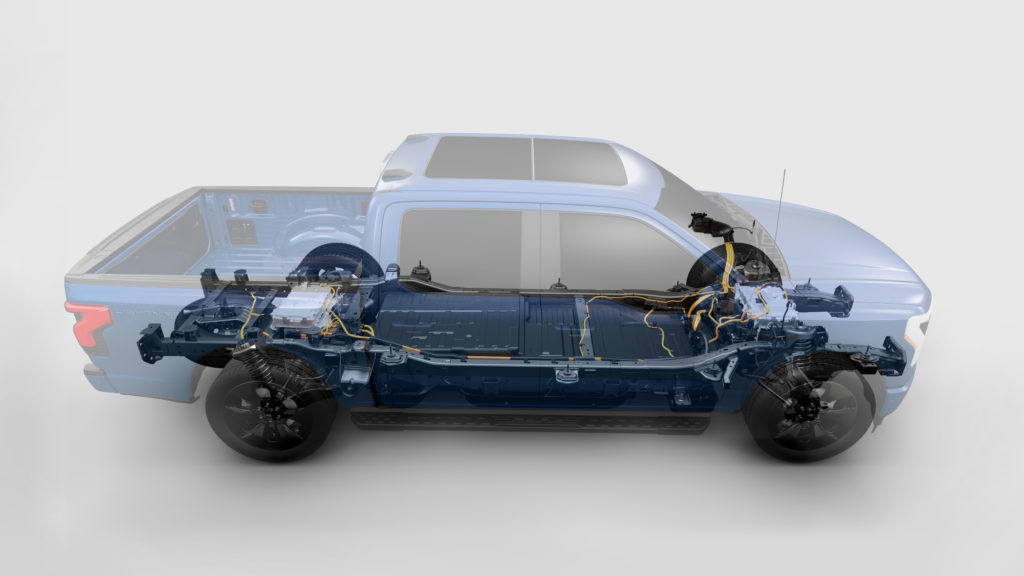 Besides the center of gravity perk, an all-electric powertrain lets OEMs offer a "frunk" out of the space which normally would need to accommodate the engine.
Ford says its "versatile, high-tech mega power frunk" has a powered opening and closing system — a power liftgate but for the hood — and bumper-height clearance.
The frunk can hold 400 pounds of weight and 400 liters of volume (Ford said the space works out to two carry-on bags and one checked suitcase). It has four electrical outlets, two USB chargers, and the ability to output 2.4 kilowatts. It's also "water-resistant" and has a drain in the floor if you want to use it as a cooler for a tailgate party.
"The words 'front trunk' don't even begin to describe all the innovation and capability Ford packed into this high-powered space," Ford global feature process supervisor Nancy Reppenhagen said in a statement.
Repairers will notice other front-end changes from the typical F-150. Ford will offer customers a chance to have LED lightbars across the front and back of the vehicle (zone lighting around the vehicle is also available), and the hood is sculpted for improved aerodynamics.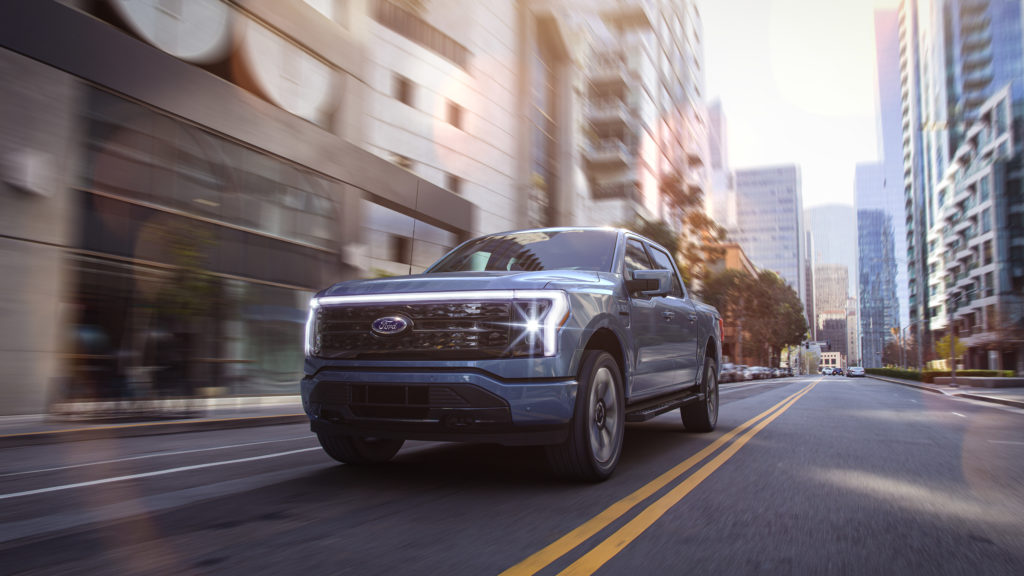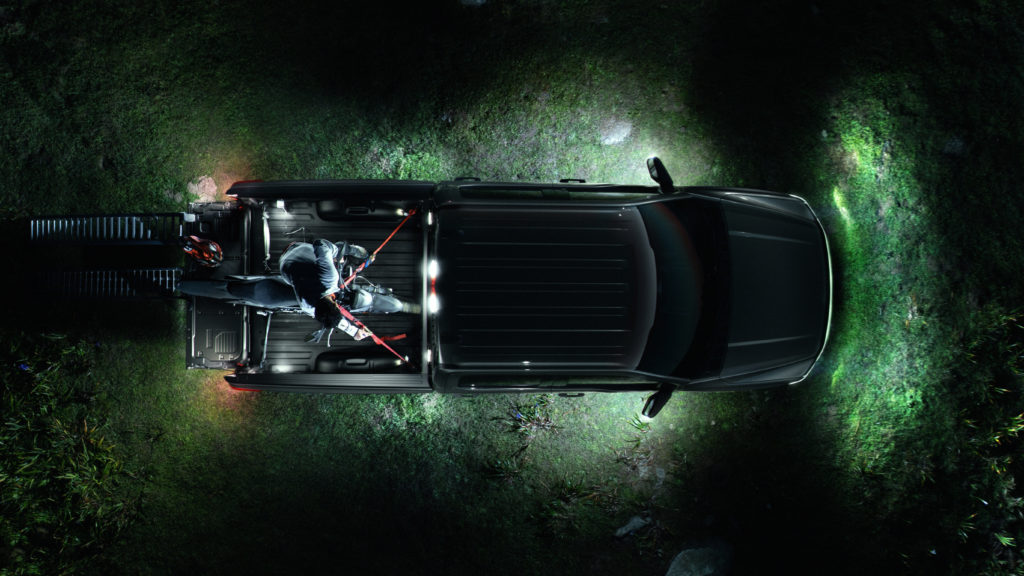 Ford said the vehicle would have three new grille designs and said grilles "replace air intake holes with a smoother, textured surface" for aerodynamics. Ford said it also made the running boards aerodynamic and boasted that at least one overall Lightning configuration would prove "the most aerodynamic F-150 ever."
Ford said cab and bed dimensions would remain intact, permitting the truck to support accessories available and likely making the SEMA folks happy. The Lariat and Platinum editions will also offer 7.2-kilowatt outlets in the bed, according to Ford.
Ford said it would provide an 80-amp charge station for the home standard, permitting users to take the extended-range battery from 15 percent to 100 percent in eight hours. (Ars Technica indicated this would only be standard for the extended range version, not the trucks with a base battery.) If users install a home management system and the Charge Station Pro, Ford said a plugged-in F-150 Lightning can detect an outage and kick in to power your house for three days. When the power is restored, the Lightning will go back to charging itself.
"In the future, Ford will introduce Ford Intelligent Power, which can use the truck to power homes during high-cost, peak-energy hours while taking advantage of low-cost overnight rates to charge the vehicle in time for your morning drive," the OEM wrote.
The truck will also receive over-the-air software updates, which means seeking out Ford OEM repair procedures fresh online on every job could be more critical than ever. The automaker could add features and fix existing problems at a moment's notice.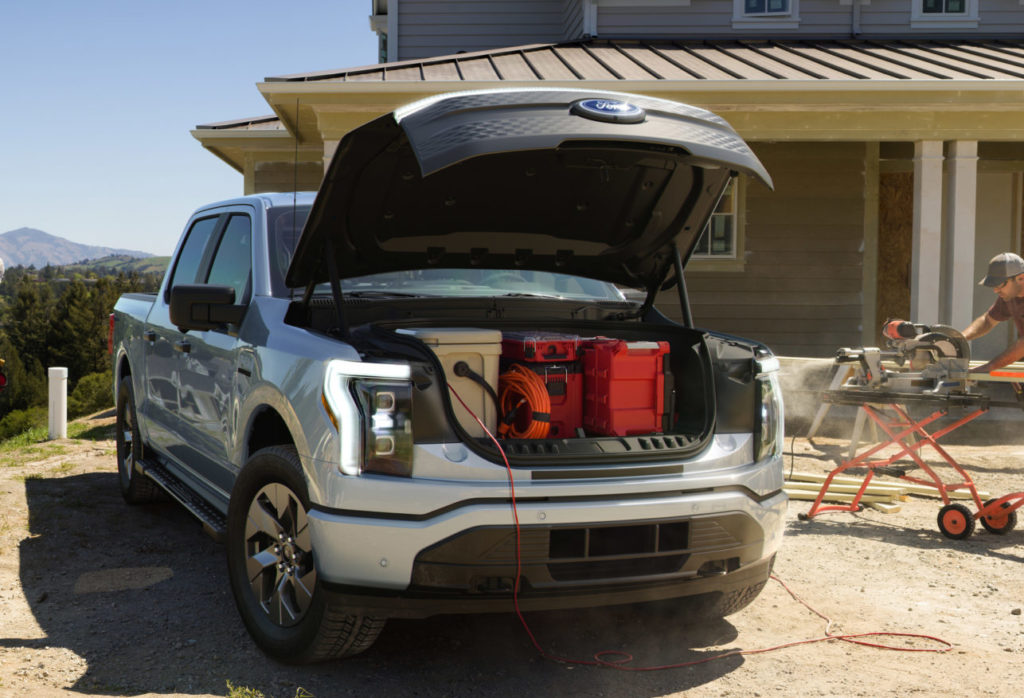 "The F-150 Lightning is a massive moment for our Ford team," Ford CEO Jim Farley said in a statement. "America's No. 1 auto brand is going zero emissions with America's favorite vehicle. It's quicker than a Raptor, with standard 4×4 and independent rear suspension; a power frunk, enough juice to run your house for three days or power an awesome tailgate; and it will forever improve with over-the-air updates."
Rivian's fully electric R1T truck scheduled for this summer (the Launch Edition) and January 2022 (normal sales) and the all-electric GMC HUMMER Edition 1 due this fall are poised to beat the F-150 to market, but the Lightning is going to be hot on its heels. Ford said its truck will go on sale in spring 2022 and be less expensive than these early arrivals.
The base Lightning meant for commercial use starts at $39,974, and the XLT starts at $52,974. The base R1T starts at $67,500, and the HUMMER will start at $112,595 or $99,995 until lower-cost two-motor versions come out in 2023 and 2024.
Automotive News on Thursday reported Ford took about 20,000 $100 reservations already and would limit production during the first year. The newspaper shared a Wolfe Research estimate that Ford would make 80,000 Lightings per year.
More information:
"THE TRUCK OF THE FUTURE IS HERE: ALL-ELECTRIC FORD F-150 LIGHTNING"
Ford, May 19, 2021
Ford OEM repair procedures
Images:
The "frunk" of a 2022 Ford F-150 Lightning XLT is shown. (Provided by Ford)
A 2022 Ford F-150 Lightning powertrain and frame are shown. (Provided by Ford)
A 2022 Ford F-150 Lightning Platinum is shown. (Provided by Ford)
A 2022 Ford F-150 Lightning Lariat is shown. (Provided by Ford)
Zone lighting on a 2022 Ford F-150 Lightning Lariat. (Provided by Ford)
Share This: