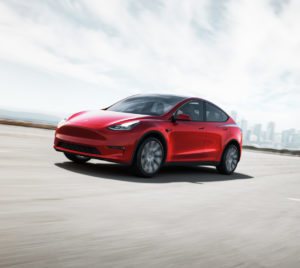 Collision repairers and auto insurers ought to have a few less Tesla parts and procedures to deal with going forward. Tesla has announced it would eliminate the Model 3 and Y's radar on new North American deliveries effective this month.
Tesla said the vehicles would be its first to run its Autopilot advanced driver assistance system suite and "certain active safety features" using cameras alone. It calls this "Tesla Vision."
The Model S and X will keep radar and rely on it for Autopilot "until we determine the appropriate time to transition those vehicles to Tesla Vision," Tesla said.
Tesla said switching the higher-volume Model 3 and Model Y "allows us to analyze a large volume of real-world data in a short amount of time, which ultimately speeds up the roll-out of features based on Tesla Vision."
The Model 3 starts at $38,490. The Model Y starts at $50,490. The other two models cost more than $22,000 above the Y.
"For a short period during this transition, cars with Tesla Vision may be delivered with some features temporarily limited or inactive," Tesla wrote of the Model 3 and Y.
It says Autosteer would only work at speeds of 75 mph or less and require a longer distance between vehicles. It also said "Smart Summon" and lane keeping might not work at first.
"In the weeks ahead, we'll start restoring these features via a series of over-the-air software updates," Tesla wrote. "All other available Autopilot and Full Self-Driving features will be active at delivery, depending on order configuration."
The severity and complexity savings associated with no longer needing to replace and recalibrate a Tesla radar is unclear.
But in case anyone's interested, CCC recently explored the pricing for cameras and distance sensors in 2019 and 2020. The average camera rose slightly to $110, including the labor to install it, while the average overall cost to buy and install a distance sensor fell around $40 to $576.65.
The average calibration cost $259 in 2020, CCC found.

More information:
"Transitioning to Tesla Vision"
A Tesla Model Y is shown. Tesla says it will no longer use radar on new Model 3s and Model Ys starting with deliveries in May 2021. (Provided by Tesla)
CCC 2021 "Crash Course" data on estimate entries related to cameras from 2019 and 2020. (Provided by CCC)
Share This: