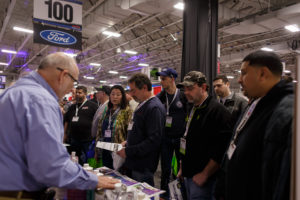 NORTHEAST will indeed be held in-person this year — and maskless, if participants are fully vaccinated, according to the AASP-NJ.
"We are thrilled and excited to be the first regional automotive show to come back after the nightmare of the pandemic," Alliance of Automotive Service Providers of New Jersey President Jerry McNee (Ultimate Collision Repair) said in a statement Tuesday. "AASP/NJ has always been a leader, and it is an honor to be the first to get our industry back to some sense of normalcy. Holding NORTHEAST is always something we look forward to – maybe more than ever this year."
Democratic Gov. Phil Murphy last week lifted nearly all capacity and mask rules for fully vaccinated people in large gatherings effective Friday, June 4. That's well ahead of NORTHEAST, which will be held Sept. 10-12 at the 5,000-person-capacity Meadowlands Exposition Center in Secaucus, N.J.
New Jersey visitors and residents who aren't yet fully vaccinated still are subject to a mask mandate.
The CDC generally defines "fully vaccinated" as two weeks after the second dose in a two-dose vaccination protocol (e.g., Pfizer, Moderna) or two weeks after receiving a single-dose vaccination (e.g. Johnson & Johnson). So stragglers can easily get their shots and reach full vaccination in time for NORTHEAST.
As of Sunday morning, 51.5 percent of Americans 18 years and older were considered fully vaccinated.
New Jersey businesses can still set whatever rules they wish for visitors, and cities and counties can add more restrictions related to masks indoors if they wish, according to Murphy's Wednesday executive order.
It was unclear if Secaucus or Hudson County had established any rules.
The Meadowlands Exposition Center has described a COVID-19 policy involving complying with state executive orders on occupancy and letting show operators determine mask usage rules for their individual events.
"The association continues to work daily with the MEC to implement all necessary safety protocols to ensure that anyone who attends NORTHEAST will feel safe and secure," the AASP-NJ wrote in a news release.
NORTHEAST is free to attend, and the AASP-NJ announced Tuesday that registration was open. Sign up here.
"Pre-registered NORTHEAST 2020 attendees will not need to re-register, as badge data will be carried over to the September 10-12 dates," the AASP-NJ wrote.
More information:
"AASP/NJ Announces Registration Now Open for September NORTHEAST Automotive Services Show"
Alliance of Automobile Service Providers of New Jersey, June 1, 2021
CDC COVID-19 vaccination webpage
Featured image: The floor of NORTHEAST 2019 is shown. (Provided by Thomas Greco Publishing)
Share This: