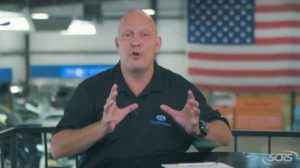 The Society of Collision Repair Specialists this year launched a new weekly video series featuring quick-hit tips for body shops.
Repairers can subscribe to the SCRSCollision YouTube webpage to view the free industry video series, which has been featuring Collision Advice CEO Mike Anderson and Database Enhancement Gateway Administrator Danny Gredinberg. They complement the weekly estimating tips the DEG has issued and SCRS has disseminated for years.
They're also extremely easy to sneak in during your workday. So far, none of the videos has even reached 5 minutes in length.
Here's a roundup of some of the tips posted earlier this year. They might, as Anderson put it, "boost your business."
Erase customer data from totals
Repairers might incur a variety of labor and apply a variety of charges to a total loss, such as storage, disassembly, teardown or administrative fees, Anderson said in a Jan. 14 video. 
"One other thing I think shops are not thinking about is erasing the customer's personal data from their vehicle before it's released as a total loss," Anderson said.
With Bluetooth, USB ports, and features like Android Auto and Apple CarPlay, it's become possible for a vehicle to capture and work in conjunction with vehicle data.
"Most people today use their vehicle as a smartphone on wheels," Anderson said. Your customer might have left their address in the vehicle GPS or navigation system — and even the ability to open their home's garage door, he said.
Anderson encouraged shops to reach out to the customer and ask, "'Would you like us to erase your personal data?'"
The Federal Trade Commission in 2018 also advised customers to dump data before selling a car. In 2019, LKQ infotainment remanufacturer Premiere Services told us it constantly had to scrub such data. "We find evidence of PII on the majority of systems we bring in and remanufacture," the company said then.
The video didn't specify how a body shop would go about purging this data, but instructions might be available in the OEM repair procedures or perhaps the owner's manual. Repairers could also file an "Ask I-CAR" inquiry and have the educational organization consult with the automaker on your behalf. Premiere in 2019 mentioned that some apps might teach how to erase data from the display but fail to clear hard drive data, so repairers will wish to make sure they're using the right instructions.
Gredinberg said clearing data or "performing a total loss procedure" wasn't included in any of the three estimating systems' labor times.
Negotiations
Anderson in a Jan. 28 video shared four considerations which could strengthen a repairer's (or consumer's) hand negotiating with an insurer.
• Is it required?
• Is it included?
• Is there a predetermined time?
• What is it worth? (Minor formatting edits.)
Anderson used the example of prepping Toyota and Lexus raw bumpers. It's a required operation, and a repairer could use a CRIB bulletin from the OEM to prove the work is needed, he said.
Was it included? "Of course we know that it's not," he said, but noted that repairers who weren't sure could always submit a free inquiry to the DEG.
All three of the estimating systems offered predetermined times for when such manual entries were added, according to Anderson.
If no predetermined time like that existed, then the repairer would consider what it was worth, according to Anderson.
Accounting
The notion of figuring out how much something was worth arose indirectly in a Feb. 18 tip regarding accounting practices.
Anderson observed that while accounting was less "exciting" than estimating tips, "they have a place in our business."
Anderson said every item sold needed a record of the cost of the good "as an expense side to opposite that."
For example, the cost of body labor stacked up against the account of billed body labor, or the cost of an OEM part compared to the sale price, according to Anderson.
This needed to be properly mapped to a management system, according to Anderson. He said the point of a profit and loss examination was to see where a repairer was losing money or failing to maximize profit.
Anderson also advised shops that accounting should make note of work in progress for an accurate picture of shop finances.
This involved any costs already incurred on an open job, such as money paid to technicians or for towing or parts, he said. If this looks like an ordinary expense, the repairer might fear they're losing money, and "that's not really accurate," according to Anderson.
Conversely, money already received for a job not yet completed could provide a "false sense of security," Anderson said. Most or all accounting systems will provide what is "often referred to as a pre-payment report" to recognize such income.
He said the Automotive Management Institute, most or all paint companies, and his company Collision Advice all offered education on accounting.
"I know accounting may not be exciting, but … at the end of the day, it's how we pay our bills," he said.
OEM procedure research
One potential expense and charge might involve the labor or cost for researching OEM repair procedures.
Anderson in a Feb. 4 tip said that "according to Google," it takes two minutes to read a page of a technical document. (It was unclear if the statistic was Google's or derived from a page found in a Google search.) Executive Read estimated it could be even longer: 2 minutes for the average person to read a nontechnical page and 5-6 minutes per technical page.
Anderson also offered a way to examine the cost of an OEM repair procedure subscription, which can be purchased for various durations depending on the OEM. Anderson suggested a repairer could divide the subscription price by the number of that brand's models fixed in a year if the subscription were annual. "If not, I love the fact that we can actually bill for just a day or two."
Gredinberg said that all three estimating services call labor and the subscription fees not-included operations.
"All three estimating services have language regarding that," he said.
The tip highlighted DEG inquiries 17350 through 17352.
The DEG's answer to No. 17350 reports how CCC considers "Access to repair information/subscription cost" and "Repair information retrieval/lookup" not-included procedures.
On No. 17351, the DEG repeated Audatex's response to prior inquiries: "We have reviewed your concern and Audatex Labor Procedures. Any labor related to research and/or investigation of OEM EPC and/or Service Information is not included in Audatex provided labor values. Additionally, any relative OEM information subscription costs are not included in parts nor labor values provided."
The DEG also quoted a prior Mitchell response in answering No. 173512: "Labor associated with purchasing an OEM subscription is not factored in to any published labor allowances."
Batteries
OEM procedure research was important when it comes time for a shop to disconnect or reconnect a battery, according to a Feb. 25 tip.
"Before you ever disconnect a battery, go into the OEM repair procedures and find out if there is a battery wait time," Anderson said. Some OEMs require body shops to wait a certain period of time after a vehicle has been shut down before the repairer can disconnect the battery, he said.
"Make sure you're waiting," Anderson said. "'Cause if you don't, its gonna throw a lot of DTCs."
Anderson said many automakers' repair procedures also contain a section on situations where a battery has been disconnected and reconnected.
Anderson said he had encountered a Toyota where six different procedures were necessary after a battery disconnect-reconnect. Most of these were called "initializations," he said. Two of the operations called for a test drive.
He said he had also dealt with a Nissan which needed 11 procedures following a disconnect-reconnect. Three of these operations required a scan tool.
Asked if such labor was included in repair times, Gredinberg said, "The process is not included."
Gredinberg encouraged shops to consider how many times this operation might need to occur, giving the example of a battery disconnected for reassembly but reconnected to move the vehicle. Another disconnection and reconnection might be necessary during the repair, he said. Think about how often this might happen, followed by initializations or scan tool resets, Gredinberg said.
"It's a non-included operation," he said.
Gredinberg also told shops to follow the OEM procedures on the order they should disconnect cables "to prevent any further damage."
"Remember, it's not just about disconnecting the battery," Anderson wrapped up the video.
More information:
"SCRS Quick Tips: Battery Disconnect and Reconnect"
SCRSCollision YouTube channel, Feb. 25, 2021
"SCRS Quick Tips: OEM Procedure Research – accessing the information that matters"
SCRSCollision YouTube channel, Feb. 4, 2021
"SCRS Quick Tips: Erasing Customer Data from Total Loss Vehicles"
SCRSCollision YouTube channel, Jan. 14, 2021
"SCRS Quick Tips: Accounting | Maximize Your Profits"
SCRSCollision YouTube channel, Feb. 18, 2021
"SCRS Quick Tips: Negotiation tips that get you paid!"
SCRSCollision YouTube channel, Jan. 28, 2021
I-CAR Repairability Technical Support links to official OEM repair procedure websites
Featured image: Collision Advice CEO Mike Anderson speaks during a Feb. 25, 2021, video tip on batteries posted by the Society of Collision Repair Specialists. (Screenshot from SCRS YouTube channel)
Share This: