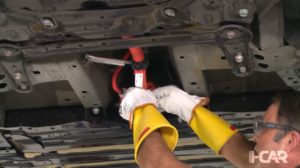 As automakers prepare to launch a flurry of electric vehicles, I-CAR has warned repairers against protecting themselves with the wrong type of PPE glove — or being tempted to remove the right ones at a time they're needed.
An I-CAR video released earlier this year offers shops multiple featurettes on electric vehicle safety punctuated by a panel discussion of the topic and the short films. The education provider also published edited excerpts of the discussion in a Collision Reporter magazine.
It's a critical resource and reminder to get trained and equipped before a growing electrified vehicle fleet starts getting in wrecks and appearing in your shop.
Bud Center, I-CAR manager of technical research and development, said that hybrids led the industry to understand "Don't touch the orange cable" on electric vehicles.
But considerations also exist in terms of personal protective equipment, he said. This includes gloves, and for some OEMs might even include entail a face shield or even a body suit as well.
I-CAR technical products, programs and services Vice President Jeff Peevy called the film's content "probably one of the most important things that a shop and a technician can get their heads around."
The featurette begins with I-CAR lead subject matter expert Jeff Poole describing first scanning a Nissan Leaf to verify no high voltage faults exist. "We have high confidence" in the electrical integrity of the vehicle, he said.
Yet PPE was still necessary. The video focused on gloves — both the right kind and the wrong kinds.
Poole said repairers should not use welding gloves, which while appropriate protection for welding are "absolutely not high voltage safety gloves."
He said nitrile gloves are helpful for handling chemicals, but repairers "absolutely don't want to trust our lives to those" when handling high-voltage systems.
Instead, a shop would employ lineman's gloves in any situation with a known high-voltage risk — or even a suspected high voltage risk, according to Poole.
It's an "additional safety redundancy," Poole said. If the system is compromised or an unknown fault exists, "this is your last line of defense."
Shops also would put leather protectors over the lineman's gloves to protect them from damage or punctures, according to Poole. (The Coordinating Committee for Automotive Repair in a February 2020 video observed any pinholes in lineman's gloves represent "a big danger.")
Those leather protector gloves should never be repurposed "for any other type of work," Poole said. Otherwise, the repairer runs the risk of contamination with metal splinters or similar debris, he said.
After the featurette, Peevy recalled that while working as a refinish technician, a sentiment held that PPE was cumbersome, creating the temptation not to wear it properly.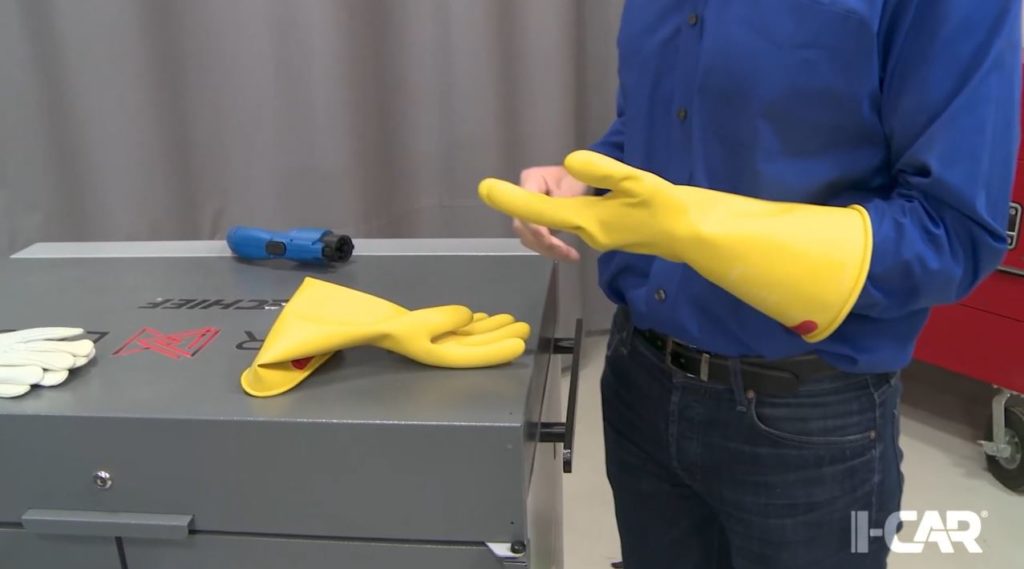 I-CAR director of technical programs and services Dirk Fuchs observed during the panel discussion that a similar issue could arise when working on electric vehicles. It might be difficult to manipulate battery disconnect components with gloves on, he suggested.
Fuchs acknowledged "it's a challenge" to wear PPE and work and said a technician might think, "'Ah, lets take those gloves away.'"
"No, don't do it!" he continued. "Fight through it. leave those gloves on. … Don't take the easy way."
He felt many techs would be so tempted, but warned them not to succumb to it.
"Go through it; you have to.," he said. "For your own protection."
Fuchs earlier called following OEM procedures "really, really important," in what appeared to be a reference to PPE.
OSHA also might have regulations on top of whatever the OEMs say. Obviously, the general duty clause to protect employees exists. But the agency has specific rules about electrical-related PPE. OSHA also in 2015 said it considers just 50 volts hazardous  — and we'd point out that technicians could be at risk with even lower voltages than that. Audi, for example, has warned about the risk of 48-volt systems and noted at the recent Collision Industry Conference that even 45 volts DC could be dangerous.
If you've verified zero potential and have disconnected the electrical system, technically, it's not necessary.
"But of course, safety first," Fuchs said. He pointed out that in mechanical repair, the vehicle poses less of a threat than in a collision repair scenario, where the vehicle has been in a crash.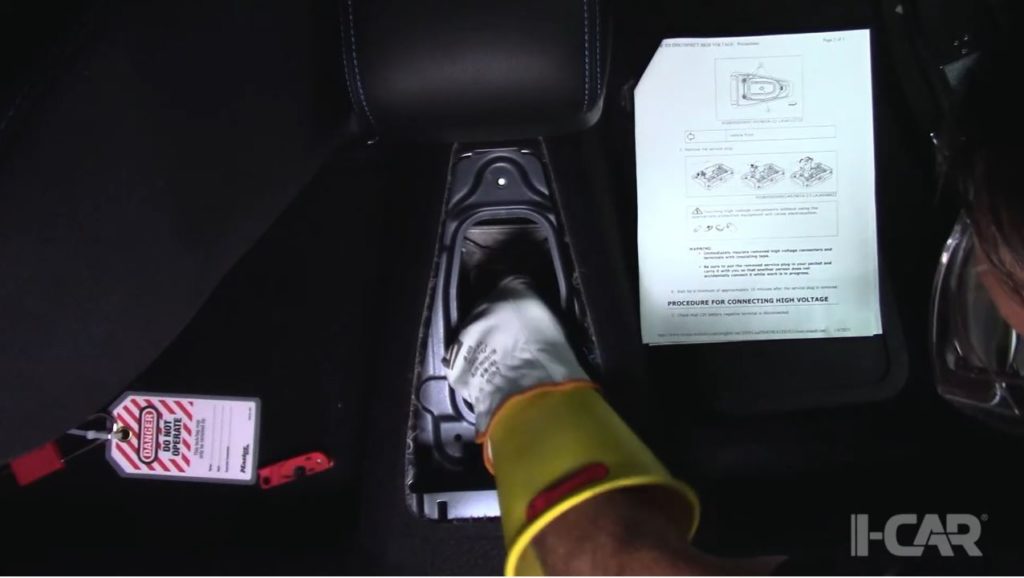 Protective gear becomes "so much, so important" for auto body shops, he said.
"I have no idea about the state of the battery," Fuchs said. Perhaps there's an open lead from the orange cable to the chassis.
Fuchs noted "I really admire" the flatbed drivers who remove the vehicle from a crash scene and face a similar risk. He said that if he were a flatbed driver, he'd want to check electric potential before attaching the hook. to the vehicle.
He said I-CAR's goal was to educate "the whole industry," both body shops and towers. "Everybody should know about it," he said.
Peevy advised repairers who plan to work on electric vehicles — which might for some OEMs be the only thing to work on — that they should consider OEM certifications and training. It's not a situation where a repairer can wing it and figure it out, according to Peevy.
"This isn't something you want to play around with," he said.
More information:
"Collision Reporter Electrification Roundtable"
I-CAR, Feb. 14, 2021
"HOW I-CAR'S TECHNICAL SERVICES, CURRICULUM AND PROGRAMS TEAM IS ON THE FOREFRONT OF VEHICLE ELECTRIFICATION" (Features edited excerpts from video)
I-CAR Collision Reporter, 2021
Links to some I-CAR electrified vehicle courses
Links to official OEM repair procedure websites
Images:
I-CAR lead subject matter expert Jeff Poole wears both proper lineman's gloves and leather protectors while holding the main harness disconnector on an unspecified Nissan Leaf. (Screenshot from I-CAR video)
I-CAR director of technical programs and services Dirk Fuchs dons a pair of lineman's gloves. Leather protectors which should also be worn over the lineman's gloves are at left. (Screenshot from I-CAR video)
I-CAR lead subject matter expert Jeff Poole wears both proper lineman's gloves and leather protectors while manipulating the service disconnect on an unspecified Nissan Leaf. (Screenshot from I-CAR video)
Share This: