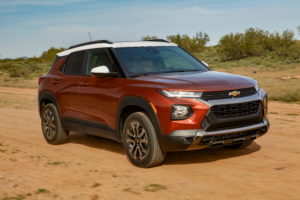 Chevrolet brought back the Trailblazer for the 2021 model year with a larger yet lighter body, according to a presentation last month by General Motors upper-body engineer Youngtaeck Kim.
Part of the 10 percent mass savings can likely be attributed to a significant increase in higher-strength steels compared to the old Chevrolet TrailBlazer, which ceased production after the 2009 model year.
Kim presented a slide to the 2021 Great Designs in Steel on May 19 indicating that the old Blazer's body-in-white was comprised of 20 percent advanced high-strength steel and 3 percent press-hardened steel. Everything else was built using lower-strength grades.
Twelve years later, 42 percent of the 2021 Trailblazer's body is advanced high-strength steel or even stronger grades, according to Kim's presentation. Based on GM's general steel repairability matrix, this means more areas of the body might be subject to repair and/or sectioning restrictions. Check the specific 2021 Trailblazer OEM procedures to learn what you can and can't do on the small SUV.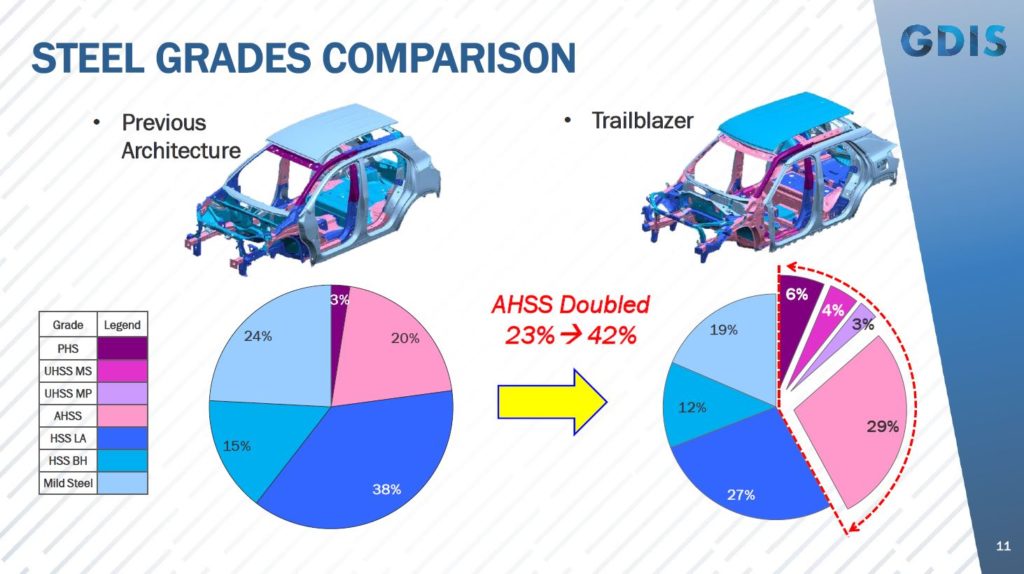 Six percent of the body was press-hardened steel, including the A- and B-pillars, part of the roof rail, and dash load reinforcements in the lower front end of the passenger cabin. Kim said GM used press-hardened steel in locations requiring the maximum strength and formability.
Another 4 percent of the structure was martensitic ultra-high-strength steel. Kim said GM used Martensitic 1500 for the rocker inner, tunnel reinforcement and some front longitudinal parts.
GM built another 3 percent of the body — the rocker panels, based on a diagram Kim showed — out of multiphase ultra-high-strength steel. Kim said the OEM deployed MP 1180, calling it a first for GM Korea.
Advanced high-strength steel made up 29 percent of the 2021 Trailblazer body. Kim described these components as load paths.
High-strength low-alloy steel is the second most common form of steel on the vehicle, at 27 percent of the body. GM used the grade in situations involving a "softer joint which needs energy absorption," according to Kim.
Another 12 percent of the body involved bake-hardened high-strength steel. Kim called these components "nonstructural."
The rest of the body was mild steel.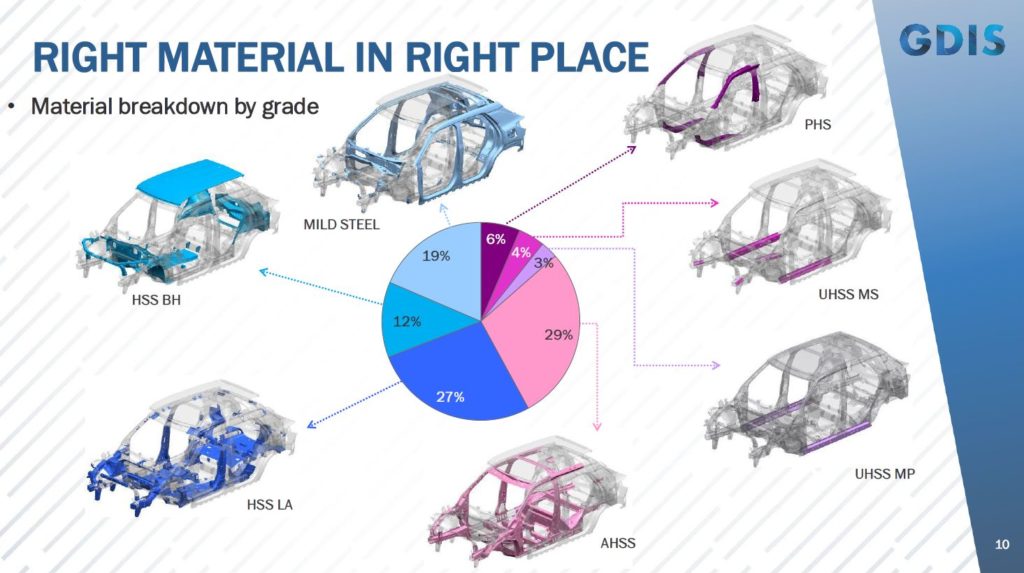 GM delivered the body without having to dip into the new strong yet more formable Generation 3 steels, according to Kim.
"There is no Gen 3 steel in Trailblazer," he said.
Collision repairers and paintless dent repair professionals might also notice certain body elements are thinner than what they remember from 2009. Kim said GM used a process known as "multidisciplinary optimization," or "MDO," to pick the best steel grade and gauge for various parts.
The OEM would a type of steel and run "intensive" computer-aided engineering simulations, Kim said. Such software lets GM predict how thin it can make a piece of metal and still achieve the performance it needs.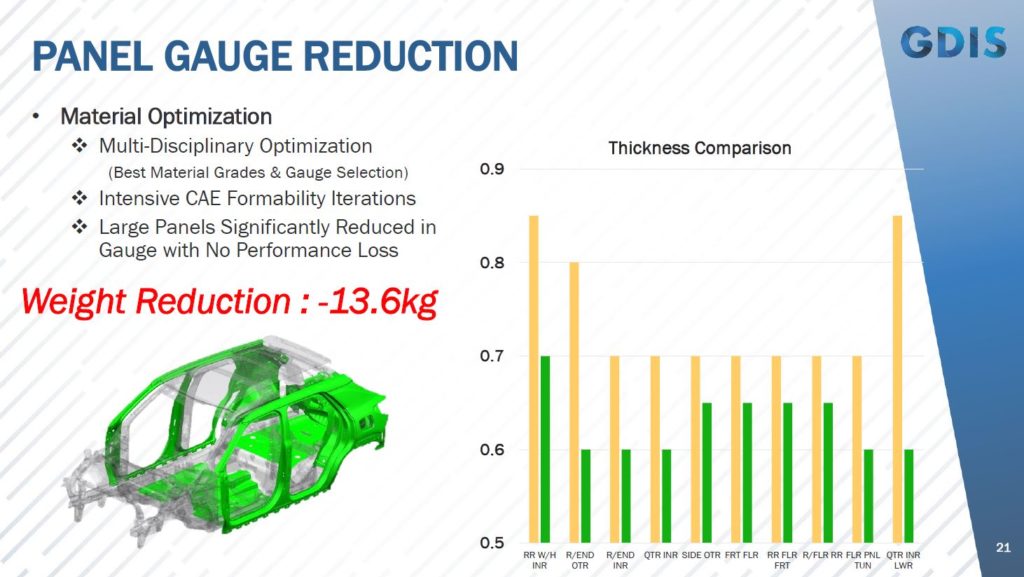 Kim said GM learned it could "significantly" reduce panel gauges. He showed a chart demonstrating how 10 areas of the Trailblazer were shaved down from the previous architecture's thickness — with six out of the 10 thinned by 0.1 mm or more. In fact, GM was able to shrink part of the quarter panel inner from 0.85 mm to 0.6 mm.
"By doing so, you could save a lot of material," Kim said of the various thickness declines. He said this optimization let GM cut nearly 30 pounds out of the vehicle's weight.
The new body delivers an 18 percent increase in torsional stiffness and a 28 percent gain in body structure efficiency, according to a slide.
"We made it stiffer as well," Kim said.
Kim said GM applied 19.4 meters of structural adhesive to the 2021 model — more than double what a slide called 7.5 meters in the 2009 architecture.
An audience member asked if any of the adhesive was purely for stiffness purposes. GM global body structures chief architect Warren Parsons said no.
"It's all the crash-toughened adhesive," Parsons said. He called such adhesive the "only structural that we're using these days."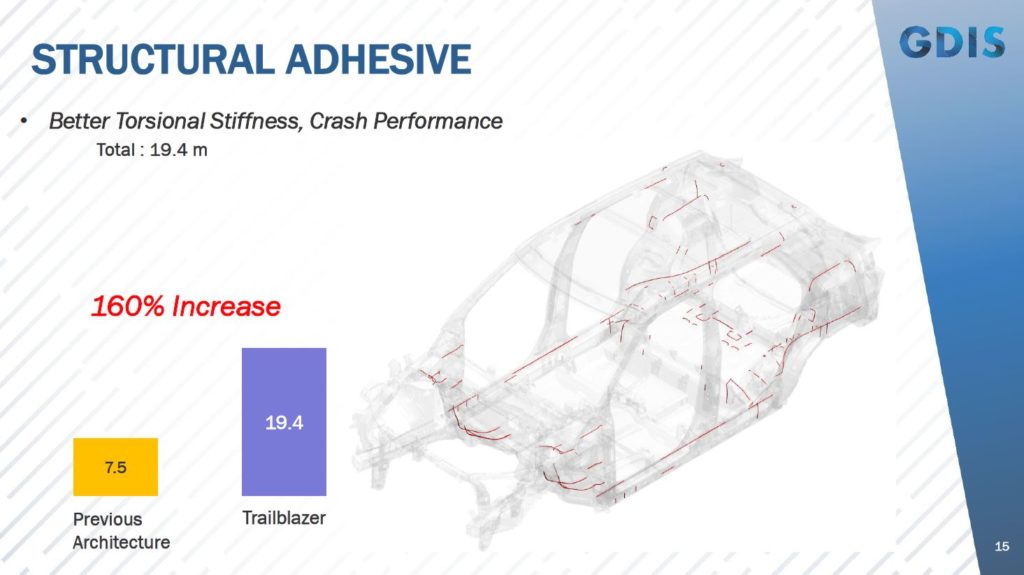 More information:
General Motors at Great Designs in Steel, May 19, 2021
General Motors at Great Designs in Steel, May 19, 2021
Official GM OEM repair procedures
Images:
The 2021 Chevrolet Trailblazer ACTIV is shown. (Provided by Chevrolet)
42 percent of the 2021 Chevrolet Trailblazer body is advanced high-strength or stronger grades of steel. (General Motors slides via Great Designs in Steel)
According to General Motors upper-body engineer Youngtaeck Kim, GM used a process known as "multidisciplinary optimization," or "MDO," to pick the best steel grade and gauge for various parts on the 2021 Chevrolet Trailblazer. It was able to shave some parts by more than 0.1 mm of thickness. (General Motors slide via Great Designs in Steel)
According to General Motors upper-body engineer Youngtaeck Kim, General Motors more than doubled the amount of structural adhesive in the 2021 Chevrolet Trailblazer from its predecessor. (General Motors slide via Great Designs in Steel)
Share This: