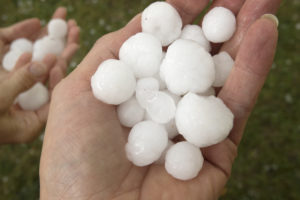 Liberty Mutual's free, opt-in hail alert service prompted 44 percent of customers to move their vehicle in time to avoid hail damage, a survey of policyholders found.
"We are constantly testing new digital insurance offerings and services that expand protection to our customers in ways beyond insurance," Liberty Mutual global retail markets innovation head Adam L'Italien said in a statement Wednesday. "A value-added service like our Hail Alerts helps to create deeper connections with our customers by keeping them and their property safe from the unexpected."
The seeming success of the feature means body shops and storm chasers across the country could find themselves with fewer comprehensive claims to fix — particularly if other insurers follow suit.
Hail led to nearly 735,000 personal auto and nearly 26,000 commercial auto insurance claims between 2017 and 2019, the National Insurance Crime Bureau said last year. This averages out to about 245,000 and 8,600 claims a year, respectively.
No. 1 private passenger auto insurer State Farm estimated its average hail vehicle claim in 2020 exceeded $4,300. That's nearly $1,000 more than last year's $3,421 average repairable vehicle claim, according to CCC. 
If 44 percent of those private passenger auto claims vanish someday because every insurer is copying Liberty Mutual's program, body shops are going to notice. Based on State Farm's $4,300 number, that'd theoretically be more than $460 million in hail work potentially lost to the industry.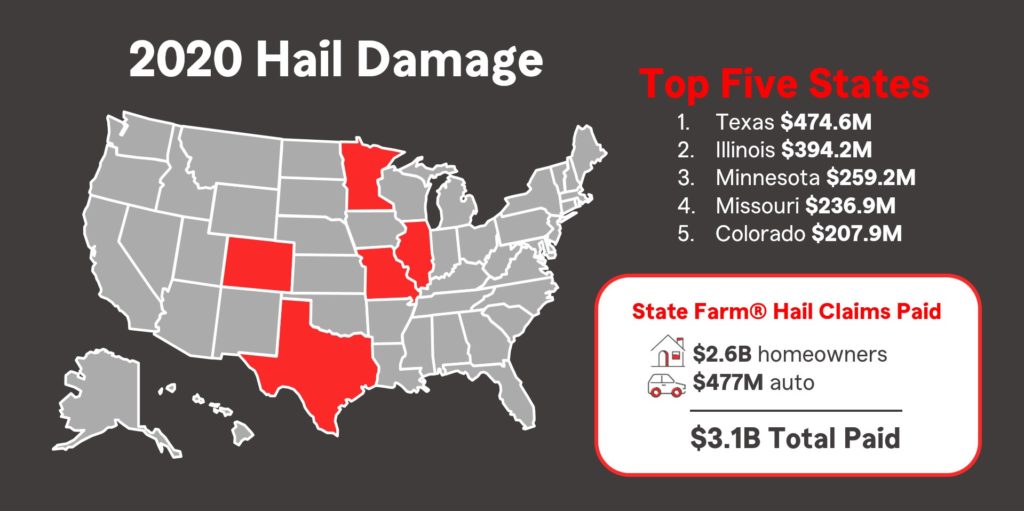 Liberty Mutual's hail alert system started as a Texas pilot initiative and now serves 30,000 auto insurance policyholders in 21 states. The insurer draws upon Accuweather forecasts and contacts customers with SMS text messages.
A Liberty Mutual spokesperson described the concept Friday as seeking "to address a real unmet customer need: preventing hail damage to cars and homes."
"Because these weather events materialize quickly, there is usually little time to prepare," the spokesperson continued. "A number of teams across Liberty Mutual came together to brainstorm creative solutions to address this pain point, assessed a range of enabling technologies, and developed our SMS Hail Alerts. This innovation is ideal because the communication reaches customers instantly, giving them time to protect themselves and their property, and provide greater peace of mind."
As noted above, the program is completely voluntary. A Liberty Mutual spokesperson said the insurer won't penalize consumers who opt not to receive the alerts, nor will it penalize policyholders who receive the alert but fail to protect their vehicle from hail.
"Participation does not impact premiums or a potential claim," the spokesperson wrote.
Customers can sign up for the alerts in Alabama, Arkansas, Colorado, Illinois, Indiana, Iowa, Kansas, Kentucky, Louisiana, Minnesota, Missouri, Mississippi, Montana, North Dakota, Nebraska, New Mexico, Oklahoma, South Dakota, Texas, Tennessee and Wyoming.
The National Oceanic Atmospheric Administration reported more than 4,600 major hailstorms in 2020, according to Liberty Mutual.
More information:
"Liberty Mutual Helps Auto Insurance Customers Stay Safe and Protect Vehicles With Real-Time Hailstorm Alerts"
Liberty Mutual, June 15, 2021
"More than $3.1 Billion Paid on 2020 Hail Damage Claims"
State Farm, April 1, 2021
Images:
Hail from a Colorado storm is shown. (milehightraveler/iStock)
State Farm released this infographic related to hail claims in 2020. (Provided by State Farm)
Share This: