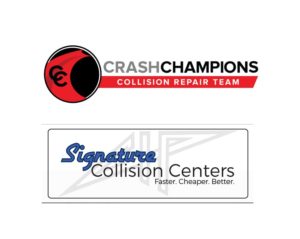 Crash Champions on Tuesday announced it would grow to 118 locations in 12 states after acquiring the 24-shop regional MSO Signature Collision Centers.
Signature CEO Charles "Chuck" Pipkin will own a piece of Crash Champions and become an executive board member. Other terms of the acquisition were not disclosed.
Signature had once vowed not to sell. But Pipkin said the company concluded that it had reached the point it needed a partner.
"This is a monumental moment for Signature, one that we've been working towards for a long time," Pipkin said in a statement. "Since our founding in 2004, we have been committed to building this business with a very specific vision and set of values. As we looked to the future, it became clear that we needed to join forces with like-minded individuals in order to take our business to the next level and achieve the full value of our platform. Our search for that partner started and ended with Crash Champions, which not only has the team and resources to accelerate our growth, but shares the same operational ethos and commitment to excellence. This is the next logical step for our business, an exciting new chapter, and an ideal opportunity to continue building our legacy under a new powerful name and brand."
In an email Tuesday, he elaborated:
Originally, it was never our intention to explore this type of partnership, but Crash Champions stood out for truly understanding our vision and values. …  With this combination, we are elevating our stature beyond that of a regional MSO and putting ourselves on track to become a truly national provider and to enjoy the range of benefits that come with that scale. We are confident that this transaction is the best path forward to realize our expansion ambitions, and we could not be more energized about the future of our company. 
Crash Champions has been on a buying spree since its purchase by private equity firm A&M Capital Partners in 2019, and CEO Matt Ebert said it plans to keep acquiring shops.
"We have enjoyed significant growth over the last two years by carefully planning and executing a national M&A strategy, including identifying the right targets, partnering with talented management teams, and properly integrating each operation into our platform," Ebert said in a statement. "Our pipeline for quality M&A remains strong, the Crash brand still has significant room to grow, and we look forward to continuing our marketplace expansion."
His MSO said the Signature deal was its 42nd since July 2019. Back then, Crash Champions had eight shops in the Chicago area.
In February, A&M Capital observed that Crash Champions stood at 60 shops and added 21 of them between August 2020 and January. Now, it'll have 118 locations once it closes on Signature's 24 shops in what appears to be the company's largest deal since buying 23-shop Pacific Elite in March 2020.
"This partnership represents a collaboration between two of the leading names in the U.S. collision repair industry," Ebert said of the Signature deal. "Our growth strategy is rooted in identifying the right shops and owners who can be true partners and stewards of the Crash brand. This means not only creating near-term value when they join the Company through a transaction, but creating long-term value through continued contributions as members of our leadership and ownership teams. Chuck and his team are the ideal partners, and we're excited to welcome them to the Crash family and extend our brand to the East Coast."
Crash Champions will have a presence in California; Colorado; Florida; Illinois; Iowa; Kansas; Maryland; Missouri; North Carolina; Pennsylvania; Ohio; Washington, D.C.; and Wisconsin once it closes on Signature. This larger national footprint could shake things up for both direct repair program and non-direct repair program competitors in the area, though Signature already had stressed DRPs in its business model.
It's been said that insurers like dealing with larger national collision operations and a single point of contact rather than numerous independent shops in individual markets.
A&M mentioned both economies of scale and DRPs in celebrating Crash Champions' growth to 60 shops in February.
"With its expanded footprint, Crash continues to drive entrenchment of insurance carrier relationships and ongoing DRP additions based on superior service offerings, manufacturer certifications, and equipment," A&M wrote. "Through these key acquisitions, Crash believes it will also be better positioned to take advantage of the numerous scale benefits of being a larger MSO, including operational efficiencies and cost synergies."
Signature's website says the MSO "was built around the Direct Repair Program (DRP) model."
"As a closely held company, Signature works on much tighter profit margins than a large company beholden to investors," another webpage states. "By taking this longer-term view, Signature has indeed been able to offer lower rates to insurance companies and reinvest more in quality employees, equipment, training and processes. As a result, customers enjoy consistently high-quality service and workmanship. A Win-Win-Win situation."
More information:
"Signature Collision Centers Joins Forces with Crash Champions"
Crash Champions, June 22, 2021
Featured image: Crash Champions announced June 22, 2021, it had purchased the 24-location MSO Signature Collision Centers. (Provided by Crash Champions)
Share This: