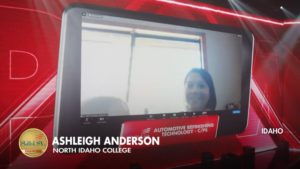 Students from Colorado, Idaho, Missouri, New York, Ohio and Wisconsin on Thursday took home auto body repair, estimating and refinishing gold medals in the first SkillsUSA Nationals since 2019.
The COVID-19 pandemic forced the cancellation of the 2020 SkillsUSA Nationals, and the 2021 Automotive Refinishing Technology, Collision Repair Technology and Collision Damage Appraisal events and Thursday's awards ceremony were conducted virtually.
Organizers didn't want to let another year elapse without permitting state champions to compete at Nationals, Collision Repair Technology organizer Jason Bartanen (Collision Hub) said. This year, they could "hang gold," he said.
The three auto body-related events featured both a high school and post-secondary division.
Idaho fielded the nation's No. 1 college-age painter in the 2021 SkillsUSA: Ashleigh Anderson, representing North Idaho College (Coeur d'Alene, Idaho), The top high school refinisher, Seth Pine, hailed from Tiffin, Ohio's Vanguard-Sentinel Career and Technology Centers.
Jamie Frey of Aims Community College-Windsor (Greeley, Colo.) took top honors in the postsecondary collision estimating category, while Dereck Chetram of Thomas A. Edison Career & Technical High School (Jamaica, N.Y.) placed first in the high school Collision Damage Appraisal division.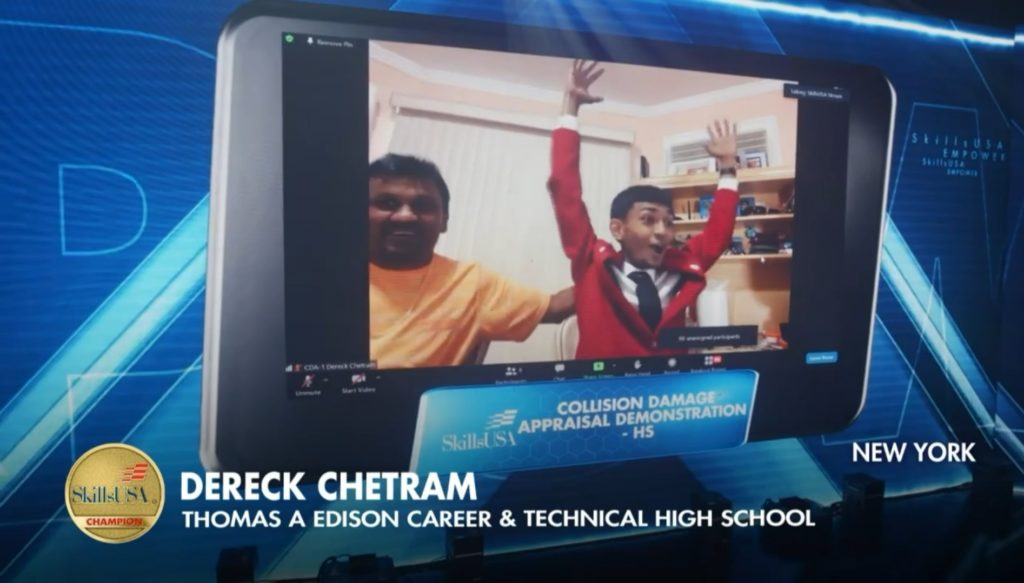 Collision Damage Appraisal is still technically a demonstration category, but SkillsUSA still honors its victors as it would any other.
Demo events which "are doing well and have industry support" graduate to become official contests, SkillsUSA public relations manager Karen Kitzel explained in 2018.
Collision Damage Appraisal organizer Chris Evans (State Farm) said the estimating competition had doubled in competitors between 2018 and 2019 but saw a slump in participation following the pandemic. He said organizers hope to see a "big jump next year."
The Midwest delivered both of the Collision Repair Technology gold medalists. Teofil Iacob of Ozarks Technical Community College (Springfield, Mo.) emerged victorious from the postsecondary auto body repair competition, and Lucas Murphy of Freedom High School (Freedom, Wisc.) was the nation's best high school-age body tech.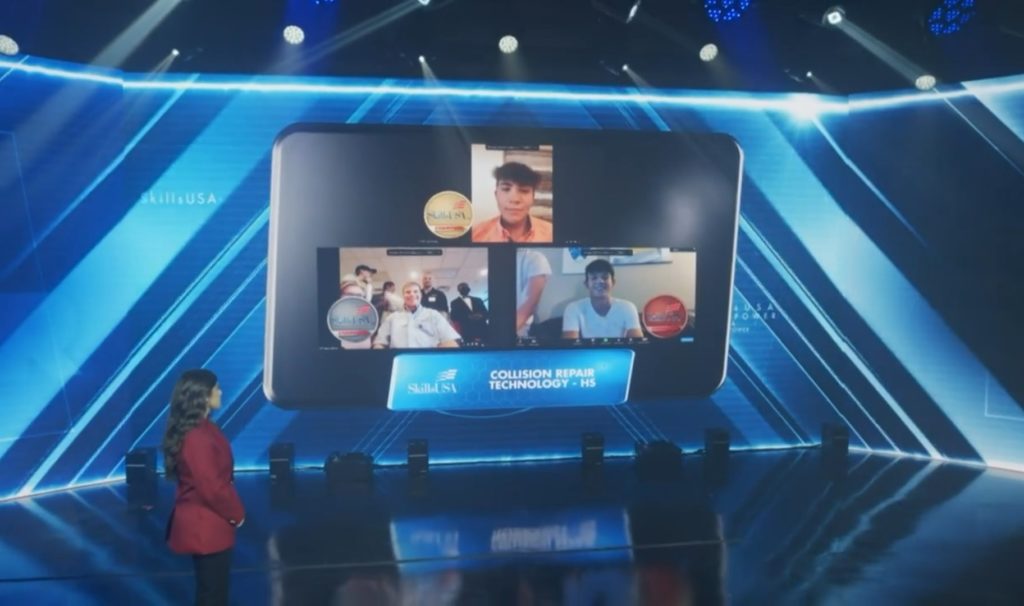 Idaho, Kansas and Wisconsin residents get the bragging rights this year as the states with the most medalists.
Anderson's North Idaho College also produced the country's third-place postsecondary collision repair winner: Logan Farley.
Wisconsin and Kansas posted both high school and college medalists.
In addition to Murphy's first-place showing for Freedom High School, Alexander Lemberger of Lakeshore Technical College (Cleveland, Wisc.) won the bronze in the postsecondary refinishing category.
Over in Kansas, the Topeka-based Washburn Tech fielded both a high school and college medalist. Postsecondary competitor Colby Figge placed second in collision repair, while high school finalist Trysten Botts ranked third in estimating.
Overall, 15 states were represented among the collision repair, refinishing and estimating medalists.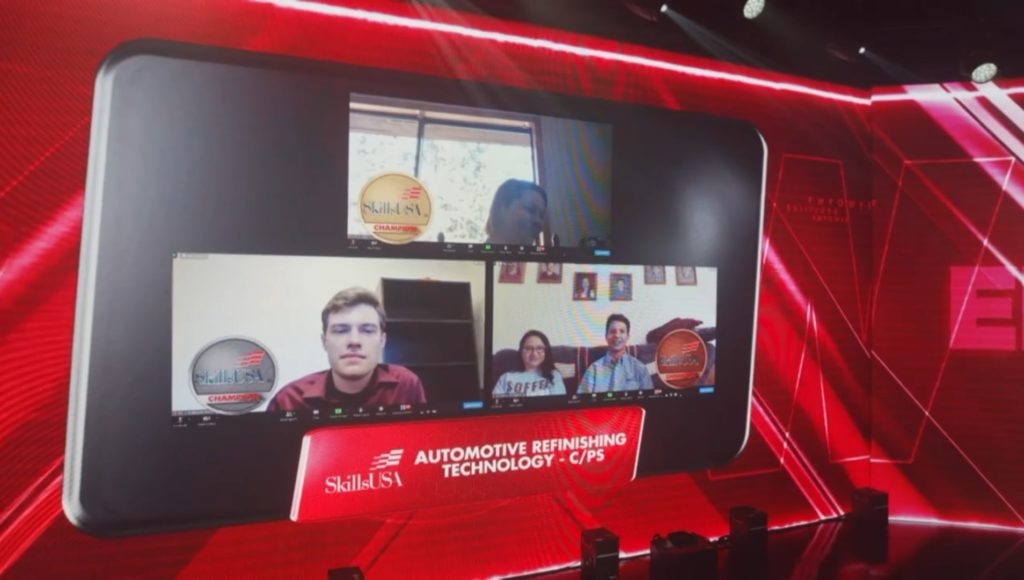 Other winners included:
College/Postsecondary: Thomas Dickerson of Athens Technical College (Athens, Ga.) won the silver in Automotive Refinishing Technology. Jakob Shiner of Metropolitan Community College (Omaha, Neb.) and Caleb Youngpuppy of Northeast Technology Center-Pryor (Pryor, Okla.) took second and third, respectively, in Collision Damage Appraisal.
High School: Morgan Sebring of Marengo Community High School (Marengo, Ill.) and Benjamin Judson of Blackstone Valley Regional Vocational Technical High School (Upton, Mass.) placed second and third in refinishing, respectively. Evelyn Deppenschmidt of Bucks County Technical High School (Fairless Hills, Pa.) won the silver in estimating. Samuel Dittmar of Saginaw  Career Complex (Saginaw, Mich.) ranked No. 2 in collision repair, and Steven Beecroft of the Impact Institute (Kendallville, Ind.) came in third for collision repair.
Congratulations to the winners! Odds are good there's jobs for you in the collision industry!
More information:
"SkillsUSA 2021 NLSC Awards & Recognition Session" (Collision-related awards start around 2:49:50 and 3:16:17)
SkillsUSA, June 24, 2021
Images:
Ashleigh Anderson, representing North Idaho College (Coeur d'Alene, Idaho) won gold in the college-level Automotive Refinishing Technology competition of the 2021 SkillsUSA. (Screenshot from SkillsUSA)
Dereck Chetram of Thomas A. Edison Career & Technical High School (Jamaica, N.Y.) placed first in the 2021 SkillsUSA high school Collision Damage Appraisal division. (Screenshot from SkillsUSA)
The Top 3 high school Collision Repair Technology competitors are shown during the virtual SkillsUSA Nationals awards ceremony on June 24, 2021. (Screenshot from SkillsUSA video)
The Top 3 college/postsecondary Automotive Refinishing Technology competitors are shown during the virtual SkillsUSA Nationals awards ceremony on June 24, 2021. (Screenshot from SkillsUSA video)
Share This: