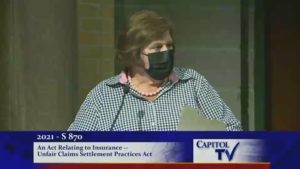 The Rhode Island Senate on Thursday backed a bill holding that insurers couldn't refuse markups and other charges relating to auto body shops' paint and material and sublet expenses.
Senate Bill 870, sponsored by Senate Majority Whip Maryellen Goodwin, D-Providence, would also require an insurer to alert customers when it has totaled a vehicle but doesn't want it.
Thursday's 28-9 vote follows an 8-0 Senate Judiciary Committee vote on June 21 in support of the legislation.
The bill makes changes to Rhode Island's unfair claims practice statute, General Laws 27-9.1-4.
Goodwin on the Senate Floor Thursday said "a few insurers decided to interpret the law themselves. This makes it clear for the practices they must follow."
Sen. Samuel Bell, D-Providence, said such auto body-related bills tend to feature "two corporate interests" — and "neither one is legitimately interested in the consumers."
Sometimes insurers go too far and consumer protections were necessary, and sometimes "the auto body lobby goes too far and just wants to make a profit," Bell said.
Bell said SB 870 carried two policies, one good, and "one I think is bad." He said he supported the salvage changes but called markups "essentially used to pad the profits of the auto body shops."
"It's kind of tied up for me," he said.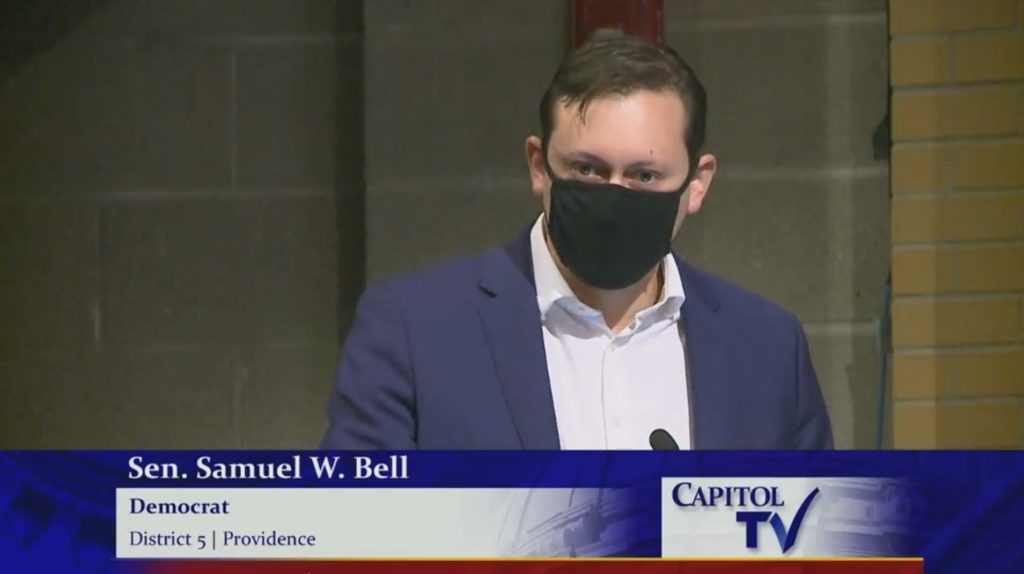 Paint and material and sublet markups aren't as arbitrary or money-grabbing as Bell presents them. Retailers and tradespeople don't sell goods at cost, after all, and billing the customer for measured, itemized materials expended on a specific repair can be thought of as the customer buying more physical goods. Managing, scheduling, verifying and potentially transporting the vehicle during sublet work requires effort by staffers which a body shop still has to pay for that time.
And leading national insurers do commonly reimburse sublet markup, based on responses from a couple hundred shops polled during the January 2020 "Who Pays for What?" survey by Collision Advice and CRASH Network.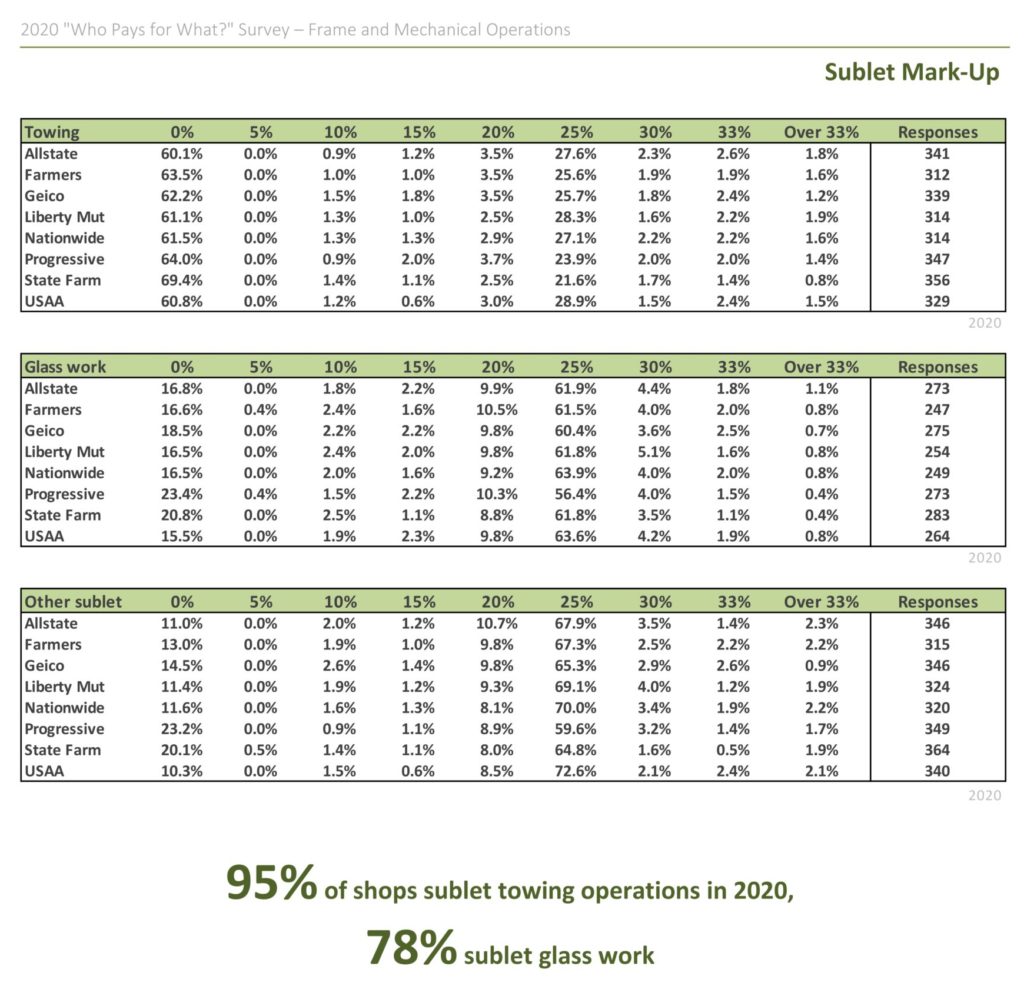 Bell called it a decision between which lobby he trusted less: insurers or collision repairers. He said the answer was body shops. He said he was misled by then-Senate Judiciary Committee Chairwoman Erin Lynch Prata into supporting an auto body repair bill he opposed in 2019.
"It wasn't the bill that we were told it was," said Bell, who said he approved of three other collision industry bills that year, just not that one.
Thus, he would oppose this 2021 legislation, Bell said said.  "I don't like the politics behind how some of the auto body bills are passed," he said.
Lynch Prata is now a Rhode Island Supreme Court justice. A spokesman for the court said she had no comment on Bell's allegation.
Goodwin agreed Thursday that insurers and collision repairers have competing interests. "No doubt about that," she said.
But Goodwin said she was responsive to body shops' concerns. "For the most part, they are very small business owners … trying to grind out a living."
"… In my opinion, the insurance companies have the deepest pockets in all of America. I don't think they're fair in general, for the most part — not all of them; don't let me just blanketly say that — to the consumers that pay big, big premiums year after year."
Rhode Island's current law 27-9.1-4 says an insurer who doesn't want to keep a totaled car "must notify the owner of the vehicle in writing of the requirements of obtaining both a salvage title and a reconstructed title." It implies the carrier isn't keeping the vehicle, but it doesn't spell out that fact.
SB 870 would add a requirement that an insurer "must obtain, in writing, the owner's consent and acknowledgement that the insurer is not retaining the salvage and include a statement of the owner's obligation and potential costs to dispose of or otherwise retain the salvage."
One major insurance trade group — the National Association of Mutual Insurance Companies — in April told the House Corporations Committee it took no issue with identical language in HB 6324. However, it opposed the other two expansions of state law on paint materials and sublets.
Goodwin said the bill made it clear that body shops won't hold or take possession of such vehicles. "It's up to the owner," she said.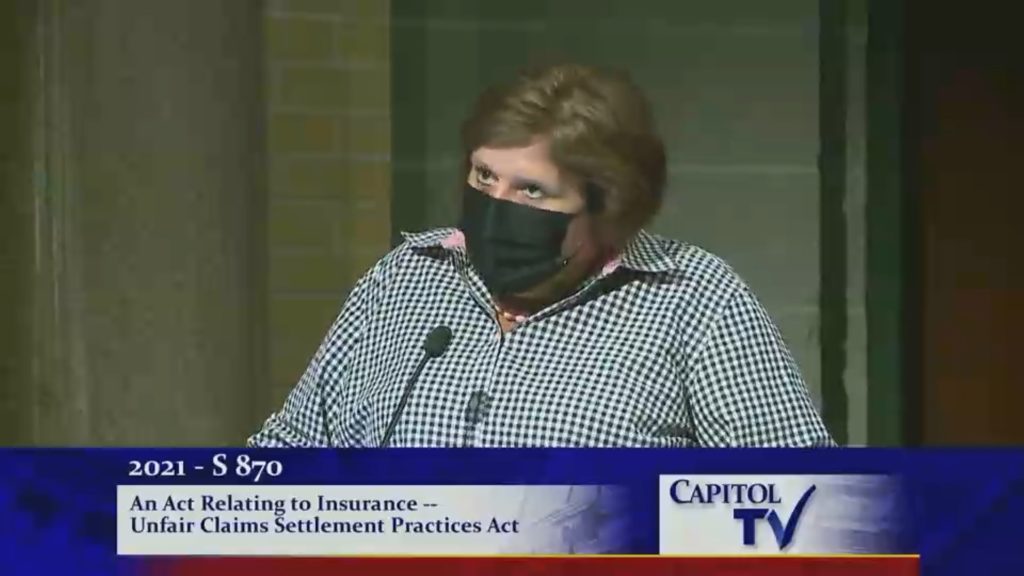 Another part of SB 870 also expands on an existing requirement. Right now, the unfair claims practice law states insurers must "compensate an auto body shop for documented charges as identified through industry-recognized software programs or systems for paint, body and refinishing materials in auto body repair claims."
Under SB 870, this language would state that an insurer must "compensate an auto body shop for their documented charges as identified through the most current version of automotive industry-recognized software programs or systems for paint, body and refinishing materials in auto body repair claims, including, but not limited to, programs such as Mitchell's RMC, PMC Logic, Paint, Micromix, or a paint manufacturer's programs. An insurer shall not discount documented charges by failing to use a system in its entirety, including an automotive industry standard markup." (Emphasis added to show text added by the bill.)
Another section of the bill would add completely new language related to sublets. It would be an unfair claims practice if insurers were found "Refusing to pay an auto body repair shop for documented necessary sublet services paid out to vendors or incurred by the auto body repair shop, for specialty or unique services performed in the overall repair process, including costs and labor incurred to research, coordinate, administrate or facilitate the necessary sublet service, and an automotive industry standard markup. Examples of sublet services include, but are not limited to, towing, transportation, suspension, alignments, electronic calibrations, diagnostic work, mechanical work, and paid charges to release a vehicle."
The virtually identical HB 6324, still sits before the House Corporations Committee after hearings in April.
Be heard: Rhode Island lawmaker contact information can be found here and here.
Images:
Rhode Island Senate Majority Whip Maryellen Goodwin, D-Providence, speaks June 24, 2021, about her Senate Bill 870. (Screenshot from Rhode Island Legislature video)
Rhode Island Sen. Samuel Bell, D-Providence, opposed Senate Bill 870 on June 24, 2021. (Screenshot from Rhode Island Legislature video)
A summer 2020 "Who Pays for What?" study by Collision Advice and CRASH Network found numerous body shops charging 25 percent markup on sublets. (Provided by Collision Advice and CRASH Network)
Share This: