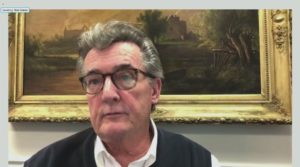 Advocates described a Rhode Island auto insurance reform bill necessary to curb real-world situations reported to a House committee last month.
House Bill 6324 would make three changes to Rhode Island's unfair claims practice statute, General Laws 27-9.1-4.
Abandoned total notification
One element has to do with how carriers handle total losses they don't wish to keep.
House Corporations Committee Vice Chairman William O'Brien, D-North Providence, told a committee hearing May 20 he sponsored House Bill 6324 following the experience of a constituent. The insurer totaled the constituent's vehicle and "just abandoned the car at the auto body place," O'Brien said. The car had racked up $1,000 in storage fees "the insurer was responsible for," O'Brien said.
"That was the main reason I sponsored this bill," Rep. O'Brien said.
One House Bill 6234 requires an insurer to alert customers that the carrier has totaled a vehicle but doesn't want it.
Rhode Island considers a vehicle totaled when repairs reach 75 percent of value, though a consumer has the option to agree to a total loss at any time.
Rhode Island's current unfair claims practice law 27-9.1-4 says an insurer who doesn't want to keep a totaled car "must notify the owner of the vehicle in writing of the requirements of obtaining both a salvage title and a reconstructed title." It implies the carrier isn't keeping the vehicle, but it doesn't spell out that fact.
HB 6234 would add a requirement that an insurer "obtain, in writing, the owner's consent and acknowledgement that the insurer is not retaining the salvage and include a statement of the owner's obligation and potential costs to dispose of or otherwise retain the salvage."
This part might be easy to pass.
"We have no objection to the total loss notification provisions," National Association of Mutual Insurance Companies Northeast regional Vice President Rory Whelan told the Corporations Committee on May 20. His group opposed the other two changes made by the bill, he said.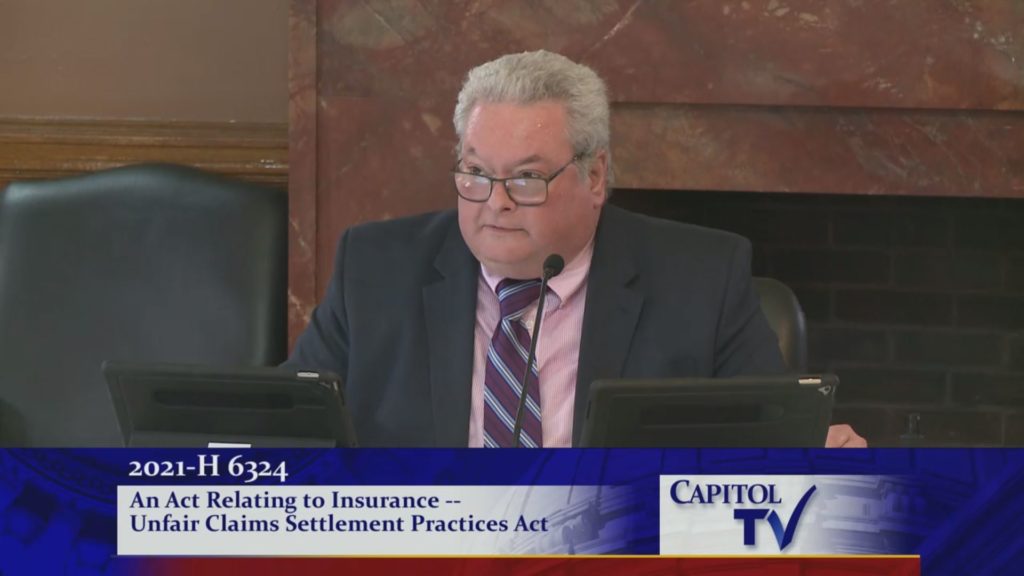 Paint materials charges
Another part of the bill expands on an existing requirement that an insurer must "compensate an auto body shop for documented charges as identified through industry-recognized software programs or systems for paint, body and refinishing materials in auto body repair claims."
Under HB 6234, this language would state that an insurer must "compensate an auto body shop for their documented charges as identified through the most current version of automotive industry-recognized software programs or systems for paint, body and refinishing materials in auto body repair claims, including, but not limited to, programs such as Mitchell's RMC, PMC Logic, Paint, Micromix, or a paint manufacturer's programs. An insurer shall not discount documented charges by failing to use a system in its entirety, including an automotive industry standard markup." (Emphasis added to show text added by the bill.)
Rep. Robert Craven Sr., D-North Kingstown, reported that body shops have a "general frustration" with carriers and described insurer practice of attempting to elude auto insurance law with nitpicking.
The Legislature requires insurers to cover paints authorized for the repair, according to Craven. He asked lawmakers to consider a situation where an insurer agrees, "'Yes, we will pay you for the paint,'" but refuses to reimburse tape. When challenged that the tape is part of a paint job, the insurer retorts, "'No, that's not what the General Assembly said.'"
Rhode Islanders are fortunate repairers often will eat the costs, but "it's not fair" and it was "irritating to see people ripped of by this kind of nitpicky practice."
The body shop and Legislature outline what's necessary, and insurers "start cutting around the edges," Craven said. He said it was time insurers were told to stop.
This wasn't a problem with all insurers, "just some of them," Craven said.
American Property Casualty Insurance Association state government relations Vice President Frank O'Brien argued the Legislature shouldn't get into the "nitty-gritty," despite Craven's allegation insurers were doing precisely that.
"How far is the General Assembly supposed to get into the weeds in all of this stuff?" Frank O'Brien asked. He said the vast majority of the unfair claims practices statutes already deal with auto insurance behavior.
Craven called the legislation a "consumer bill." A consumer bought a car, the automaker describes how to repair it, and "it's not being paid for by the insurance company."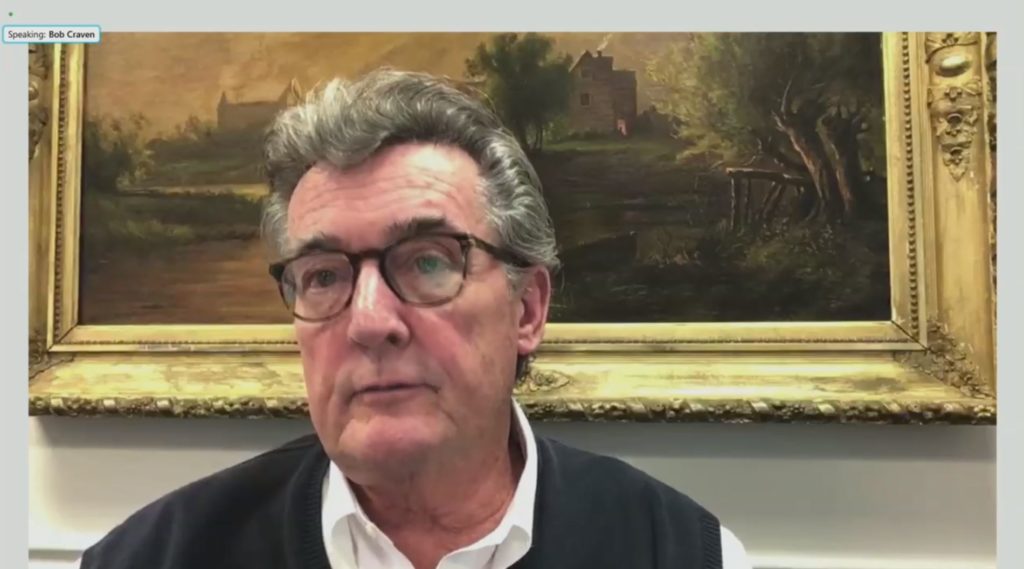 Casale's Auto Body President Thomas Casale told the committee that bill and HB 6235, which was also heard by the panel May 20, "will help clarify constant problems in our industry."
He said the paint materials calculation software carries a line item for markup.
"The insurance companies choose not to use that line, knowing that they are required to," Casale said. They "purposefully" aren't using the appraisal system to its "entirety."
Frank O'Brien said "not many" insurers were refusing materials today and "many other do pay them." (This would seem to indicate that adopting at least part of this language wouldn't alter much with regard to insurance costs.)
Frank O'Brien said the carriers that refused to reimburse customers felt such items were "standard overhead."
He said more auto body shops are attempting to "slice and dice, if you will, the services" and itemize things "traditionally included in general overhead." Yet he said "many other do pay them."
According to January 2020 "Who Pays for What?" polling by Collision Advice and CRASH Network, eight of the nation's largest insurers reimbursed invoicing system charges more than half of the time shops billed for them.
In 2016, only 19 percent of repairers responding to a "Who Pays?" question said they billed for materials with a calculator/invoice method. When the researchers asked the same question in January, 27.5 percent of shops replying said they used an invoicing system rather than using the traditional method of billing: multiplying refinish hours by an arbitrary labor rate.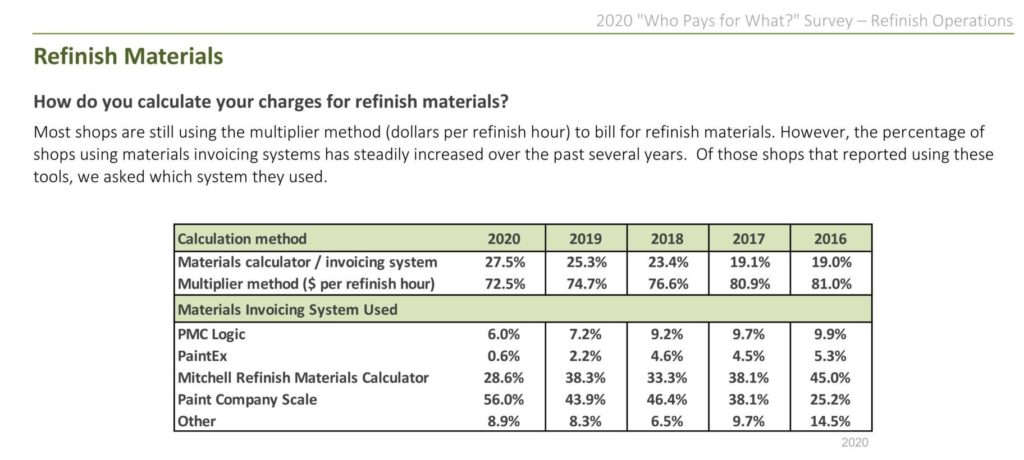 Randy Bottella, owner and operator of Reliable Collision, challenged the idea such materials were overhead.
"That's not the case," he said. They're materials used on a specific vehicle, such as primer, body filler, and buffing pads, he said.
"That's where those come from," he said.
Frank O'Brien said they called the measure a "'blank check'" piece of legislation. HB 6234 didn't define industry standard markup on materials or how this would be established, he said.
"No state in the country has legislation like this," he said.
Bottella said the bill used the industry standard concept because "no way" would shops impose a specific figure. But he said the markup tended to be 25 percent, and all paint and materials software included a place to incorporate a markup.
"It's supposed to be put in," Bottella said, but some insurers refuse to accept it. However, the majority of insurers reimburse markup, and "we're perfectly fine with them." The bill is meant to solve the "outliers" who "won't adhere to the law," he said.
Frank O'Brien also pointed out the specificity of the statute with regards to software brands. "It's unusual for a statute to list specific manufacturers that their products are allowed to be used," even as examples, he said. He said this would normally be delegated to a regulator to avoid barring other competitors.
"It's too broad," Rep. Robert Phillips, D-Woonsocket, said.
Bottella said the list was necessary because many insurers only recognize one materials system — which calculates a blended average rather than reflecting the actual items used in the repair.
Bottella said the state Division of Insurance refused to help.
"We don't get any relief from the division that should be regulating this," he said of the agency within the Department of Business Regulation. The division says it doesn't get involved in money issues and "won't even hear these things."
Bottella called this a "big problem" which sent body shops seeking relief from the Legislature.
The Division of Insurance has not yet responded to a Thursday request for comment on Bottella's description and for perspective on if it could, as Frank O'Brien suggested, regulate the list of paint materials calculators insurers must use.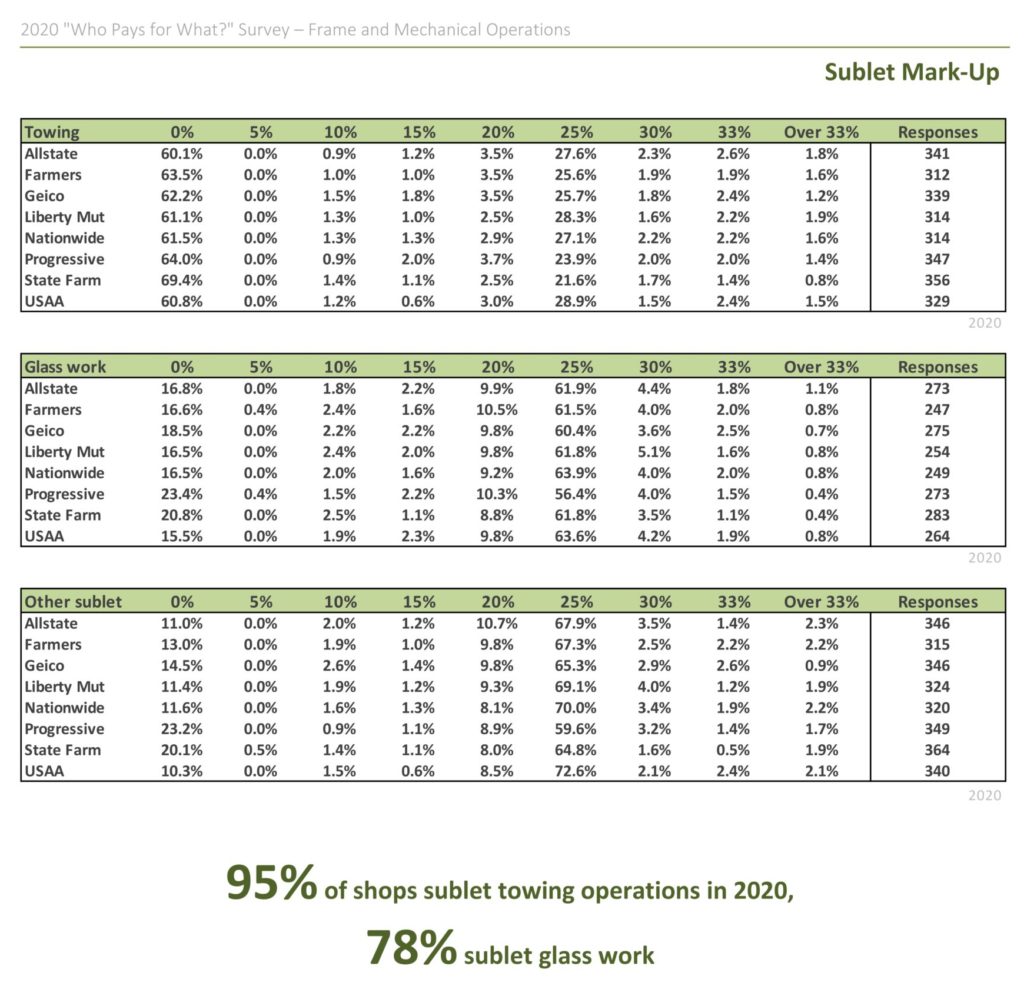 Sublets
Frank O'Brien said the APCIA was "even more concerned" with the final passage added by the bill, language regarding sublets. According to HB 6234, it would be an unfair claims practice if an insurer was:
Refusing to pay an auto body repair shop for documented necessary sublet services paid out to vendors or incurred by the auto body repair shop, for specialty or unique services performed in the overall repair process, including costs and labor incurred to research, coordinate, administrate or facilitate the necessary sublet service, and an automotive industry standard markup. Examples of sublet services include, but are not limited to, towing, transportation, suspension, alignments, electronic calibrations, diagnostic work, mechanical work, and paid charges to release a vehicle.
He said insurers are OK with many of the operations described in the section. "It includes a broad range of services, many of which we do concede are needed," he said. But he said the passage was an "unbalanced loophole that one could drive an armored car through."
He said adding an industry standard markup "which could be 25 percent or more" might "make costs in Rhode Island explode."
But eight of the nation's largest auto insurers regularly pay a 25 percent markup on sublet, according to summer 2020 "Who Pays?" polling of a few hundred shops by Collision Advice and Crash Network.
Insurers don't sell insurance at cost either. The latest National Association of Insurance Commissioners data found private passenger auto insurers only posted a loss ratio of 64.6 in 2019, which means only about $0.65 of every premium dollar collected was actually spent reimbursing customers. They spent another 10.8 cents on loss adjustment expenses.
The other 34.6 cents of every dollar brought in on premiums went to items like overhead and marketing.
O'Brien said the legislation included "most egregiously, an industry standard markup loophole."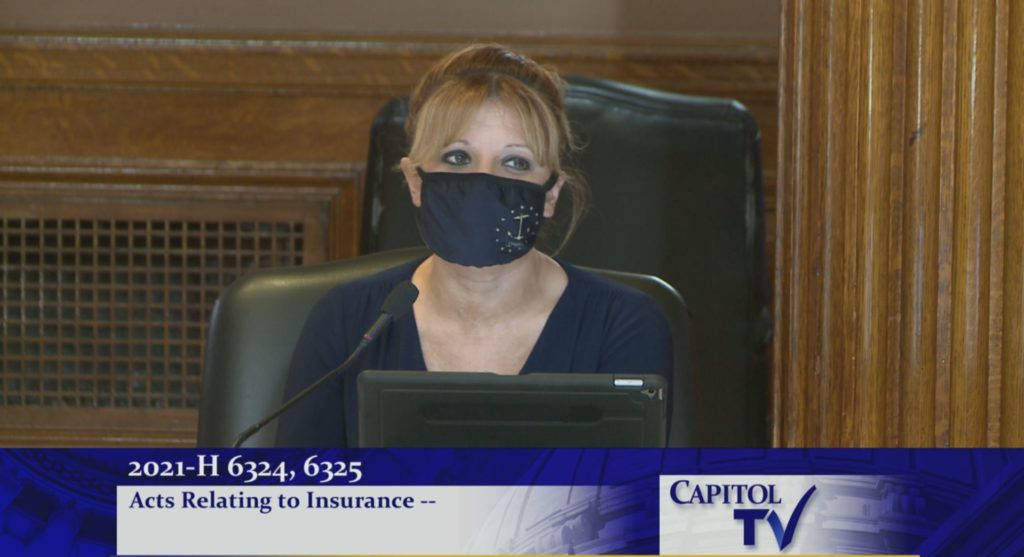 Rhode Island state Rep. Barbara Ann Fenton-Fung, R-Cranston, said her vehicle had work sublet during a repair at Bottella's shop. She remembered the process was "expensive" and "took a long time" and asked how often insurers refuse to cover it.
Bottella said some insurers present "no issue" with such labor. Others refuse to cover what the OEM states must be done.
He suggested the need for a markup here stemmed from the "huge process" a repairer undergoes when they sublet labor, steps including shipping and retrieving the vehicle and interacting with a dealer.
He said vehicle complexity meant shops couldn't have all of the necessary equipment on hand in-house.
"I respect that," Fenton-Fung said. She asked if the Insurance Division had been unhelpful on such issues.
"They say that they wont get involved in it, they don't handle it, they reject the complaints," Bottella said. "It's been an ongoing thing for a very long time." He said repairers "need something very concrete" to see enforcement.
Whelan argued that the bill created an "inequitable standard" by permitting any charges which are "simply documented."
"Charges should be reasonable," he said. The word "reasonable" is common in the unfair claims practices, but it's not found in the new language added by the bill, he pointed out.
To avoid lawsuits and for fairness' sake, the statue should "encourage a dialogue" instead of "tilting the scales" in favor of body shops, Whelan said. He asked lawmakers to "take pause" and consider some qualifier.
Be heard: Rhode Island lawmaker contact information can be found here and here.
More information:
Rhode Island House Corporations Committee hearing on HB 6234
Rhode Island Legislature Capitol TV, May 20, 2021
Images:
Rhode Island state Rep. Robert Craven Sr., D-North Kingstown, spoke in favor of HB 6324 during a House Corporations Committee hearing May 20, 2021. (Screenshot from Rhode Island Legislature Capitol TV)
Rhode Island House Bill 6234 sponsor and House Corporations Committee Vice Chairman William O'Brien, D-North Providence, discusses the bill during a committee hearing May 20, 2021. (Screenshot from Rhode Island Legislature Capitol TV)
In 2016, only 19 percent of repairers responding to a "Who Pays for What?" question said they billed for materials with a calculator/invoice method. When the researchers asked the same question in January 2020, 27.5 percent of shops replying said they used an invoicing system rather than multiplying refinish hours by a labor rate. (Provided by Collision Advice and CRASH Network)
A summer 2020 "Who Pays for What?" study by Collision Advice and CRASH Network found numerous body shops charging 25 percent markup on sublets. (Provided by Collision Advice and CRASH Network)
Rhode Island state Rep. Barbara Ann Fenton-Fung, R-Cranston, asked Randy Bottella, owner and operator of Reliable Collision, about assistance from the state Division of Insurance during a House Corporations Committee hearing May 20, 2021. (Screenshot from Rhode Island Legislature Capitol TV)
Share This: