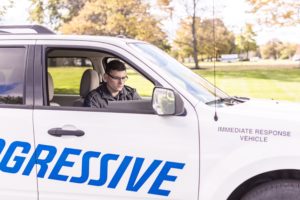 Though it remains the No. 3 insurer in the country, Progressive continued to gain last year on its rivals GEICO and State Farm, based on National Association of Insurance Commissioners data released last month.
Progressive's share of premium dollars rose 1.05 percentage points to 13.3 percent of the private passenger auto insurance market, according to the data spanning 99.38 of the property and casualty insurance industry's fillings.
GEICO, which ranks No. 2, slid 0.24 percentage points to control 13.54 percent of the private passenger auto industry.
No. 4 Allstate fell 0.22 percentage points to a 9.11 percent share.
Progressive said it spent more than $3.27 billion on policy acquisition costs in 2020, up $250 million. It spent $5.57 billion on other underwriting expenses, up nearly $595 billion and including nearly $2.18 billion in ad spending.
"Progressive's other underwriting expenses, which excludes the policyholder credits, increased 12% in 2020 and 19% in 2019, in part reflecting increased advertising spend in both years," Progressive wrote in its annual report. "On a year-over-year basis, our advertising expenditures increased 18% and 29% in 2020 and 2019, respectively. We will continue to invest in advertising as long as we generate sales at a cost below the maximum amount we are willing to spend to acquire a new customer."
Progressive spent nearly $1.84 billion on ads in 2019. It increased this amount $338.4 million to nearly $2.18 billion in 2020.
Other significant declines included No. 9 American Family losing 0.21 percentage points of share, No. 7 Farmers dropping 0.18 points, and No. 8 Nationwide decreasing by 0.15 points.
No. 5 USAA and No. 6 Liberty Mutual represented the other big winners in 2020. USAA popped 0.31 points to own 6.32 percent of the market, while Liberty Mutual rose 0.13 points to a 4.75 percent share.
Some of the insurers are going to be a bigger deal this year than the 2020 data suggests.
However, Farmers on Wednesday announced it had closed on its acquisition of MetLife's auto business. MetLife had 0.91 percent of the market last year, which combined with Farmers' 3.98 percent share pushes it ahead of Liberty Mutual to a 4.89 percent share.
And No. 12 Kemper, which rose on its own from a No. 13 rank in 2019, announced April 1 it finished its acquisition of American Access Casualty Company. Kemper last year estimated AACC did $370 million in direct premiums during 2019, which would boost Kemper to be the No. 11 insurer.
No. 1 State Farm closed Dec. 31, 2020, on a $400 million deal to buy nonstandard auto insurer GAINSCO. It's unclear how many premium dollars this adds to State Farm's book.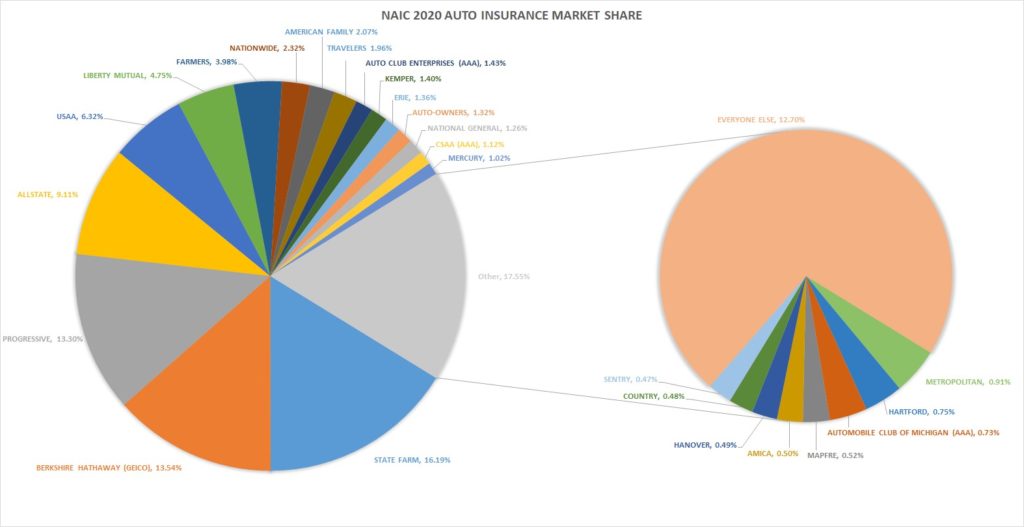 The auto insurance industry already was consolidating, at least in terms of larger insurers collecting more premium dollars. The nation's Top 25 carriers held 87.3 percent of the market, a 0.34-percentage-point gain from 2019's shared.
The standings offer an industrywide perspective on which insurers a shop is likely to see more or less of in 2021  — and perhaps how worried those carriers might be about losing customers.
Direct repair program shops and shops considering joining a DRP also benefit from the perspective on how much work might be coming or not coming in from a particular carrier. The data might also help independent repairers identify thriving smaller insurers seeking DRP partners.
The data is also interesting as a measure of how much insurers were able to save on auto claims last year as COVID-19 restrictions reduced road traffic and the odds of vehicles getting into crashes and generating losses.
The auto insurance industry saw their direct loss ratio — the amount of premiums dollars spent reimbursing customers with claims — drop by 8.53 points to 56.08. That means for every $1 in premiums collected, the insurer paid its customers back a little more than 56 cents. When cost containment and defense costs were factored in, the ratio was 58.38, down 8.97 points.
On the whole, the private passenger auto insurance industry earned more than $250 billion in premiums last year.
Images:
National Association of Insurance Commissioners 2020 market share data
NAIC, March 29, 2021
Repairer Driven News comparison of NAIC 2019 and 2020 data
Images:
A Progressive vehicle is shown. (Provided by Progressive)
National Association of Insurance Commissioners data on private passenger auto insurers' share of 2020 premium dollars is shown. (John Huetter/Repairer Driven News)
Share This: