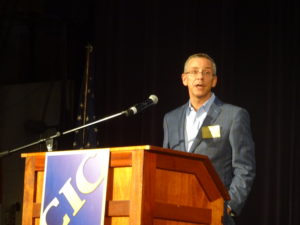 Collision Industry Conference audience members voted Thursday in favor of a new information "Golden Rule" supporting collision repair ecosystem data access and sharing.
"Application providers should allow end-users unfettered access to their own business data," stated the language supported by nearly 60 audience members during Thursday's CIC. "Application providers should not limit access to data made available to the end-user, attempt to control or restrict data flow provided or generated by the end-user to the end-users' partners of choice."
Voter turnout was low — "it's not a majority of the room" CIC organizer Jordan Hendler (WMABA) observed — but not a single person voted against the rule. Eight abstained.
The rule will join five other data principles approved by CIC members last fall. CIC Vehicle Data Access, Privacy and  Security Committee member Rick Palmer (ComputerLogic) called it a missing "piece of the puzzle" during a panel discussion Thursday.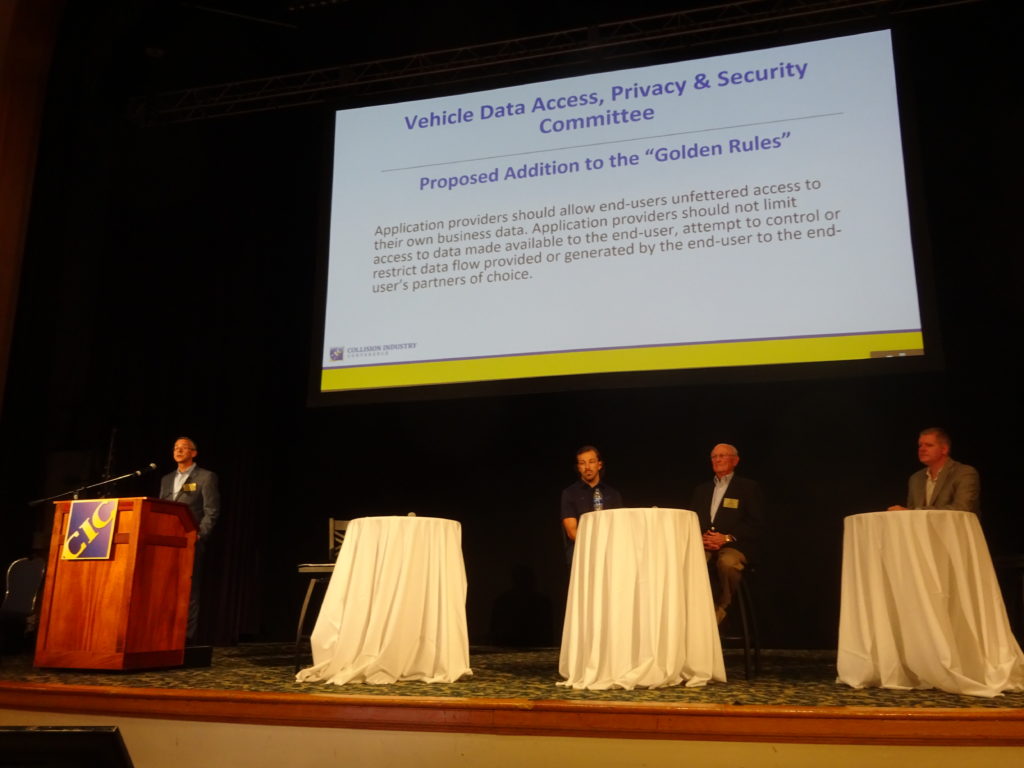 "As a shop owner, every part of our business revolves around data" and access to it, Michael Bradshaw (K&M Collision) said during a committee panel discussion prior to the vote.
Accessing customer data and sending and receiving data through software was "integral to what we do," he said.
Bradshaw agreed with the notion that his shop had to solve data access issues on a case-by-case basis rather than being able to assume the information was available.
He said situations where the data fails to transfer were more cumbersome and labor-intensive for the shop.
The CIC audience also expressed overwhelming support with more than 50 votes for having the committee examine and propose ideas for data backup and access.
Bradshaw said software EULA terms can limit the provider's duty to maintain and store the shop's data to 24 months.
"As a business, 24 months is not really a long time," Bradshaw said. He said he's encountered numerous situations where K&M Collision needs the data three or four years later.
"I don't think a lot of people realize that," Bradshaw said.
However, no information provider gave the facility an easy way to back up and store data internally, Bradshaw said.
The "Golden Rules" adopted in November 2020 state:
1. Only use end-users' data for the service(s) they intended for it to be used; never collect or use their data against them, or for business purposes other than those expressly intended and permitted.
2. Always provide the end-user clarity, transparency, and continuing education on the data you collect, the business purposes for which it is being used.
3. Never misappropriate end users' data, or knowingly allow any third parties to covertly, dishonestly or unfairly access or take data generated by the end-user, for their own use.
4. Give end-users the choice to determine what data is and isn't shared, and the opportunity to opt-out of data collection outside of the primary intended purpose.
5. Provide end-users with a clearly published, straightforward process to inquire about data that has been acquired from their business and the immediate chain of custody that data has encountered. (Minor formatting edits.)
More information:
Collision Industry Conference Vehicle Data Access, Privacy and Security Committee webpage
Images:
Collision Industry Conference Vehicle Data Access, Privacy and Security Committee Co-Chairman Trent Tinsley (Enterprise) hosts a committee session on Thursday. (John Huetter/Repairer Driven News)
From left, Collision Industry Conference Vehicle Data Access, Privacy and Security Committee Co-Chairman Trent Tinsley (Enterprise); panelist Michael Bradshaw (K&M Collision); panelist and committee member Rick Palmer (ComputerLogic); and committee Co-Chairman Dan Risley (CCC) are seen below a proposed sixth data "Golden Rule." CIC audience members voted in favor of adding the concept to the Golden Rules. (John Huetter/Repairer Driven News)
Collision Industry Conference Vehicle Data Access, Privacy and Security Committee panelist Michael Bradshaw (K&M Collision) discusses data during a committee session Thursday. (John Huetter/Repairer Driven News)
Share This: