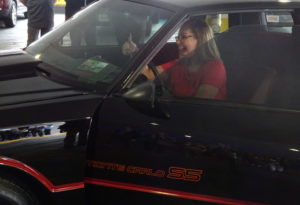 An Ohio high school collision repair program has restored the 1986 Monte Carlo Super Sport passed down to kidnapping survivor Amanda Berry by her grandfather Troy Berry.
Max S. Hayes High School students, collision instructor Greg Boykin and principal Derek Patterson presented Berry with their handiwork during the Cleveland, Ohio, Collision Industry Conference on Thursday.
Berry was one of three women held captive for years by Cleveland kidnapper Ariel Castro before she escaped and alerted authorities, according to ABC News.
"Pawpaw loved cars, and I loved Pawpaw," Berry told WJW FOX 8 in a segment played during the CIC event. Berry told WJW she and Troy Berry went to many car shows together, and he had promised her that his Monte Carlo she felt was "so beautiful" would be hers at age 16.
"Of course, that never happened," she told WJW. Castro abducted her the day before her 16th birthday, she told the station.
Berry told the CIC she was always thinking about her grandfather's Monte Carlo during her captivity. "It was mine," she said.
After returning home, Berry said she asked, "'Pawpaw, do you still have my car?'"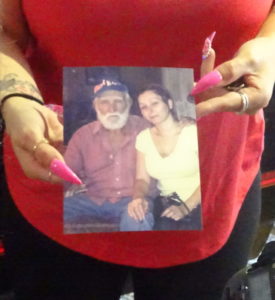 Troy Berry enjoyed a joke and pretended he no longer possessed it, his granddaughter said. Amanda Berry said she almost cried, only to have her grandfather reassure her: "'I've kept it forever for you.'"
Offers to buy the Monte Carlo arose during her time in captivity, but her grandfather wouldn't sell it or lose hope, Amanda Berry said. He insisted, "'My granddaughter would be home,'" she said.
The car wasn't in great condition, however. "He did the best he could," Berry told WJW.
The Max S. Hayes High School vo-tech program came to the rescue. The student and faculty efforts ought to give the collision repair industry hope amid a time of technician shortages and vo-tech closures.
"They did a very, very good job," Boykin told the CIC. He noted that collision work demands attention to detail, and students needed to meet Ohio, I-CAR and industry standards.
"The kids finally understood that," he said.
The school was actually poised to return the Monte Carlo to Berry in 2020, only to have the COVID-19 pandemic derail the plans and send students home that day, Boykin said.
"The vehicle stood in the school for a year," he said. However, this enabled Max Hayes students to perform more work on the car, he said.
Boykin said Cleveland-based Axelrod Collision served as mentors on the project. Every Wednesday, estimator Eric Axelrod visited the school and explained what needed to be done correctly, Boykin said.
"He just helped them," Boykin said.
Axelrod said the shop was grateful to work with Boykin, the students, and all others involved with the project.
He called the dedication and work the students devoted to the project "truly inspirational, to say the least."
Axelrod recalled Boykin telling him students stayed late the previous evening or worked during the weekend on the project.
It showed the pride the students took in the vehilce and project, and the amount they cared for Berry "resonated with us," Axelrod said.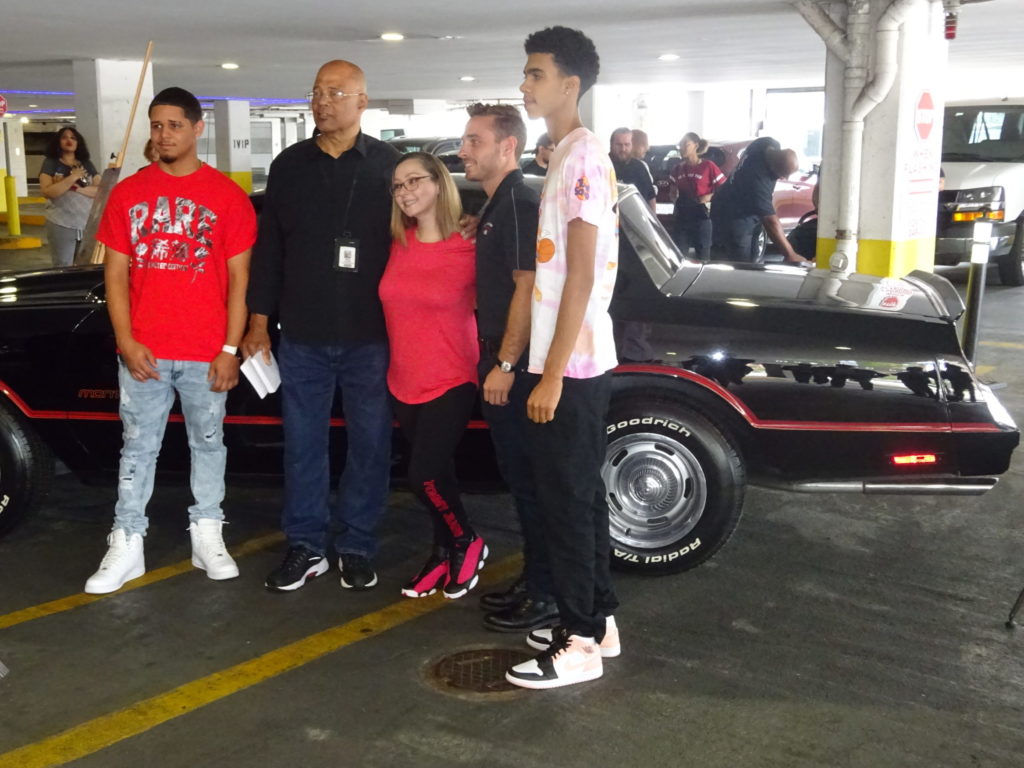 The shop wound up hiring Class of 2021 graduate Gerome Ortiz as a disassembly technician and Anthony Ramos, who'll be a senior in the 2021-22 school year, as a detailer.
"We fully expect them to become A-techs," Axelrod said, calling it "absolutely wonderful" to work with them.
Boykin estimated that students worked weekends probably eight Saturdays. Patterson recalled having to wake up on Saturdays to disarm the school alarm system so the students could work on the Monte Carlo.
"This is a very feel-good story," said Patterson, who worked on the vehicle himself (and taught welding at Max Hayes during an instructor's absence). He said he felt "very blessed" to be part of it.
Patterson observed that insurance work "pays the bills" in collision repair. "That's what drives this industry," he said.
But passion for the industry "starts with cool stuff like this," Patterson said.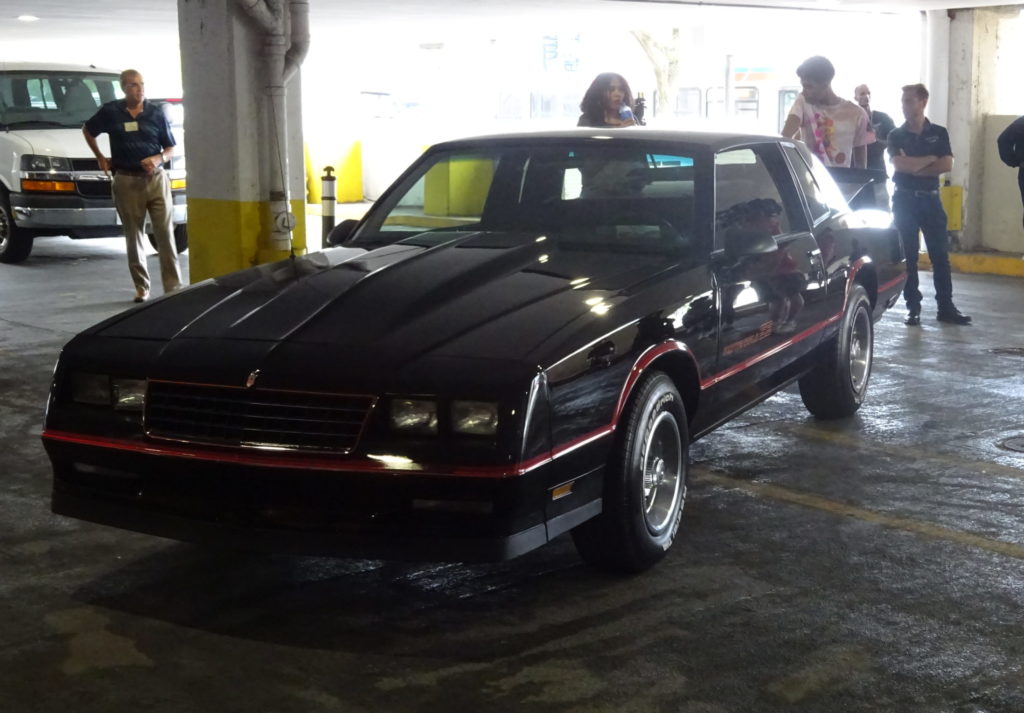 Asked if it was difficult to switch between a 1986 model and preparing students for modern vehicle collision repair, Boykin said no.
"In the paint process, it's all the same," he said. Disassembly and reassembly were also similar skills, he said.
He noted the welding process had changed: Panels today aren't welded on the way they were in the 1980s. However, students also used adhesive — a modern technique – to attach some of the Monte Carlo's panels during the restoration, he said.
Correction: An earlier version of this article misspelled the name of Axelrod Collision and estimator Eric Axelrod. The article has since been corrected to reflect this.
More information:
"Amanda Berry's wish: A car, a promise and the family bond that survived a decade of darkness"
WJW, Nov. 25, 2019
"A promise from Amanda Berry`s grandfather"
WJW, 2019
"Amanda Berry gets keys to grandpa's car after it's refurbished by students"
WJW, July 15, 2019
Images:
Amanda Berry poses behind the wheel of her 1986 Chevrolet Monte Carlo Super Sport, which was restored by Max S. Hayes High School's collision program and formally given back to her on July 15, 2021. (John Huetter/Repairer Driven News)
Amanda Berry holds a photo of her and her grandfather Troy Berry on July 15, 2021. (John Huetter/Repairer Driven News)
From left, Axelrod Collision detailer and Max S. Hayes High School student Anthony Ramos, Max Hayes collision instructor Greg Boykin, Amanda Berry, Axelrod Collision estimator Eric Axelrod, Max Hayes alumni and Axelrod Collision disassembly technician Gerome Ortiz pose in front of Berry's 1986 Chevrolet Monte Carlo Super Sport the school and Axelrod Collision helped restore. (John Huetter/Repairer Driven News)
Amanda Berry's 1986 Chevrolet Monte Carlo Super Sport, which was restored by Max S. Hayes High School's collision program and formally given back to her on July 15, 2021. (John Huetter/Repairer Driven News)
Share This: