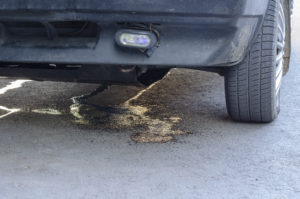 Though the majority of shops polled hadn't attempted to charge for the work, some of the repairers who did itemize vehicle fluid cleanup found major insurers consistently reimbursing the charges, a new "Who Pays for What?" survey question found.
"It is not uncommon for tow truck drivers to itemize on their invoices clean-up of fluids or debris at the accident scene," Collision Advice CEO Mike Anderson, whose company conducts the surveys in partnership with CRASH Network, wrote in the latest quarterly "Who Pays?" report. "This is applicable to our industry as well if a vehicle brought to our facility leaks fluids on the parking lot or inside the shop."
Around 60 percent of the more than 500 responding shops had never asked eight of the nation's largest insurers to be reimbursed for cleaning up the mess. Out of the remainder who did attempt to charge for the work, 37 percent found insurers covering the bill "always" or "most of the time."
Overall, insurers proved fairly similar in terms of likelihood of covering the bill for the work. But it's interesting to note State Farm and USAA were notably more receptive than their peers to such charges from their direct repair program facilities than non-DRP shops. For example, State Farm covered the labor "always" for 37.7 of the Select Service shops invoicing it, and USAA "always" covered it for 30.8 percent of their preferred repairers who asked. Yet for non-DRP facilities, only 11.8 percent and 13.5 percent of repairers "always" saw the work reimbursed by State Farm and USAA, respectively.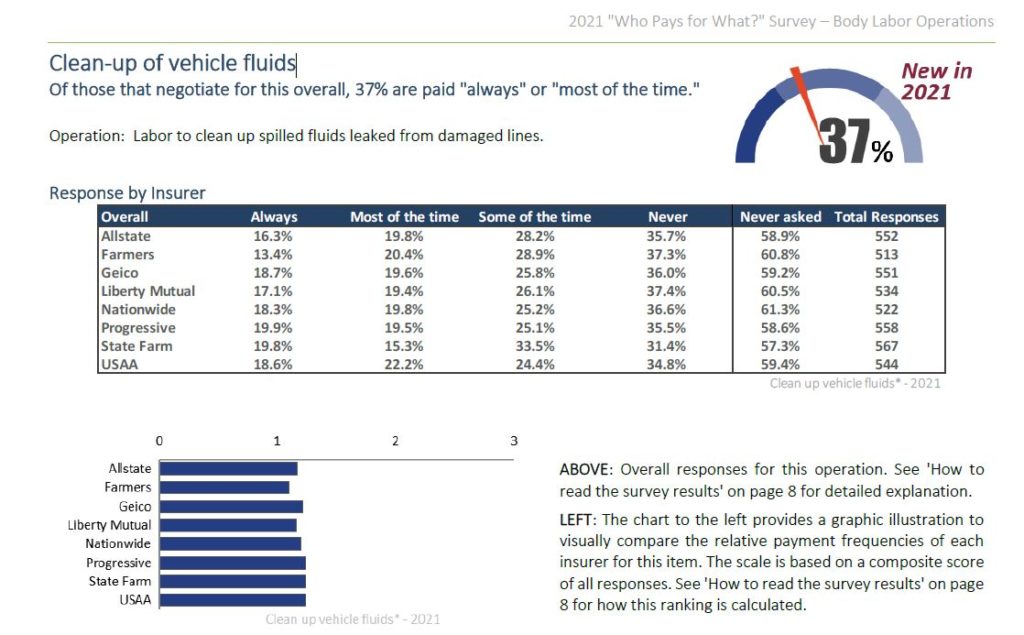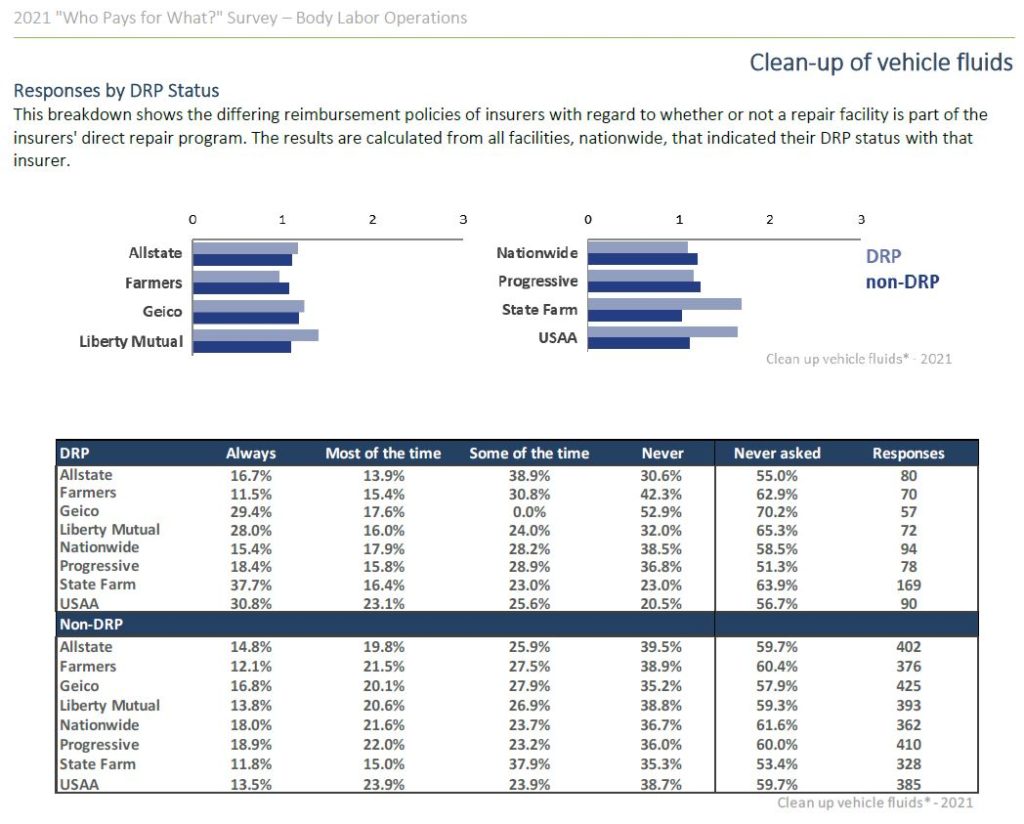 The "Who Pays?" data has value to repairers and consumers, for it's ultimately the customer that bears the responsibility for an auto body shop's bill. The insurer's role is to reimburse their policyholder or a third-party claimant their policyholder is obligated to make whole.
Recent Database Enhancement Gateway exchanges found all three information providers confirming fluid cleanup labor wasn't included and would have to be added to an estimate manually.
"General question, Front end impact caused fluids/ oils to spray onto various components all over engine compartment and vehicle body. Is time to clean spilled/ leaked fluids on vehicle and work spaces included?" three May 18 DEG inquiries stated.
Audatex: "Because each vehicle´s collision damage is unique, Audatex labor values do not include time to clean spilled or leaked fluids," Audatex replied.
CCC: "Clean up of fluids leaked on the vehicle or the workspace caused by a collision is not included," CCC confirmed.
Mitchell: "Cleaning spilled or leaked fluids caused by an impact has not been factored into the labor allowance," Mitchell wrote.
Help the collision industry by taking the current "Who Pays for What?" survey by the end of the month and answering questions on topics including not-included frame and mechanical labor operations. All answers are kept confidential; data is published only in the aggregate.
The recently released "Who Pays?" survey ran from April 1-April 30 and asked about a couple dozen topics, with a body focus. Collision Advice and CRASH Network received responses to at least one question from at least 681 auto body shops. It had a 3.5 percentage-point margin of error on questions with responses from all 681 shops, assuming a 40,000-shop collision industry.
More information:
Take the anonymous third-quarter "Who Pays?" survey
Images:
A crashed vehicle might get fluid all over itself or leave a puddle at a body shop. (Mikhail Dmitriev/iStock)
A 2021 "Who Pays for What?" survey of hundreds of body shops found many didn't bill for fluid cleanup. (Provided by Collision Advice and CRASH Network)
A 2021 "Who Pays for What?" survey of hundreds of body shops found eight major insurers proved fairly similar in terms of likelihood of covering the bill for fluid cleanup. But it's interesting to note State Farm and USAA were notably more receptive than their peers to such charges from their direct repair program facilities than non-DRP shops. (Provided by Collision Advice and CRASH Network)
Share This: