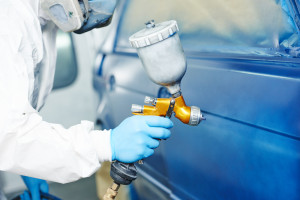 Paint companies have been announcing sizable price increases over the past several months due to "unprecedented" rising costs for raw materials, and recent reports indicate that the costs of raw materials are continuing to rise faster than the paint companies anticipated. That could mean there may be even more price hikes coming in the second half of the year.
Michael H. McGarry, chairman and CEO of PPG Industries, said in the company's quarterly conference call on July 20 that PPG has experienced "unprecedented levels of raw material and transportation cost."
"This drove raw material inflation to be up a mid- to high-teen percentage on a year-over-year basis versus our original estimate of a high single-digit percentage increase," he said. "Clearly, this inflation cycle is much higher than anyone anticipated, and we're continuing on a business-by-business basis, working to secure further selling price increases. This includes executing additional pricing actions during the third quarter."
Having raised their prices twice already in the past 12 months, CEO McGarry told Bloomberg in a subsequent interview, "What we're obviously studying now is the need to be out with a third set of price increases. Inflation is across-the-board, it's obvious…"
PPG is not alone. According to a sampling of pricing notices received by shops, paint manufacturers AkzoNobel, Axalta, BASF and Valspar have also each raised prices twice since the fourth quarter of last year.
"Axalta announced additional global price increases [to] close the price-cost gap that widened during the second quarter, representing a second round of such actions taken this year," Robert Bryant, CEO of Axalta, said in July on his company's quarterly earnings call. "We will implement a third round of price increases as the situation merits."

After multiple price hikes among five different paint manufacturers, repairers have been subjected to an average cumulative price increase of slightly more than 11 percent just since the fourth quarter of 2020. That is almost double the highest annual increase in paint and materials rates recorded over the past 23 years, according to data published by CCC Intelligent Solutions.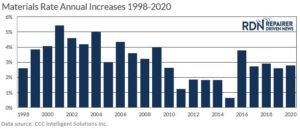 If history is any guide, repairers may be extremely challenged to pass on these historic increased costs to insurers. The average annual increase in paint and materials has only been 3.1 percent since 1998, according to CCC's records. And over the past 10 years, the average annual increase has only been 2.2 percent – nowhere near the average paint cost increases seen this year already.
That pricing challenge for shops might be mitigated somewhat for those using a paint and materials invoicing system, rather than the dollars-per-refinish-hour multiplier method, as increased costs would automatically be reflected on the invoice. However, according to the most recent "Who Pays for What?" survey on refinish operations conducted in January of this year, just 31 percent of shops use a materials invoicing system on at least some of their estimates, and only 19 percent are routinely using a materials invoicing system. Almost half of all shops (49 percent) still charge for paint and materials using the traditional dollars per refinish hour method.
The survey, which was conducted in January 2021, found that the average amount charged by those shops using the multiplier method, was $36 per refinish hour, but responses ranged from $20 to more than $60, according to the survey report.
Images:
A paint technician spraying. (kadmy/iStock/Thinkstock)
Share This: