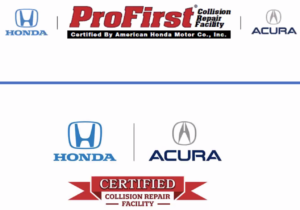 Shops certified through Honda's "ProFirst Certified Collision" program will begin to transition to the "Honda and Acura Certified Collision" program on their next renewal date, the automaker said during an August 12 VeriFacts Automotive Guild 21 webinar.
"Any ProFirst shop currently will remain ProFirst until their renewal audit," Dane Rounkles, manager of wholesale collision parts for American Honda, said during the webinar, noting that the transition may not be completed with all certified shops until next March. "I know it took a long time to get everybody to really understand what 'ProFirst' was. But we really believe this will bring a lot more value to our certified network, having it branded as Honda and Acura certified."
Rounkles acknowledged the automaker still has "a long road ahead" as it revamps the certification program, but that it will soon start supplying ProFirst shops with details about the transition process. If a certified shop's renewal date arrives before the automaker is ready to convert shops to the new program, the shop will remain certified until the conversion process is in place.
One of the significant changes Honda is making involves its training programs. While technicians and estimators that completed the Honda-specific I-CAR course required as part of the ProFirst program will still get credit for that training, Honda has transitioned to five online classes now on the VeriFacts Academy.
Scott Kaboos, who now manages technical training for the automaker, said he expects five additional online courses to be available in the next 30 days. Four of those are ADAS-related, and the fifth is on scan tools and the Honda diagnostic system.
All of those online courses are available to anyone in the industry, not just certified shops. Pricing for now will remain at the current $49.95 per course, Rounkles said.
"As a matter of fact, we've got some promotions coming up to make it a little easier for shops to take the available training," he said.
Kaboos also has overseen the development of a Honda and Acura training center in a Chicago suburb that is currently scheduled to resume offering hands-on training in October.
"The last class we were able to run here was also the first class we ran here, at the end of January in 2020," Kaboos said, said the new training center shut down shortly thereafter because of the COVID-19 pandemic.
The training center will offer a 2-day hands-on ADAS class.
"You'll learn how to aim and calibrate every safety system on every Honda and Acura vehicle," Kaboos said. "It's a really intense class. It does take 16 full hours."
The other 2-day hands-on training course that will be offered will cover attachment methods for structural repair.
"This is for technicians only," Kaboos said of the structural repair course. "It's going to challenge them to apply the service information to a repair of a Honda prop. They will have to follow the service information, setting up the welders and actually doing the repair."
Kaboos said an in-shop version of the structural course is being developed that will be led by VeriFacts coaches at shops that don't wish to send employees to the Chicago training center.
None of the hands-on training will be required as part of the Honda and Acura certification program – at least for now.
"I think part of that is because of COVID. We don't want to require anybody to get out if they don't feel safe doing so," Kaboos said.
He said Honda is also working with Mike Anderson of Collision Advice to finalize another course that will cover repair planning using Honda service information. That course will be offered virtually, he said, and will focus on, "how does Honda say to do the repair, how do you get that on the estimate, and how do you get paid to do it properly."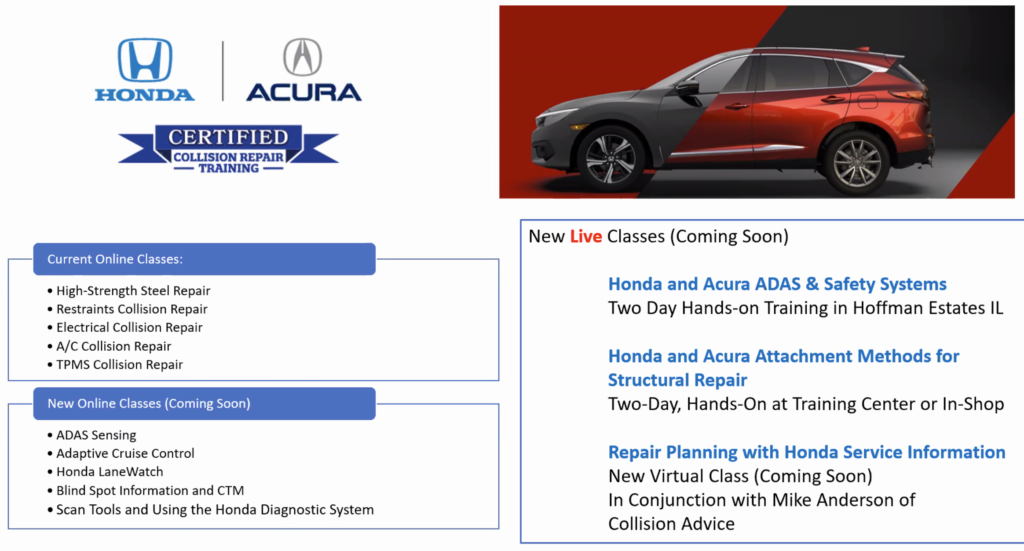 More Information:
Honda switches up auto body certification program partners
https://www.repairerdrivennews.com/2021/03/16/honda-switches-profirst-auto-body-certification-program-partners/
New Honda certification requirements demand OEM procedures, scan tool usage outright https://www.repairerdrivennews.com/2021/07/21/new-honda-certification-requirements-demand-oem-procedures-scan-tool-usage-outright/
Images:
Screenshots from VeriFacts Automotive Guild 21 webinar
Dane Rounkles photo courtesy of VeriFacts Automotive
Scott Kaboos photo courtesy of Image Output
Share This: