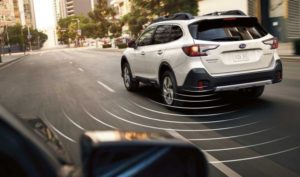 Subaru has updated its position statement on the use of alternative parts with stronger language to clarify the carmaker's stance on the use of recycled, salvaged, aftermarket and reconditioned parts.
"Subaru of America simply wants to be as clear as possible regarding its position on the proper repair of Subaru vehicles," said Devin Wilcox, Subaru's Collision Certification Manager regarding the need for the newly worded position statement.
In the company's prior statement regarding the use of alternative parts, the company explained the use of Subaru Genuine Parts would "help ensure the vehicle is restored back to its original pre-collision condition" and the use of non-OEM parts "could compromise occupant safety in a subsequent collision."
While both of those warnings still exist in the new position statement released this month, the newest version states unambiguously that "Subaru of America, Inc. does NOT approve of the use of recycled, salvaged, aftermarket, or recondition parts that may not be manufactured to the same specifications or tolerances as Subaru Genuine Parts." (Emphasis Subaru's.)
Wilcox said, "These issues are addressed in both this position statement and in Subaru's repair procedures, available via the Subaru Technical Information System (STIS)."
"Generic collision parts may use different materials and manufacturing techniques, resulting in quality or performance that differs from OEM parts," Wilcox said.  "OEM replacement parts are identical to the parts originally installed on Subaru vehicles from the factory, and they are engineered to meet the same strict safety and quality standards."
"These issues have become increasingly important in light of advanced driver assistance systems and related technologies," Wilcox said.
One interesting example of this concern documented by Snap-on involved a 2018 Subaru Forester. In attempting to calibrate the blind spot radar system behind a newly installed aftermarket bumper, the shop found that the driver's side unit failed to calibrate.
In this case, the failure was caused by the unfortunate placement of a metallic sticker inside the bumper, rather than a problem with the bumper material itself. The calibration eventually succeeded once the sticker was removed, but not before the shop needlessly wasted extra time and effort to discover what was causing the problem.
I-CAR explains how foreign materials can interfere with some ADAS systems in an article on blind spot monitoring systems. "With the radar being behind the bumper cover, the radio waves sent out by the sensor needs to pass through the substrate that is in front of them. Passing through a plastic bumper cover can slow down the radio waves. This is programmed into the radar sensors to consider the slower rate. However, when other materials, such as bumper repair material, are in the sensors field of vision, it can slow down the radio waves even more. This can cause false readings from the radar unit."
When asked what a repair facility might do if they should receive pushback from a bill-payer on this new position statement, Wilcox said, "Subaru is here to support our customers, collision repair centers and bill-payers in restoring vehicles as closely as possible to their pre-collision condition. If there are any questions regarding those repairs, or Subaru's position regarding replacement parts, they may be sent to CertifiedCollisionSupport@subaru.com."
More Information
Subaru Aftermarket Parts Position Statement
Subaru Aftermarket Parts Position Statement – Aug 2021.pdf
Snap-on: Blind Spot Radar Calibration – Post Collision
https://www.snapon.com/EN/US/Diagnostics/News-Center/Blind-Spot-Radar-Calibration-Post-Collision
I-CAR: When ADAS Can't See: Blind Spot Monitoring System
https://rts.i-car.com/collision-repair-news/when-adas-can-t-see-blind-spot-monitoring-system.html
Images:
Feature image: Subaru Outback courtesy Subaru of America
Image from Snap-on: The sticker on the inside of the bumper cover, placed right in front of the radar sensor, blocked the sensor from operating properly.
Share This: