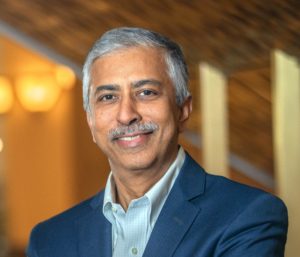 CCC Intelligent Solutions said it saw auto claims frequency continuing to increase through the second quarter as travel restrictions eased, though it remains below pre-pandemic levels. The comments came from company CEO Githesh Ramamurthy during the company's August 13 earnings conference call, its first since once again becoming a publicly traded company.
"We expect to see additional increases in claim frequency in the second half of the year as we get closer to pre-COVID levels but the pace is hard to anticipate," Ramamurthy said.
He said that the company does not expect to provide regular updates about claims frequency going forward, but the extraordinary events over the past 18 months warranted an update on this call.
Ramamurthy explained that one of the things that helped the second quarter results look better compared to last year was that the second quarter of 2020 saw the most pronounced drop in collision repair transactions due to COVID-related shutdowns.
"As this dynamic plays out over the year, we expect only 1 to 2 points of growth related to transaction recovery for the full year," Ramamurthy said.
As far as any impacts from the Delta variant of COVID-19, Chief Financial Officer Brian Herb said, "At this stage… we have not seen any impact either operationally or within our financial performance. Clearly, we're monitoring it very closely. As far as how we look at the second half, we have some level of frequency increase assumed in [the second half of the year] relative to what did in [the second quarter], but it is not a material step up from our recent volume run rates."
Ramamurthy also said the company is seeing a noted increase in the percentage of claims being settled via mobile.
"Since the onset of COVID, more than 20 percent of all claims on the CCC cloud were done via mobile," he said. "This compares to 15 percent in 2019. We expect this number to keep growing."
He said CCC expects continued adoption of digital and AI solutions. He pointed out that nearly 30 percent of the company's repair facility customers have adopted Engage, CCC's mobile application that allows drivers to submit damage photos via their smartphone and allows insurers who use CCC Engage to schedule estimate and repair appointments with participating shops.
Ramamurthy also expressed optimism for CCC's new A.I. powered estimating tool that, "uses the 150 million estimates that collision repairers have written on our platform to enable repair facilities to utilize machine learning to prepopulate estimates with parts and labor operations based on photos of vehicle damage."
According to the company's website, CCC processes more than 24 million estimates for collision repairers each year, and continues to add customers.
"We added more than 1,000 new repair facilities to the CCC platform in the first half of 2021, which is a roughly 4 percent increase to our repair facility footprint," Ramamurthy said. "We now have more than 26,000 repair facility customers."
On the earnings front, the company reported that total revenue was $166.8 million for the second quarter of 2021, compared to $150.7 million for the second quarter of 2020. Gross profit was $121.3 million, representing a gross margin of 73 percent, for the second quarter of 2021, compared with a profit of $100.7 million and a gross margin of 67 percent, for the second quarter of 2020.
The company said that it had $1.3 billion of total debt at the end of June, prior to the investment from Dragoneer Investment Group, from which CCC received approximately $600 million in cash. CFO Brian Herb said the company used approximately $500 million of that money to pay down debt, which still leaves CCC with about $800 million of debt on its balance sheet.
CCC began trading under the ticker "CCCS" on the New York Stock Exchange on August 2.
More information:
CCC second quarter earnings call webcast
https://ir.cccis.com/events-and-presentations/events-calendar/event-details/2021/CCC-Intelligent-Solutions-Second-Quarter-Fiscal-2021-Earnings-Call/default.aspx
CCC second quarter earnings press release
https://ir.cccis.com/news/news-details/2021/CCC-Intelligent-Solutions-Inc.-Announces-Second-Quarter-Fiscal-2021-Financial-Results/default.aspx
CCC to go public with valuation of $7B, bring in $968M net
https://www.repairerdrivennews.com/2021/02/03/ccc-to-go-public-with-valuation-of-7b-bring-in-968m-net/
Images: Courtesy of CCC Intelligent Solutions
Share This: