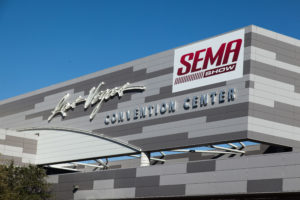 UPDATED: SEMA, AAPEX commit to live events, provide COVID-19 guidance
By on
Announcements
Organizers of the SEMA and AAPEX shows announced Thursday their strong commitment to hosting Automotive Aftermarket Industry Week in-person in November, and provided guidance on the health and safety measures each show would be taking for the large-indoor events.
Organizers of the SEMA Show, which takes place November 2-5 at the Las Vegas Convention Center, said in the announcement that they "are taking into account that the COVID-19 landscape is changing week to week" and have not yet committed to specific requirements for attendees. "The SEMA Show is working with state and local health authorities to announce more in the coming weeks concerning safety measures that will be required in November. While subject to change, as of July 30, 2021, Nevada is requiring masks for all indoor events in Las Vegas," SEMA organizers said.
Also acknowledging that the state of Nevada requires masks for all indoor events, the co-owners of AAPEX – the Auto Care Association and the Automotive Aftermarket Suppliers Association (AASA) – announced Thursday that proof of a COVID-19 vaccination or a negative COVID PCR test administered prior to arrival will also be required in order to attend the 2021 event. In addition, the show organizers said they are evaluating the potential for onsite testing for those unable to be vaccinated or to obtain a negative PCR test prior to the show.
"These measures will be administered through a third-party verification platform and on-site screening.  AAPEX will announce more details in the near future," organizers said in the announcement.
AAPEX is taking place November 2-4 at the Venetian Expo & Caesars Forum.
In mid-August, Nevada Governor Steve Sisolak announced a new directive allowing an exception to the mask rule for large indoor events only where event organizers require and verify that all attendees are vaccinated.
"As the COVID-19 landscape continues to evolve, health and safety measures will be updated for the respective shows to provide the best business opportunities for those attending," the SEMA and AAPEX show organizers said in a joint statement. "With combined exhibits of more than 2,000 manufacturers & suppliers slated to participate and very strong buyer registration to date, now is the time to reconnect,"
"SCRS is in complete alignment with the commitment SEMA has expressed about the upcoming show that will bring the industry together in Las Vegas," said Society of Collision Repair Specialists Chairman Bruce Halcro. "We've previously shared the enthusiasm we've seen from the industry, reflected in the pre-registration results for Repairer Driven Education (RDE). For many in the collision repair industry, the successful in-person industry events that have occurred this year – such as the CIC meetings in April and July – have reminded us all of the value of gathering and connecting with one another in real life.
"SCRS has watched as the health and safety measures and mandates in Nevada have continually evolved," added SCRS Executive Director, Aaron Schulenburg. "We share the perspective that the best show experience will be determined by patiently working with state and local health authorities as they refine their expectations over the coming weeks for events taking place this fall. What we know is that the mandates could adjust and that we are confident our partners at the show will work nimbly and accordingly to deliver on that 100 percent commitment to delivering on what is perhaps the most anticipated industry event of all time! We cannot emphasize enough, we agree, now is the time to reconnect."
In an email communication the same day, SEMA communicated that "successful events are currently taking place in Las Vegas and our partners throughout the city are prepared to host our industry. The Las Vegas Convention Center, which was recently awarded the GBAC Star Facility Accreditation in recognition of superior health and safety practices implemented at its facility. Our Hotel partners are also implementing similar measures to ensure a safe and productive stay during your time at the Show."
SEMA also elaborated on additional measures being taken, including wider aisles to provide more space to move around the show, reconfigured registration areas, and an expanded campus that allows the Show to realign exhibitor sections and give attendees an optimal environment in which to network and do business.
"Events taking place right now are reporting high levels of exhibitor and attendee satisfaction. We expect the same when we gather in Las Vegas in a few months."
The Society of Collision Repair Specialists' Repairer Driven Education series runs alongside the SEMA show. Educational courses run Monday, November 1, through Wednesday, November 3. The headliner event, the OEM Collision Repair Technology Summit runs all day Thursday, November 4, and the IDEAS Collide Showcase wraps up the Repairer Driven event on Friday morning. Registration can be found at www.scrs.com/rde.
The next Collison Industry Conference (CIC) meeting will also be held in Las Vegas that same week, taking place on Tuesday November 2 from 8 a.m. to 5 p.m. at the Westgate Las Vegas Resort.
More information:
SEMA Show
www.semashow.com
https://www.semashow.com/health-and-safety 
2021 SCRS Repairer Driven Education series
https://www.repairerdrivennews.com/event/2021-scrs-repairer-driven-education-series/
Nevada Gov. Sisolak Emergency Directive 049
https://gov.nv.gov/News/Emergency_Orders/2021/2021-08-16_-_COVID-19_Emergency_Declaration_Directive_049_(Attachments)/
Feature image:
A SEMA banner hangs on the Las Vegas Convention Center (MortonPhotographic/iStock)
Share This: