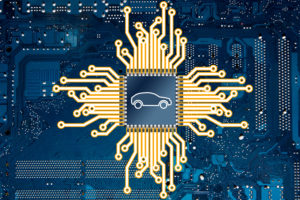 Chip shortage bad news for OEMs, car buyers, but okay news for shops?
By on
Announcements
There could be a silver lining for collision repairers in the gray cloud hanging over the automakers because  of the global microchip shortage. With OEMs forced to curtail production – GM is in the midst of a multi-week shutdown at 10 of its 14 production plants, for example – demand for used vehicles has bumped up their value nearly 19 percent over a year ago. That, in turn, could offer a little more breathing room for wrecked vehicles teetering on the edge of being a total loss, allowing shops to repair those vehicles instead.
The global microchip shortage occurred after microchip production was curtailed in the early days of the pandemic, followed by a sharp uptick in demand for cell phones and gaming devices for those spending much more time at home. As automakers began returning to production levels in 2020, they found themselves "at the back of the line" to buy the chips.
Fortunately for shops, though there have been weaknesses in the replacement parts supply chain during the pandemic, the chip shortage itself doesn't appear to be having a big impact on the availability of most collision repair parts. As the summer began, Greg Horn of PartsTrader said parts being ordered through that company's system had not seen a decline in the average number of bids each part was receiving, nor an increase in the average quoted delivery times.
A nationwide survey of shops conducted by CRASH Network in May also found it wasn't the parts with electronics causing supply chain headaches.
"No chip-related issues, but we have experienced parts delays for common items, such as a fender for a Jeep Renegade, that should be a stock item but is on a 45-day national back order," one estimator in Nebraska said.
More recently, some automakers have announced efforts to improve crash parts ability.
"As we all know, back orders are really hitting the industry hard, regardless of the manufacturer," Dane Rounkles, manager of wholesale collision parts for American Honda, said during a Guild 21 webinar last month. "So we went to senior management, and anything we stamp here in the U.S., we've asked for them to increase production to make the parts available. Now, some of you may still have some back orders on sheet metal, and that may be something we stamp in another country. But we have increased greatly the availability of sheet metal parts, and we will continue to do so.
Impact on automakers
That leaves the chip shortage for now negatively impacting automakers more than shops. Ford canceled F-150 truck production this week at a Kansas City assembly plant, and cut another truck plant down to one shift. Toyota expects to lose production of 80,000 vehicles in North America – and 360,000 worldwide – this month alone. Nissan, which had announced last month that chip shortage would force it to close its factory in Smyrna, Tennessee, until August 30, now says the closure will last until mid-September. AutoForecast Solutions pegs the total number of vehicles to date cut from global production schedules at more than 7.3 million, including nearly 2.3 million in North America. AutoForecast believes that number could grow to 8.5 million before the crisis is over.
Analysts earlier this year were speculating the situation could improve this fall or by years' end, but lately are sounding more pessimistic. COVID-19 infections in recent months have curtailed production at some chip manufacturers. One suppler to Toyota, Ford and Honda told Bloomberg last month that despite running at full capacity for a year, it doubts it will catch up with backorders until sometime next year.
Impact on used vehicle values
As some dealers report arguments breaking out among buyers vying for the limited number of new vehicles on lots and showrooms, Manheim's used vehicle value index looks almost "off the charts." The index in August stood at 194.5, a 18.8 percent increase from a year ago. There was a small dip last month, but only because of a seasonal adjustment and large vehicle values increases in August in recent years.
"On a year-over-year basis, all major market segments saw seasonally adjusted price increases, Manheim reported. "Vans and sport utility vehicles had the largest year-over-year performance."
Looking at the supply of retail used vehicles, Manheim said it "peaked at 114 days on April 8, 2020. Normal used retail supply is about 44 days' supply. It ended this August at 40 days, which is below normal levels."
Impact on total losses less clear, for now
So will over-the-top used vehicle values cut into the rates of crashed vehicles being total losses? So far it seems too early to tell. CCC Intelligent Solutions shows that 20.5 percent of appraised vehicles were total losses in 2020, the fifth year in a row that percentage increased from the most recent low of 14 percent in 2014.
That hadn't dipped by mid-2021, hovering at 20.7 percent for the 12 months ending in June, according to CCC. But it also wasn't increasing by a full percentage point each year as it had for the two previous years as the average number of parts per claim, and the added repair costs associated with ADAS, have increased.
The average value of vehicles being repaired in the past year jumped by nearly $1,000 – a 6 percent increase – according to CCC data, even while the average mileage and average age both increased. That added value allowed the average repair cost to increase by $200 – also a 6 percent increase – without triggering total loss thresholds.
A slowing, even if temporary, in the rise in total losses would be good news for collision repairers. But the global supply chain disruption – automakers are starting to see shortages of wiring harnesses, plastics and glass, too – make knowing really what to expect a challenge.
"There will be an end to it, but the question is really when," Ravi Anupindi, a professor at the University of Michigan who studies supply chains, told the Associated Press.
More Information:
Images:
iStock/Jae Young Ju
ManheimUsedVehicleValueIndex-LineGraph.png
Manheim's "Used Vehicle Value Index" has shot up since the start of the year. (Provided by Manheim)
ccc-data.jpg
CCC Intelligent Solution's "Crash Course Mid-Year Report" includes data on repairable vehicle damage appraisals for the 12 months ending in June 2021 compared to the same period in previous years.
Share This: