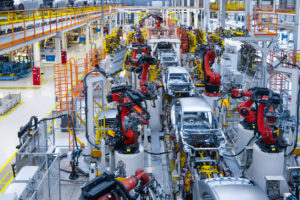 Edwin Pope's message to collision repairers: The number and variety of materials used in any one vehicle's substrates will only continue to expand, making specialization – perhaps as much by materials and structures used rather than just vehicle brand – one potential good strategy for the future.
"I think we're going to start to see people say, 'Hold on. I'm good at this over here. I don't know if I necessarily want to play over there. I don't want to buy the equipment. My man-power is really good at this over here,'" Pope, a principle analyst at IHS Markit, said during a recent Michell International "mPower Collision Podcast."
Pope said automakers' focus on lightweighting the body-in-white using a mix of materials is based on more than just the conventional wisdom of improving fuel economy.
"You've got fuel economy considerations, but another way to think about this is cost efficiency," he said. "The best-in-class solutions for lightweighting available in the market right now are both a cost-reduction activity at the same time they are reducing the weight of the component. When that happens, it's very easy to get all the oars rowing in the same direction in these large organizations to make the change to a new material."
There are also crashworthiness considerations, particularly when there are shorter crash zones "before you get cabin intrusion." That's why some automakers who had switched to mostly aluminum on some models have "backpedaled a little bit," Pope said, instead using the highest strength steels in some portions of the body.
That kind of change to mixed use of materials will continue to expand, he said.
"It's not a winner-take-all market," Pope said. "That's the tough news for anyone who is a repairer. In the EV market where people think aluminum is great for the battery enclosure, for example, our market analysts are seeing a split between the lid and the tray. The top of the battery pack might be one material, and the bottom half a second material."
He pointed to other types of materials-related changes that will impact collision repairers.
"There's some changes coming in plastic fascia that will probably help with repairability," he said. "But there are also drivers on another side for recycling. Where you may not see some fascia being repaired anymore because recyclers are starting to [improve] their capability of processing fascia material. That's a fundamental change: Is it better to pull and replace a fascia, and send it off to a recycler, or is it better to spend man-hours repairing it. That's going to become a pinch-point for anybody across the entire value chain."
All of this makes following OEM repair procedures and familiarizing yourself with the variety of materials used critical for shops. If viewing a Honda diagram showing by color coding the structure of the vehicle by metal type and strength, for example, the "Steel Usage and Repairability" information available (without a subscription) from Honda's technical information can help you know "what to do with that information."
With no particular vehicle material likely to dominate, Pope said, it will only become more challenging to try to repair any car that comes into the shop.
"The best way to handle that is to start learning how to be a little more of a specialist and a little less of a generalist," Pope recommended. "It may not be by brand only. [Use of materials] may be linked to where a vehicle competes, what it costs, the type of vehicle it is, to a point where we see some clumping of materials choices. It can be based on the mix of [vehicle} price, size and customer base. You'll see these little groups of vehicles having similar mixtures [of materials], but it may be across brands."
Pope was asked the commonly discussed question about the degree to which automakers take collision repair of vehicles into consideration during the design and engineering phase. He said it varies by automaker. Ford and General Motors, he said, "definitely look at this stuff pretty early on the drawing board for a car." But he suggested thinking about the difference in damages based on a light hit to a Corvette versus a Lotus.
"Your Lotus can be on the market with a salvage title because of some cracking in the fiberglass from a fender bender," Pope said.
More Information:
MPower Collision Podcast
https://anchor.fm/mpowercollision/episodes/Episode-4—What-Vehicle-Lightweighting-Means-for-Collision-Repair-e14bkia/a-a4jsr92
Images:
iStock/Traimak_Ivan
free Honda resources.jpeg
Information related to the usage and repairability of various steels used in Honda and Acura vehicles is available without a subscription to the automaker's technical information website. (screenshot from Honda webinar)
honda-civic.jpg
A view of the 2022 Honda Civic body-in-white showing steel parts color coded based on their tensile strength in megapascals (MPa). (image from Honda technical information website)
Share This: