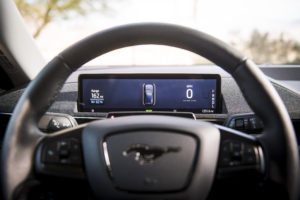 Ford to share drivers' data with insurers through LexisNexis
By on
Announcements
LexisNexis has announced that Ford Motor Company will participate in its Telematics Exchange, making the automaker's connected vehicle data available to insurers for customers who choose to participate.
The agreement gives customers with an eligible 2020 or newer Ford or Lincoln vehicle the opportunity to use their demonstrated safe driving habits to lower their insurance premiums. Customers will be able to opt in to participate in usage-based insurance (UBI) programs, which have the potential to save customers money through more personalized insurance offerings.
LexisNexis gathers and processes connected car data through its Telematics Exchange platform, generating insights into driving  behavior that insurers can use for point of quote, underwriting and policy renewal. Insurers can make use of the information whether or not they have an existing insurer-led UBI program.
The data giant said that the information it provides "enables insurers to more accurately segment risk, while providing consumers the opportunity to reduce the overall cost of vehicle ownership by taking advantage of good driving behavior."
LexisNexis said it works with 95 of the top 100 U.S. auto insurers, making it the leading insurance data and advanced analytics provider. For customers who take advantage of their insurer's UBI options, the experience will be seamless, with their car's data shared directly with their insurer through Ford and LexisNexis.
Using a third-party data collector and processor like LexisNexis means that an automaker can share data with many insurers, rather than having to set up a separate agreement with each carrier.
"Ford owners who opt-in to usage-based insurance have the potential to reduce their total cost of vehicle ownership through more personalized insurance offerings and be rewarded for good driving habits," Kari Novatney, General Manager, Connectivity Strategy & Partnerships, Ford Motor Company, said in a statement. "LexisNexis Risk Solutions is helping Ford customers more easily pursue the advantages of their vehicle's connectivity for potential insurance benefits."
"We're excited about this agreement with Ford," Adam Hudson, vice president and general manager, U.S. Connected Car, LexisNexis Risk Solutions, said in a statement. "As a trusted steward of data for more than 20 years, LexisNexis Risk Solutions continues to bring the insurance and automotive industries together with market-leading solutions to provide consumers with a better experience during insurance shopping and renewal. We want to continue delivering on our mission of providing unparalleled driving-related insights and benefits to insurers, automakers and their drivers.
Participation by OEMs to allow the use of their vehicles' telematics for UBI products has been an accelerating trend. The LexisNexis announcement came nearly a year to the day from similar agreements between Ford and traditional insurer State Farm, and Ford and pay-per-mile startup Metromile.
LexisNexis has previously announced agreements with General Motors, Mitsubishi and Nissan.
According to the National Association of Insurance Commissioners, such agreements with OEMs allow insurance underwriters to routinely collect information on a number of factors, such as miles driven, time of day, vehicle positioning through GPS, rapid acceleration, hard braking, hard cornering, and air bag deployment. The information is gathered by the automaker through cellular, GPS and other technology.
"The level of data collected generally reflects the type of telematics technology employed and the policyholders' willingness to share personal data," the Association said on its website. "The insurance company then assesses the data and charges insurance premiums accordingly. For example, a driver who drives long distance at high speed will be charged a higher rate than a driver who drives short distances at slower speeds."
Generally, the data can be collected through systems built into a car, such as BMW's ConnectedDrive or GM's OnStar; through a device plugged into an on-board diagnostics port; through a smartphone app; or through a device called a "tag," which pairs with the driver's smartphone via Bluetooth.
Of particular interest to repairers, the announcement by LexisNexis made no mention of the company's Collision Intelligence platform, which presumably is not included in the agreement.
The Collision Intelligence platform collects detailed vehicle and telematics-driven data to insurers after a crash, which LexisNexis says promotes "a smoother transition from [an OEM's] collision support program to a carrier's auto claims workflow — providing your customer a quicker, more seamless repair process and better overall post collision experience."
On its website, the company says that Collision Intelligence helps meet customers' post-collision needs that include "understanding collision details, post-collision transportation, towing support, damage estimates, parts procurement, finding certified repair shops, simplifying the claims process and more."
Images
Featured image: The instrument panel of Ford's Mustang Mach-E is shown.
CCC-VW partnership, LexisNexis offer immediate insurance quotes based on past driving
https://www.repairerdrivennews.com/2020/08/11/ccc-vw-partnership-lexisnexis-offer-immediate-insurance-quotes-based-on-past-driving/
Ford-State Farm, Ford-Metromile, Honda-Verisk among insurer-OEM telematics connections
https://www.repairerdrivennews.com/2020/09/09/ford-state-farm-ford-metromile-honda-verisk-among-insurer-oem-telematics-connections/
Ford joins Verisk Data Exchange; drivers can share telematics info for insurance deals
https://www.repairerdrivennews.com/2020/10/14/ford-joins-verisk-data-exchange-drivers-can-share-telematics-info-for-insurance-deals/
Share This: