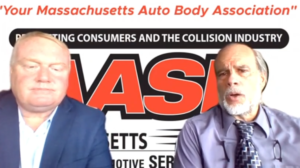 Massachusetts auto body repair shops and consumers alike are suffering from insurers' failure to pay a higher hourly rate for labor, several supporters of a variety of bills that would raise the rate told Massachusetts legislators on Wednesday.
The 95-minute live-streamed hearing before the Joint Committee on Financial Services raised concerns that are likely to be debated when a special legislative commission meets later this year. The labor rate issue has been talked about in the Statehouse for several years, and was the topic of a previous commission in 2008.
Auto body shop owners told representatives and senators that they are reimbursed an average of $40 an hour for skilled labor, which they said is the lowest rate in the nation. They testified that insurers use a "prevailing rate" that's based on deals made with a minority of Bay State repairers, and that the state needs to step in to regulate the rate.
Some insurance industry officials who testified did not deny that the issue needs to be addressed, but all urged lawmakers not to impose "price fixing," which they argued would inevitably lead to higher prices for consumers.
Labor rate unchanged for 11 years
"In 2010 when I opened my business, insurers were reimbursing consumers a labor rate of $40 an hour. Eleven years later, the same insurers are reimbursing consumers the same labor rate of $40 an hour," said Brian Bernard, owner of Total Care Accident Repair in Raynham, Mass. "Eleven years with a zero percent increase in that rate. In the same period, your insurance premiums have increased 48 percent."
Bernard was one of several people who spoke in favor of a handful of bills dealing with auto body labor rates that the committee is considering. One of these, H 1111 proposed by Rep. James Hawkins, would require insurers to use a minimum rate equal to the rate at the time the Insurance Reform Act passed in 1988, adjusted for inflation. The rate would then be adjusted each year based on the Bureau of Labor Statistics' Northeast Consumer Price Index, which is the inflation rate for the region that includes Massachusetts.
According to the U.S. Bureau of Labor Statistics, $1 in 1988 is the equivalent of $2.36 in buying power in 2021.
Bernard noted that, based on surveys done by National AutoBody Research (NABR), the true prevailing rate in Massachusetts is closer to $58 an hour. "Insurers are allowed to have contracts with repair shops. These contracts set below-average labor rates in exchange for marketing services, and reduced administrative burdens in the estimating process," he said.
He said three technicians recently left his shop for unskilled labor jobs that pay more, and that two others went to work for shops across the state line in Rhode Island, where the rate is higher. "Our employees are leaving the industry, they're moving to other states, to have jobs that pay in these careers, and it's brutal for us," he said.
Situation 'absolutely ludicrous'
Brian Mountain, director of Collision 24 in Brockton, Mass., noted that the labor reimbursement rate has risen just 33% since 1988, while his insurance premiums have risen 261%, and the minimum wage has gone up by 270%.
"I'm expected to keep pace and purchase equipment, and then train and pay technicians based on a substandard reimbursement rate insurers are paying their claimants," Mountain said. "I have had to resort to charging my customers hundreds of dollars to make up for the substandard rate of reimbursement to afford to pay my technicians a fair wage."
"Working on today's vehicles with labor rates that are 30 years old is absolutely ludicrous," said Evangelos "Lucky" Papageorg, Executive Director of the Alliance of Automotive Service Providers of Massachusetts (AASP/MA).
Papageorg said the issue has led to a decrease in the number of qualified collision repair shops in the state, which he said forces consumers to wait longer for their cars to be repaired. "That's an increasing period of time that people are forced to be in their vehicles, vehicles that are potentially unsafe to be on the roads in the first place, and then once the vehicles end up in a collision repair facility the repair times have been extended significantly because there is a true shortage," he said.
Insurance industry viewpoint
Christopher Stark, executive director of the Massachusetts Insurance Federation, described the issue as one of supply and demand. He said that the number of physical damage claims has fallen from 606,000 in 2003 to 473,000 in 2019, a drop of 22%, "as cars got safer." In the meantime, the number of repair shops in the Bay State has fallen from 797 in 2000 to 698 today, a decrease of 5.5%.
"At its core, it's an excess of repair shops and fewer physical damage claims," he said. He did not address what effect those lowered claims had on insurance premiums.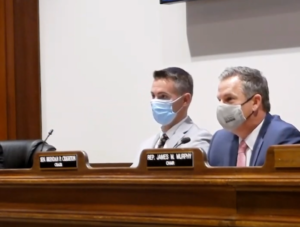 Despite the reference to supply and demand, there have been examples in the industry where insurers have been able to control or suppress rates in spite of rising costs. For instance, repairers have been subjected to an average cumulative price increase of more than 11 percent for paint and materials, almost double the highest annual increase recorded in the past 23 years, according to data published by CCC Intelligent Solutions. However, because many shops are reimbursed for materials through a formula involving paint hours times a refinish labor rate, insurers effectively have complete control over the rate of reimbursement.
Frank O'Brien, Vice President for State Government Relations with the American Property and Casualty Insurance Association, said the bills under consideration would make Massachusetts the only state in the nation to regulate the auto body labor reimbursement rate.
"There is no free lunch," O'Brien said. "If you add costs to a system … it flushes through the system and it impacts price."
Rory Whelan, Regional Vice President for Government Affairs with the National Association of Mutual Insurance Companies, sounded a similar note. He indicated that he sees areas where insurers and repairers can meet, but argued against the "price fixing" that a bill like H.1111 creates.
"I'll paraphrase an old saying: If it ain't broke, don't break it," Whelan said. "Competition works for consumers, and it is working for the auto consumer in Massachusetts."
"Price fixing results in higher costs, never lower costs. Those costs are ultimately borne by the consumer," he said.
No action, despite 'broad consensus'
Guy Glodis, a former Massachusetts legislator who once chaired the Insurance Committee, as the Joint Committee on Financial Services was once known, noted that nothing has changed since the issue was under debate in the early 2000s, despite "broad consensus" among lawmakers that action is needed.
"The labor rate in Massachusetts is the lowest, and yet we operate in the second most expensive state, all while there's been, as we all know, staggering insurance profits, record profits over the last several years," Glodis, an AASP/MA lobbyist, said.
Earlier this month, consumer groups analyzing insurers' underwriting performance from 2020 said that auto insurers reaped billions of dollars in excess profits due to reduced accidents during the pandemic lockdowns, and say consumers are still owed billions in additional refunds.
"Insurers selling personal auto insurance reaped windfall profits of at least $29 billion in 2020 as miles driven, vehicle crashes and auto insurance claims dropped because of the pandemic and related government actions," according to the Consumer Federation of America (CFA) and Center for Economic Justice (CEJ). In Massachusetts, the amount overpaid was put at more than $632 million.
The groups' analysis show that insurers collected $42 billion in excess premiums nationally while refunding only $13 billion in "premium relief" payments to customers.
"Instead of returning the COVID windfall to consumers, insurers increased payouts to senior management and stockholders," the CFA and CEJ said.
"In virtually every state, auto insurance premiums – by law – cannot be excessive," said J. Robert Hunter, CFA's director of insurance. "The inability or unwillingness of almost all state insurance regulators to enforce the law and protect consumers raises serious questions. As we pointed out in letter after letter to insurance regulators throughout 2020, it was crystal clear that insurers' premium relief was woefully inadequate."
According to a state-by-state analysis by the Consumer Federation of America and Center for Economic Justice, Massachusetts auto insurance customers, Massachusetts insurance customers are each owed additional premium relief of $632.
Special commission to meet
The 2022 Massachusetts budget provides for a special Auto Body Rates Commission, with membership to include the chairs of the Joint Committee on Financial Services; the insurance commissioner or a designee; one senator and one representative, appointed by the minority leader of each body; the attorney general or a designee; three people chosen by the Automobile Insurers Bureau; three people chosen by the Alliance of Automotive Service Providers of Massachusetts; a representative of a vocational-technical school or program and an auto dealer.
The panel is to produce a study that includes "(i) an analysis of auto body labor rates in the commonwealth, including a comparison of labor rates in surrounding states; (ii) an analysis of the impact of managed competition in the automobile insurance market on labor rates; (iii) an assessment of whether current labor rates are reasonable and, if not, an evaluation of potential methods for calculating a reasonable labor rate; (iv) the number of auto body shops in the commonwealth each year from 2008 until present, including the number of shops that have closed during that time period; and (v) an analysis of the impact of labor rates on the auto body shop workforce."
The commission is to hold at least two public hearings in "geographically diverse" areas of the state, and is to issue its report by Dec. 31, 2021.
The Joint Committee on Financial Services will continue to accept online testimony on the bills under consideration until Wednesday, Sept. 22 at 5 p.m. To submit testimony online you need to first create an account for MyLegislature and follow the instructions found at https://malegislature.gov/assets/documents/how-to-submit-testimony-v1.1.pdf
Images:
Featured image: Former Massachusetts legislator Guy Glodis, left, and Evangelos "Lucky" Papageorg, Executive Director of the Alliance of Automotive Service Providers of Massachusetts, are shown in a screen capture from the Sept. 15, 2021 hearing of the Joint Committee on Financial Services.
Sen. Brendan P. Crighton, left, and state Rep. James M. Murphy, co-chairs of the Joint Committee on Financial Services, are shown in a screen capture from a Sept. 15, 2021 hearing.
More information:
House bill H1111:
https://malegislature.gov/Bills/192/H1111
Senate bill S709:
https://malegislature.gov/Bills/192/S709
Recording of the committee's Sept. 15, 2021 hearing:
https://malegislature.gov/Events/Hearings/Detail/3914
National AutoBody Research survey data
https://www.laborratehero.com/
Share This: