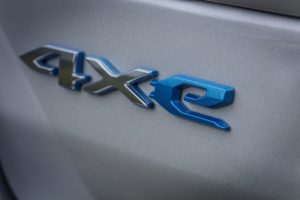 Stellantis on Wednesday unveiled its all-new 2022 Jeep Grand Cherokee, including an electrified "4xe" plug-in hybrid version that carries carries a 400-volt, 17-kWh EV battery beneath the vehicle, packaged under the floor and protected from damage from offroading activities.
Repairers will need to pay particular attention to the waterproofing of the high-voltage electronics, which Stellantis said allows the Grand Cherokee 4xe to ford water up to 24 inches deep. Some shops might already have had experience with the concerns around the 4xe system, which debuted in the 2021 Jeep Wrangler 4xe.
In a news release, Stellantis said the new Grand Cherokee is built on the same unibody architecture as the longer-wheelbase, three-row Grand Cherokee L revealed earlier this year. " It's a purpose-built, flexible architecture engineered for both three- and two-rows, as well as electrified 4xe capability," the automaker said.
"The flexibility of the new architecture allows for two different wheelbases and lengths, as well as electrification," the company said. "While the two-row Grand Cherokee and three-row Grand Cherokee L share the same overall width of 84.6 inches, the two-row Grand Cherokee has a 116.7-inch wheelbase compared with the Grand Cherokee L's 121.7-inch wheelbase, 5.0 inches shorter.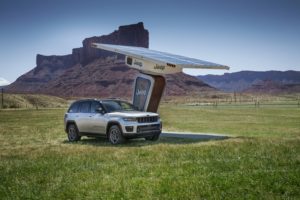 "In overall length the two-row is 193.5 inches compared to the Grand Cherokee L's 204.9 inches , an 11.4-inch reduction. Without a third row, the fifth-generation two-row package size was optimized to support Jeep capability and 4xe electrification without any customer compromise."
Stellantis provided no details about the new architecture, which presumably takes after the Grand Cherokee L's "more robust and innovative body structure" derived from third-generation high-strength steels.
"To help meet weight, impact and to improve durability, the Grand Cherokee L body structure employs the latest grades of Generation 3 steel," Stellantis wrote in a June news release. "The next-generation steel gave engineering and design teams the ability to cold stamp complex parts from higher strength materials, which was not possible in the past, creating a more robust and innovative body structure."
Overall, the unibody vehicle "is composed of more than 60 percent advanced high-strength steel to aid in ductility, usability and energy absorption," Stellantis said.
Lightweighting features carried over from the Grand Cherokee L include aluminum shock towers, aluminum engine mounts and steering gear, "a solid-mounted aluminum front cradle," and an aluminum hood and tailgate.
Other items of interest to repairers include the Grand Cherokee's exterior details, which include a lowered, tapered roof, a lowered beltline, expansive glass, front wheel spats, a hood "aero flick" and a gloss black roof, which is standard on some models and optional on others.
A wider and larger version of Jeep's traditional seven-slot grille features active shutters. The grille and new front fascia conceal a long-range radar and other technology features.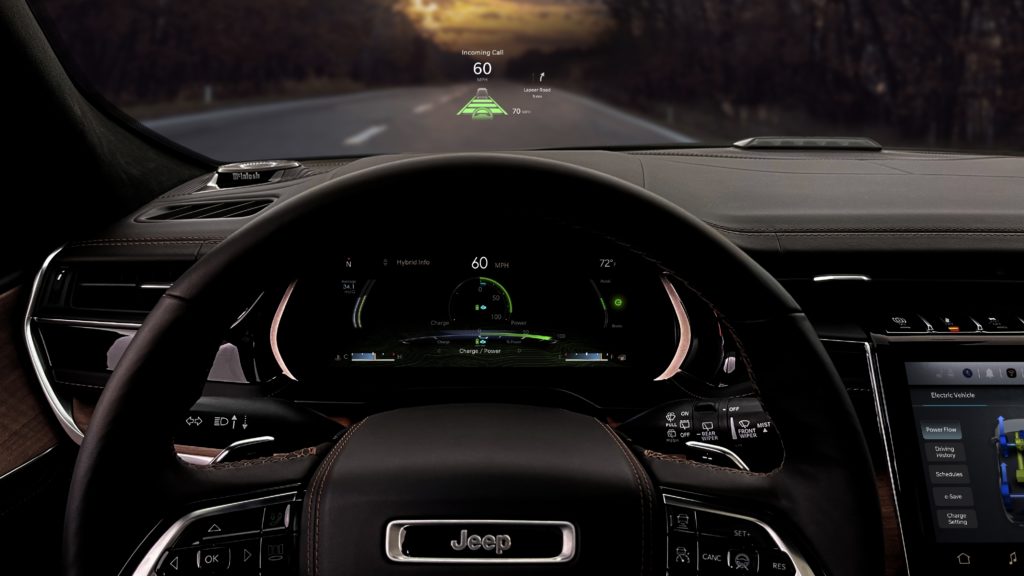 All Grand Cherokees will be equipped with 10 ADAS features, including full-speed collision warning with active braking and pedestrian/cyclist protection. Optional features include a new night vision camera with pedestrian and animal detection, "Intersection Collision Assist" and a "Drowsy Driver Detection system."
New Active Driving Assist (Level 2) hands-on-wheel and eyes-on-road automated driving is also available.
The Grand Cherokee's 4xe system includes an Integrated Dual Charging Module (ICDM) that combines a battery charger and a DC/DC converter in a single, compact unit, as well as a Power Inverter Module (PIM) that is reduced in size. These are mounted under the body and protected with steel shields.
The battery pack system includes a dedicated heating and cooling circuit to keep the battery at its optimum temperature. The system includes a dedicated heater unit and a chiller that uses the Grand Cherokee's air-conditioning refrigerant to reduce coolant temperature when needed.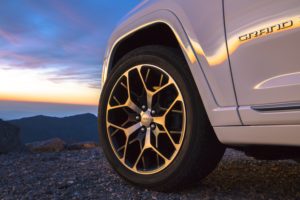 Available in the Grand Cherokee Limited, Trailhawk, Overland, Summit and Summit Reserve, the 4xe powerplant combines two electric motors, a 400-volt battery pack, a 2.0-liter turbocharged, four-cylinder engine and TorqueFlite eight-speed automatic transmission.
The 4xe (pronounced "four-by-e") system made its debut with the 2021 Jeep Wrangler 4xe.
Standard on all models is the all-aluminum 3.6-liter Pentastar V-6 engine. A 5.7-liter V-8 engine is available on Overland, Trailhawk, Summit and Summit Reserve models.
The Grand Cherokee is to go on sale in the fourth quarter of 2021, while the 4xe version is to arrive at dealerships in early 2022.
Images:
Featured image: The badge of the Jeep Grand Cherokee 4xe is shown.
The 2022 Jeep Grand Cherokee Trailhawk 4xe is shown at a charging station. (Stellantis)
The 2022 Jeep Grand Cherokee 4xe Summit Reserve has a standard 10.25-inch frameless digital cluster with nearly two dozen different menus and a new full-color, 10-inch windshield head-up display (HUD).
The 2022 Jeep Grand Cherokee Summit 4xe is shown. (Stellantis)
More information:
2021 Jeep Grand Cherokee L has aluminum, 3rd Gen steel, magnesium
Share This: