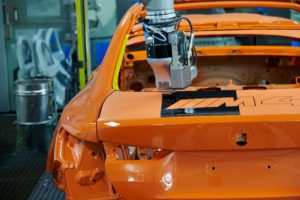 BMW has adopted some impressive new robotic technology that allows the application of several colors and designs to its cars' bodywork without stencils or masking, but repairers need not worry — the OEM has thought of their needs, too.
The new technology, BMW says, is an overspray-free painting process that will increase customers' ability to individualize their cars while reducing waste and energy consumption. The technology is being introduced on 19 BMW M4 Coupes that will soon roll off the production line at BMW's plant in Dingolfing, Germany, with custom two-tone paintwork and M4 identification on the hood and tailgate.
These first vehicles will initially be used in the OEM's own fleet. Series introduction of the piloted paint process is scheduled to begin in 2022 in the BMW Group production network.
The BMW Group collaborated with mechanical and plant engineering firm Dürr to develop the new EcoPaintJet Pro application process for waterborne base coats and 2K clear coat. The technology is a coordinated combination of robot, measuring system and applicator.
"The paint is applied using an orifice plate that enables high edge definition with a variable paint thickness of between 1 and appr. 50 millimeters," BMW said. "This requires maximum precision from both the robot and application technology. It also means two different colors of paint can be used, e.g. for a contrasting roof, and stripes and other designs applied – for instance, on the bonnet.
"The focus of technology and material development was on achieving the maximum range of applications. It will now be possible to paint every exterior component – offering customers virtually limitless options for individualization."
The close-up videos found on the Dürr website at https://www.durr.com/en/products/paint-shop-application-technology/paint-application/overspray-free-paint-application are nearly hypnotic and enough to make anyone want to throw away their rolls of masking tape.
What about when repairs are needed? They can be done with the usual masking process, BMW Group's Martina Hatzel told Repairer Driven News, with no access to an EcoPaintJet Pro system required.
"When repairing, we rely on a common concept (no matter which paint process), namely a plotter template, which should be available for every design," Hatzel said. "The premises for this, such as minimum distances between two lines, smallest object, etc., have been worked out together with the colleagues from Aftersales and are taken into account in design designs."
Images:
Featured image: With the paintwork for the M4 small series, the BMW Group is testing the possibilities of the new process.
The EcoPaintJet Pro system applies paint to a BMW M4. (BMW)
More information:
Sustainably produced and highly individual: BMW M4 small series takes shape using new paint process
https://www.press.bmwgroup.com/global/article/detail/T0346092EN/sustainably-produced-and-highly-individual-bmw-m4-small-series-takes-shape-using-new-paint-process
Share This: