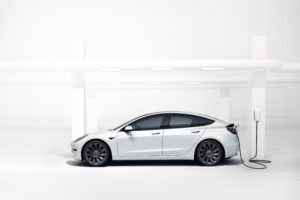 Altair, a data analytics and Artificial Intelligence (AI) company, has been analyzing electric vehicle (EV) adoption rates, charting those joining the surge and those on the opposite spectrum in all 50 states all the way down to the county level.
While the results aren't exactly shocking, the specificity is quite and illustrates clearly where this EV movement is spreading, which should greatly help collision repair businesses prepare for a potentially different fleet – or not – due to the trends.
Altair didn't have a lot to work with in starting to pull EV usage information nationwide. There were only 15 states with data from 2019, but Altair was able to fill in the blanks and create complete historical data by applying machine learning in the remaining 35 states.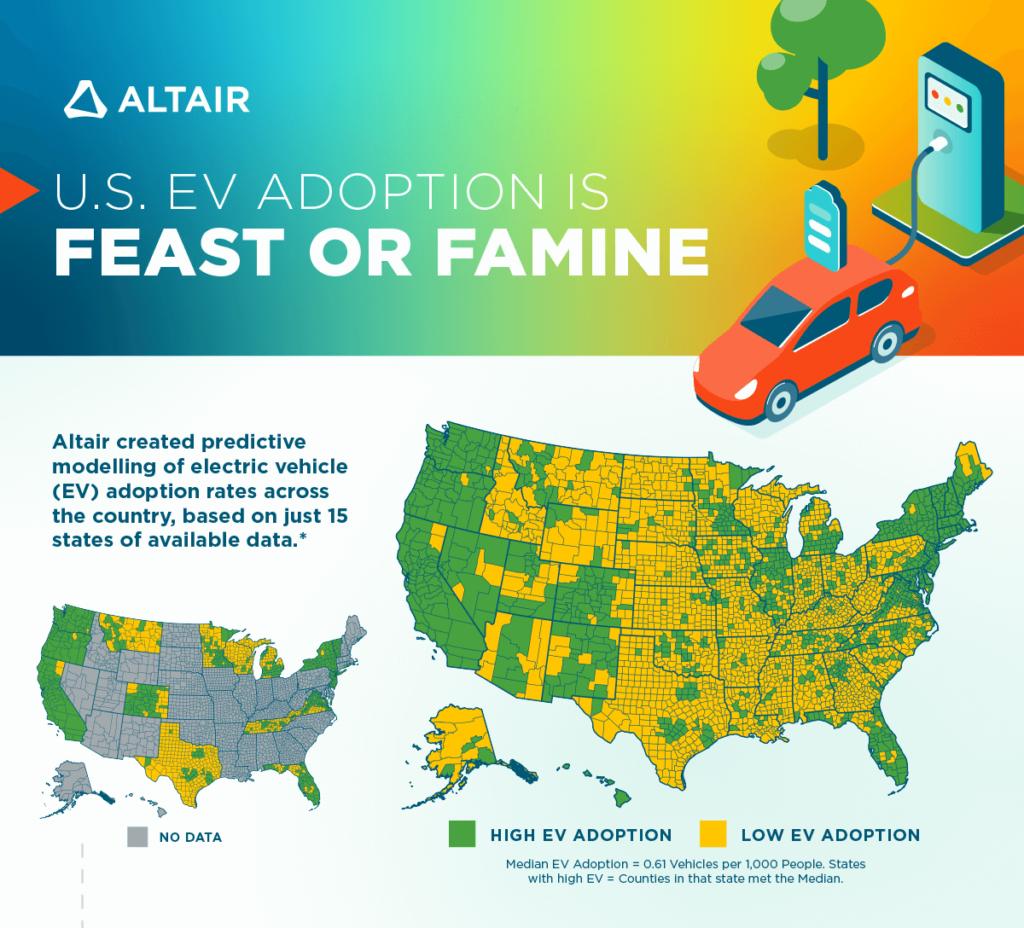 EV use is especially popular on America's coasts. Drivers living in the Midwest/Heartland are the most hesitant.
Based on number of EV vehicles per 1,000 residents, the top states for EV owners are Delaware, Connecticut, New Hampshire, New Jersey, Rhode Island and Vermont.
Of the rest, California, Colorado, Florida, Hawaii, Maryland and New Mexico are the next-most heavy EV users.
Arkansas, Idaho, Kansas, Mississippi, Nebraska and North Dakota are home to the nation's fewest EVs per capita.
Altair found that half of the states with the highest EV adoption rates have 10-plus laws and incentives to steer their populace toward EVs.
Publicly accessible charging stations also are big factors for EV adoption. Altair found that 80-100 percent of U.S. counties with high EV adoption rates are home to public charging stations.
Altair even analyzed the types of individuals most likely to be an EV adopter. The standard seems to basically be a city dwelling, college-educated, Democratic commuter who earns $53,650 per year.
To illustrate that: About 85 percent of EV adopters live in areas with a population of at least 250,000; around 65 percent of counties with commuters traveling 30-plus minutes are big adapters; over 60 percent of high-EV adoption county residents are college educated; and more than 80 percent of the biggest EV adopting counties are located in Democrat-controlled states.
If you have a lot of those in your area's demographics, you probably want to jump on planning ahead if you haven't already.
Images:
Featured image: Tesla Model S charging (Tesla)
Graphic (Altair). Illustrates that the majority of EV usage currently is on the U.S. coasts and more populous areas. 
More information:
GM, Lucid and Rivian to take part in OE Collision Repair Summit on EVs at SEMA Show – Repairer Driven News
AISI VP predicts steel will maintain leading role as EV production accelerates – Repairer Driven News
GM reveals the electric muscle behind its all-EV future – Repairer Driven News
Share This: