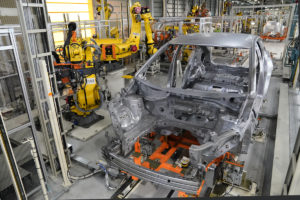 Nissan's new Nissan Intelligent Factory will use a highly automated assembly process that promises extremely high precision while all but eliminating human workers.
By checking their own work, Nissan said, robots will produce cars that have no flaws greater than 0.3mm in their paint, and component assembly that is accurate down to 0.05mm.
Among the new assembly processes will be something called "dimple welding," used on the window sashes of the aluminum doors. Rather than traditional spot welding, robots will use a thinner electrode to produce a narrower, but longer, weld area, which permits a reduction in the flange width of the door sash.
"As a result, we can reduce the front pillar width by 5mm and increase visibility for the driver," Teiji Hirata, Nissan's Corporate Vice President of Vehicle Production Engineering and Development, said through a translator in a recorded introduction to the new plant streamed on YouTube.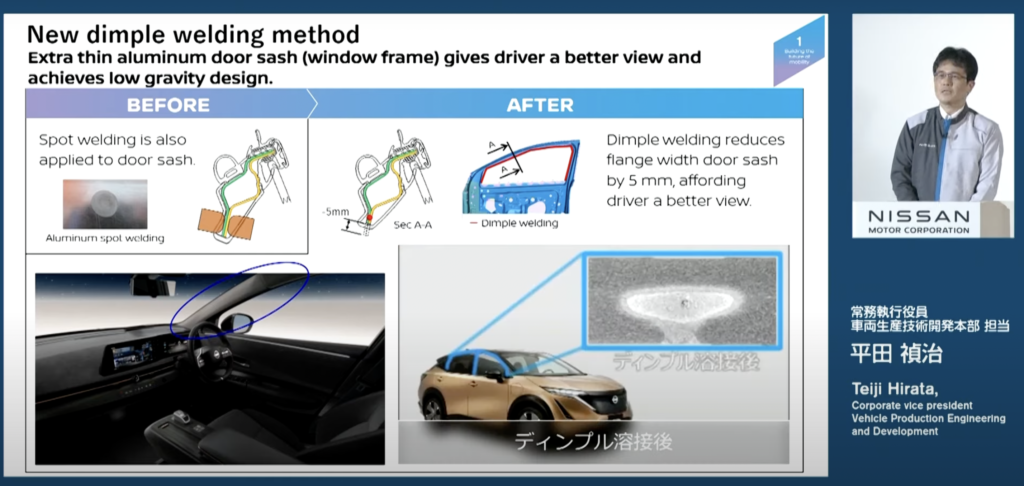 According to a Nissan spokesperson, repairers will not be required to obtain new equipment or training due to the new welding process.
The Intelligent Factory concept has been incorporated into a production line at Nissan's Tochigi Plant, where the new 2022 Nissan Ariya crossover electric vehicle (EV) is to begin production by April. Ariyas produced there will be sold in North America, Japan and Europe, the OEM said.
Nissan said the concept will improve manufacturing efficiency, reduce waste, shrink the OEM's carbon footprint and create a workplace that is less physically demanding on its human workers.
SUMO concept
The Simultaneous Underfloor Mounting Operation (SUMO) allows all four planned versions of the Ariya — 2WD and AWD, both with one of two batteries — on the same assembly line. The different front, middle and rear "pallet" sections containing the motor, battery and rear suspension will be mounted to a two-layer base that is the same for all models, allowing for as many as 27 different combinations.
Nissan said the process will eventually allow EV, hybrid and internal-combustion versions of the same vehicle to be built on the same assembly line.
Component positioning will be accurate to plus or minus 0.05mm, while the automated tightening and alignment of suspension links will ensure accuracy of 0.1 degree. This, Nissan said, exceeds Japan's takumi, or master craftsman, specification.
Simplified paint process
Robots will apply a new kind of water-based paint that can be sprayed and baked at the same 85 degrees Centigrade, or 185 degrees Fahrenheit, temperature that will allow bumper covers to be finished with the rest of the body. This should lead to a more perfect color match between the body and bumpers.
Automated inspectors will look at 562 areas of the body, including some not now visible to human inspectors, 11 times over the course of production, for 6,182 separate checks.
No more rare earths
To eliminate the use of rare earths in electric motor construction, Nissan will rely on robot technology to produce wound-field motors. Robots will wind 350 meters of 1.2mm copper wire around each of eight poles, precisely, densely and at high speed.
As they contemplate increased EV production, many OEMs are looking to minimize reliance on heavy rare earth materials usually used in magnet manufacturing. These rare earths, such as dysprosium and terbium, are unevenly distributed around the world, causing issues of supply and cost.
The Nissan Ariya
The Ariya, Nissan's first crossover EV, builds on the OEM's experience with the Leaf hatchback EV. With the larger of the two available batteries, it will be able to travel more than 300 miles between charges, more than the Leaf. The base version, with the smaller battery, is to sell for about $40,000; pricing of the higher-capacity battery version has not yet been announced.
In unveiling the new factory, Nissan said the Ariya will feature "the latest driver assistance technologies and connectivity."
The crossover will feature Nissan's ProPILOT 2.0 advanced driver assistance system, which enables hands-off driving while cruising in a given lane. Also standard across the Ariya lineup is Nissan's Safety Shield system, which includes Intelligent Around View Monitor, Intelligent Forward Collision Warning, Intelligent Emergency Braking and Rear Automatic Emergency Braking technology.
Over-the-air firmware updates will be provided.
"The Ariya, a key model in Nissan's plan to roll out 10 new models in 20 months, demonstrates our commitment to meeting customer demand for crossovers with the most advanced electrified, automated and connected technologies," Nissan Chief Operating Officer Ashwani Gupta said in a statement in July.
"The company expects sales of its EVs and e-POWER electrified models to be more than 1 million units a year by the end of fiscal 2023. The Ariya will play a significant role in attaining that goal."
By comparison, the Leaf has sold nearly 500,000 units combined since it arrived in 2010.
Images:
Featured image: The Nissan Intelligent Factory is shown. (Nissan)
This graphic shows the dimple welds that will be used in the Ariya's window sashes, and how they will differ from the usual spot welds. (Nissan)
Video of the unveiling of the Nissan Intelligent Factory. (Nissan, via YouTube)
More information:
Nissan opens a new chapter with the Ariya
Nissan, July 15, 2020
Nissan, July 15, 2020
Share This: