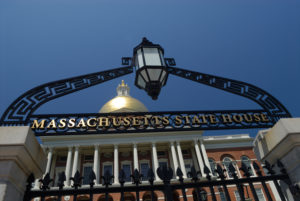 Mass. bill would limit claims investigations, require insurers to make loan payments
By on
Announcements | Insurance
A committee of the Massachusetts Legislature has held a hearing on a bill that would limit the amount of time insurance companies have to investigate the cause of a loss, and would require the insurer to make payments for the vehicle while the investigation is ongoing.
The bill, H.1151, filed by state Rep. Joseph D. McKenna, a Republican representing the 18th Worcester district, would amend existing state law by adding a requirement that any investigations into the cause of a loss be concluded within 30 days of the occurrence of the event that caused the loss.
In addition, the investigating insurance company would be required to make any premium payments due to the financial institution holding title to the vehicle during the course of its investigation. If the loss were determined to be fraudulent, the insurance company would be allowed to recover those payments from its insured.
Violations would be punishable by a fine of up to $10,000, to be determined by the state's commissioner of insurance.
Testifying before the Joint Committee on Financial Services on Oct. 20, McKenna said the bill "ensures that someone who has lost the use of their vehicle isn't triple impacted by having to continue to pay insurance premiums as well as car payments on a vehicle that they no longer have."
McKenna said he filed the bill after learning of an incident involving his aide. The aide's car, a Toyota Rav4, burst into flames in her driveway, as a result of what was later determined to be faulty wiring in the car's heated seats.
"The insurance company said, 'Well, your car burned down in your driveway. That looks suspicious, we're going to open an investigation.' So they conducted an investigation. Understandable," McKenna said.
"However, during the course of the investigation, there was an unknown timeframe. And she had to continue paying insurance premiums as well as the principal on that car which she no longer had the use of."
"So what this bill does is it shifts the burden of the continuing premiums to the lender to the insurance agency that is conducting the investigation, with the caveat that if they do find that fraud occurred, they have the ability to to reclaim all of those foregone premiums and payments from the fraudulent owner," he said.
In written testimony in support of the bill, the aide, Lori Joubert, said that after the fire, she filed a claim, rented a car and cooperated fully with an insurance adjuster.
"A few days later I received a call from Mapfre/Commerce Insurance and the adjuster asked me to state my name and informed me that the call was being recorded. The next words out of her mouth were why did you do it. I was shocked, and asked do what? She then informed me that we were under investigation. I stated that we would cooperate as we had nothing to hide," Joubert wrote.
She said she was informed that her rental car would no longer be covered under her insurance. When she said that she and her husband owed payments on the Rav4, "I was informed that I needed to keep paying on a vehicle I no longer had. I then asked if we could take the car off the policy and not have to pay for the policy. I was then told that they policy would need to stay in effect and we need to keep paying insurance on a car that we no longer had."
She and her husband paid for an attorney out of pocket. "We were late on two car payments and our credit was adversely affected. Not to mention the stress and the uncertainty of dealing with an insurance adjuster who kept delaying our claim," she wrote.
Three months later, the claim was settled. "Toyota was paid off, we did not receive any of the of the payments made out of pocket retroactive, we did not receive any refund on the insurance and we did not receive reimbursement on the attorney fees," she wrote.
"I'm not arguing that she should not have been investigated," McKenna told Repairer Driven News. "But she had to pay her car payments and her insurance payments. It became a really, really tough financial burden for her."
McKenna said he believed the legislation would create a financial incentive for insurers to complete their investigations in a timely manner. He said that the 30-day window "feels reasonable," but said he would welcome views to the contrary from the insurance industry.
He acknowledged that "there's many issues to be discussed with this," and that he had not raised the issue with his aide's insurer, or with industry representatives. "I certainly look forward to having those conversations, and to working with the committee on this bill to make sure that we address any unintended consequences."
McKenna told RDN that he has so far received no response from the insurance industry to his bill.
Images
Lead image: The Massachusetts State House in Boston. (jorgeantonio/iStockphoto)
Share This: