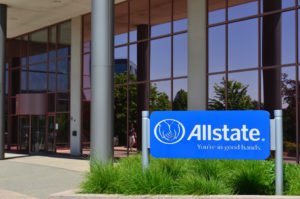 Allstate raises auto insurance rates as claim severity increases, discusses value of telematics products
By on
Announcements | Insurance
Allstate is raising its auto insurance rates "just about everywhere" and focusing on increasing returns in that part of its business in response to a decline in net income in the third quarter of 2021, company officials told analysts during an earnings conference call Thursday morning.
The decline in underwriting income resulted from higher loss costs of settling auto insurance claims, company officials said.
Allstate has raised its rates by an average of 6.7 percent in 20 states over the past two quarters, said Glenn Shapiro, president of Allstate Personal Lines.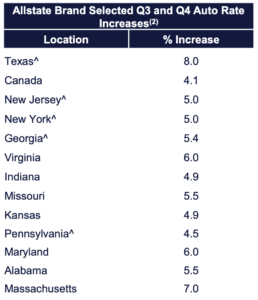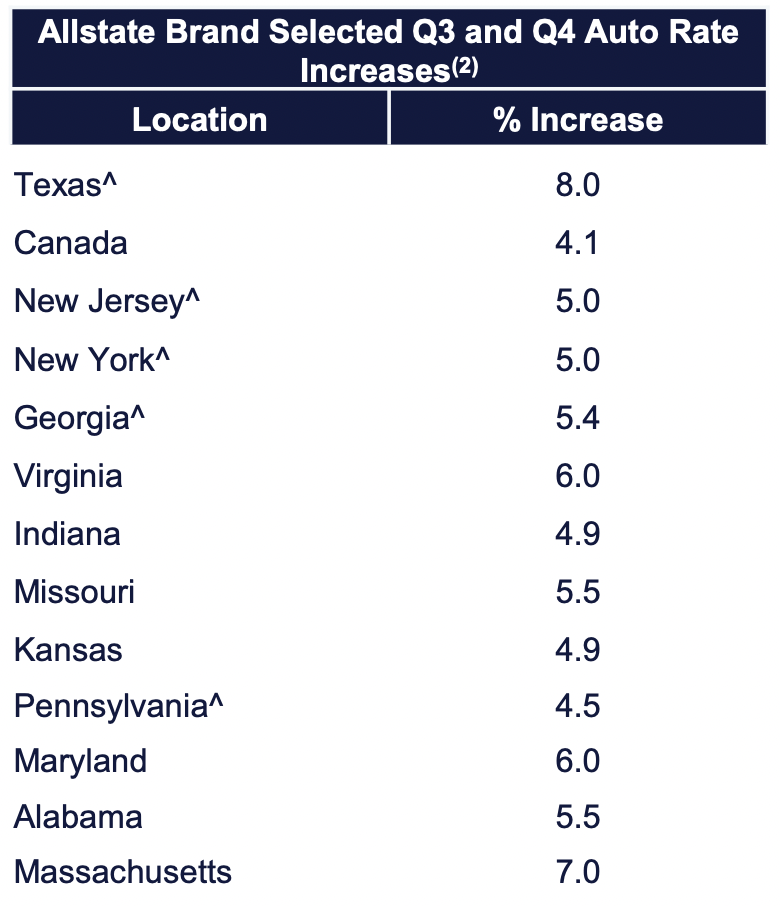 In a reversal of 2020, when the COVID-19 pandemic led to less road congestion and automobile accidents, 2021 has seen a large percentage increase in the overall level of accident frequency, CEO Tom Wilson said.
While frequency has not returned to 2019 levels, the increase in severity has more than made up for that, Wilson said.
He told analysts that auto severity in 2021 "has been dramatically impacted by the supply chain disruption and price increases on used cars and original equipment parts."
The company reported a combined ratio of 97.5 percent for its auto insurance business in the third quarter, up from 93.1 percent for the same quarter in 2019. The combined ratio provides a comprehensive measure of an insurer's profitability. A ratio below 100 percent indicates that the company is making an underwriting profit, while a ratio above 100 percent means that it is paying out more money in claims than it is receiving from premiums.

Toward the end of the call, Wilson addressed a question from an analyst who questioned the "around a 7 percent rate increase that you are asking for. I guess that feels high to me."
"Look, we need to make money in auto insurance … and we're going to do that," Wilson responded.
"At the same time, we're not letting up on any of the components of increasing our market share and personal property-liability, or expanding circle of protection. All of which we've had really good progress and success on this year and in this quarter, so you should expect us to continue to focus on a broad-based approach to increasing shareholder value," he added.
During the call, officials talked about the benefits of Allstate's telematics products Milewise, which allows customers to pay based on mileage, and Arity, an analytics company Allstate founded in 2016.
"From a growth standpoint at the off set of the pandemic, we begin to see material increase in the consumer acceptance to telematics," Wilson said. "And we've really leaned into that with our Milewise product, which is really the only national product out there to pay for the mile."
He spoke in greater detail about Arity, saying that the 600 billion miles of driving data is has collected has crated "significant value" for Allstate.
"We help people do marketing, more effectively and efficiently. And so we're really building quite a platform that will do a number of things," he said.
Among those, he said, are not only providing data for Allstate's own setting of prices, but selling that data and analysis to other insurers as well.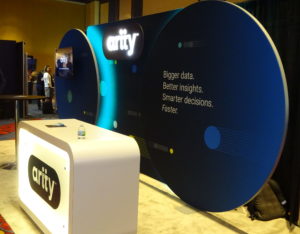 "Arity provides that service to some other insurance companies, and we're working to try to expand that effort for them," Wilson said. "But it moved beyond what I would just call telematics as a service, help me pull data in to figure out all my customers are doing too. We started collecting more data from ourselves and built a rating service organization so that we can help other insurance companies use telematics to price the insurance. We believe that they're going to get their [own] capability anyway. So we think that we might as well do it through Arity, and capture additional margin."
Beyond that, he said, Arity is developing a rating services organization that has been expanded to include lead generation. Between its own data and that purchased from outside the company, "we're pulling data on a 100 million cars per day right now," he said.
With its Arity IQ product, "we think we can actually work to help people pre-qualify buyers," Wilson said. On its website, Arity tells potential clients, "Knowing which drivers are higher risk by incorporating actual driving behaviors such as distracted driving upfront will allow you to price more accurately so you avoid costly losses."
"I don't think that shows up in shareholder value today because I don't really see any of the analysts really looking hard and saying 'what's it worth,' but we think it's substantial value and we expect to continue to grow their business and expand its total addressable market," Wilson said.
More information
Almost fully remote Allstate to sell its 54-year-old headquarters
Arity behavior database could help body shops market to crash-prone drivers
Images
Lead image: The headquarters of Allstate Canada in Markham, Ontario. (Raysonho/Wikimedia Commons)
Charts show the changes over time in the auto insurance combined ratios for Allstate and the industry in general, and the size of Allstate auto insurance rate increases that have been approved by 12 selected states and the Canadian government.
The Arity booth at Connected Car Insurance USA 2017 is shown. (John Huetter/Repairer Driven News)
Share This: