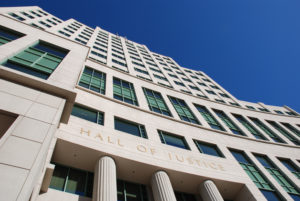 Ruling casts doubt on Calif.'s ability to order $3.5B in auto insurance premium refunds
By on
Announcements
A California appeals court has ruled that the state's insurance commissioner has no authority to order State Farm to pay more than $100 million in refunds to Californians who the commissioner found were overcharged for homeowners, condo and renters coverage.
The 3-0 ruling, issued Oct. 29 by the California Court of Appeal in San Diego, raises doubts about the enforceability of state Insurance Commissioner Ricardo Lara's order that insurers refund an estimated $3.5 billion in overcharges collected from California motorists during the COVID-19 pandemic in 2020.
In the case, State Farm General Insurance Company v. Lara et al., the court rejected the contention of California Insurance Commissioner Ricardo Lara that the state's Proposition 103 gives him the authority to order rate refunds as part of his responsibility to ensure that Californians are charged fair rates.
The decision affirmed an order of the Superior Court of San Diego County.
Consumer Watchdog (CW), an advocacy group that was involved in the case, issued a statement critical of the ruling. It promised to appeal the decision to the California Supreme Court, which has twice ruled that ordering rate reimbursements is within the commissioner's authority.
CW argued that the decision runs counter to Proposition 103, legislation passed in 1988 that, among other things, allows the California Department of Insurance to regulate automobile, property and life insurance.
CW's investigation showed that insurers raked in a $5.5 billion windfall because a vast majority of Californians drove far less in 2020. So far, insurance companies have returned more than $2 billion in premium relief to California drivers.
"The vast majority of insurers have failed to refund premiums that were collected based on rates that were set before the pandemic closed down the state's economy and left millions of cars in their driveways. Insurance Commissioner Ricardo Lara has repeatedly notified insurers that their rates and premiums were excessive and they must refund the overcharges," CW said in a statement.
"Californians passed Proposition 103 to protect themselves against arbitrary rates and discriminatory practices by requiring insurance companies to keep rates and premiums fair at all times or else be held accountable by the Insurance Commissioner or in the courts," Harvey Rosenfield, the author of Proposition 103, said in CW's statement. "The Court of Appeal's decision has stripped the Insurance Commissioner of the powers the voters gave him to protect Californians against excessive rates. Consumer Watchdog will ask that it be overturned by the California Supreme Court."
Proposition 103 in general prohibits insurance companies from charging excessive auto, home and business rates, and requires companies to apply for and justify any rate changes before they take effect under a formula that limits their profits and expenses to fair levels. Consumers have the right to challenge what they feel are unfair rates or other practices.
Contacted by Repairer Driven News, State Farm declined to respond.
In the Oct. 29 ruling, the court found that the law was not written to give the insurance commissioner the authority to retroactively change rates or order refunds.
The ruling states, in part, that State Farm "argues that under the prior approval system, it was required to pay the approved rate pending approval of a new one, thus precluding retroactive rates and related refunds. Appellants maintain the rate was not impermissibly retroactive, and the refund was proper regardless. We conclude the statutory prior approval requirement is prospective in operation and inconsistent with retroactive rates and refunds."
"The prior approval requirement is set forth in section 1861.01, subdivision (c), and it is brief: 'Commencing November 8, 1989, insurance rates subject to this chapter must be approved by the commissioner prior to their use.' The plain language of the statute thus requires that rates be set before their use, and apply prospectively.
"We disagree with Appellants that language in section 1861.05(a)—"[n]o rate shall be approved or remain in effect"—supports a different reading," the ruling states.
The 59-page ruling was written by acting Presiding Justice Ricard D. Huffman, with associate justices Truc T. Do and Patricia Guerrero concurring.
The State Farm case stems from a 2016 decision from then-Insurance Commissioner Dave Jones to reject a 6.4-percent rate increase the insurer had sought for its home, condominium and renter insurance.
After conducting a public hearing, Jones determined that the increase was unjustified, and ordered State Farm to cut its rates by a total of $77 million a year going forward. Further, he concluded that the company had been overcharging its customers since July 2015, and ordered the refund of more than $100 million to California policyholders, with interest.
State Farm sought to overturn Jones' action through four separate lawsuits filed in San Diego Superior Court. Among other points, the company argued that the requirement in the voter-approved Proposition 103 that it open its books to public scrutiny violated its constitutional rights.
More information
Calif. orders Allstate, Mercury, CSAA to refund excess profits to drivers
Commissioner Lara orders Allstate, Mercury, and CSAA to "close the gap" on auto insurance refunds owed to drivers who drove less during the pandemic
Images
Featured image: The Hall of Justice in San Diego. (Scott Carr/iStockphoto)
Share This: