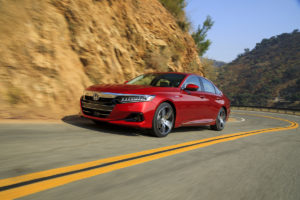 Ford and Honda equipped more than 95 percent of their light vehicles with automatic emergency braking (AEB) in the 12 months that ended Aug. 31, the Insurance Institute for Highway Safety (IIHS) has announced.
At the same time, four manufacturers put the safety technology into customers' hands less than two-thirds of the time, IIHS said.
The results are part of the most recent reports filed by 20 OEMs on their progress toward meeting their voluntary pledge to equip nearly all of the light vehicles they produce for the U.S. market with AEB by Sept. 1, 2022.
"With the Ford and Honda brands hitting the target, this essential safety feature is now on a huge number of affordable, top-selling vehicles," IIHS President David Harkey said in a statement.
Ford, at nearly 14 percent, and Honda, at more than 9 percent, own nearly one-fourth of the North American market for new light vehicles.
Ford, and its Lincoln division, had increased its percentage of AEB-equipped light vehicles from 91 percent to 96 percent, and Honda, and its Acura division, from 94 percent to 96 percent.
With the recent addition of Ford and Honda, 12 of the 20 OEMs are ahead of schedule in meeting the pledge they made in March 2016, IIHS said.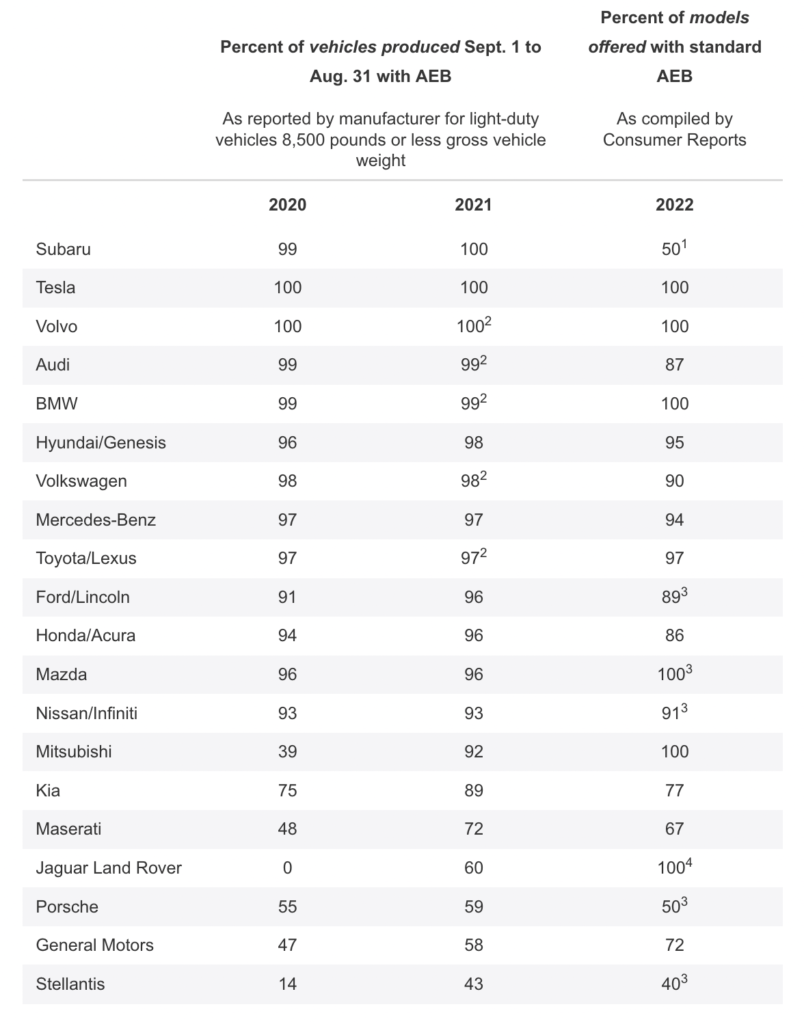 OEMs submit a report yearly through a submission to the Federal Register Docket, making their progress status a public record. The voluntary commitment was brokered by IIHS and the National Highway Traffic Safety Administration (NHTSA).
The automakers that met the 95-percent target in previous years are Audi, BMW, Hyundai/Genesis, Mazda, Mercedes-Benz, Subaru, Tesla, Toyota/Lexus, Volkswagen and Volvo.
Those that need to make the most progress to meet the goal are General Motors, Stellantis, Jaguar Land Rover and Porsche, four OEMs that equipped fewer than two-thirds of their production with AEB, IIHS said.
Among the four, JLR made the most progress, rising from zero percent to 60 percent year-to-year. Stellantis reported 43 percent, up from 14 percent; Porsche 59 percent, up from 55 percent; and GM 58 percent, up from 47 percent.
Those four OEMs earned a prodding from David Friedman, vice president of advocacy for Consumer Reports.
"It is good news for consumers that city-speed AEB now comes standard across most models, but Stellantis, GM and the other lagging companies really need to pick up the pace," Friedman said in a statement.
IIHS noted that although Mitsubishi and Nissan/Infiniti missed the target, both installed AEB on 9 of 10 vehicles they produced last year. Kia just missed that mark, equipping 89 percent of its vehicles with the technology.
The institute also credited Maserati with making significant strides, raising its percentage of AEB-equipped vehicles to 72 percent from 48 percent in the previous year. Maserati is a part of Stellantis.
"The final sprint these lagging automakers are making shows that a rapid rollout of advanced safety features is possible," Harkey said.
As the technology becomes more prevalent, and older, non-AEB vehicles are retired from the roadway, repairers might see fewer vehicles damaged in crashes, but encounter greater complexity on the vehicles that do crash. One of the most significant benefits experienced by both consumers and carriers will be in the form of reduced bodily injury as a result of the losses that occur.
Separate from the manufacturers' commitment, Consumer Reports tracks the percentage of models that have AEB as standard equipment across all trim levels. Several report making the technology standard equipment on 100 percent of their models, but the numbers can be deceiving; Subaru's advanced driver assistance system (ADAS) package is not available on models with standard transmissions, but those vehicles accounted for a tiny fraction of overall production.
CR's Friedman called on NHTSA to go further by setting standards "that ensure all automakers' AEB systems work effectively at highway speeds and stop for pedestrians, cyclists, and other vulnerable road users both during the day and at night."
Currently, NHTSA sets performance standards for the timing of driver alerts to an impending collision as part of its 5-Star Safety Ratings program. In addition, the AEB must involve at least an advanced rating in the IIHS vehicle-to-vehicle front crash prevention evaluation. OEMs must meet those standards as part of their current commitment.
The IIHS noted that many manufacturers' standard systems earn a superior rating in its testing. "A significant portion of new vehicles can also detect and avoid pedestrians — a requirement for the IIHS Top Safety Pick and Top Safety Pick+ awards," the institute said.
AEB technology is coming to heavier vehicles, too. OEMs have committed to installing autobraking on all vehicles with a gross vehicle weight rating of 8,501-10,000 pounds by September 2025.
Six automakers produce such vehicles. Among them, Ford reported equipping 75 percent of its vehicles with AEB, Stellantis 13 percent and Nissan/Inifniti 12 percent.
More information
NHTSA Automatic Emergency Braking Initiative docket
https://www.regulations.gov/docket/NHTSA-2015-0101
IIHS: Two more automakers cross finish line in race to fulfill autobrake pledge
https://www.iihs.org/news/detail/two-more-automakers-cross-finish-line-in-race-to-fulfill-autobrake-pledge
Images
Featured: A 2022 Honda Accord Hybrid. (Provided by Honda)
Chart showing OEM's progress toward meeting AEB commitment. (Provided by IIHS)
Video demonstrates the effectiveness of autobraking. (Provided by IIHS, via YouTube) 
Footnotes for chart. (Provided by IIHS)
1 Subaru's driver assistance package that includes AEB is standard on all new vehicles with a continuously variable transmission (CVT), but it is not offered on vehicles with a manual transmission. Three Subaru models come with standard manual transmission and require an extra charge for a CVT. Under the terms of the voluntary commitment, automakers may defer equipping vehicles with manual transmissions with AEB until the 2024-25 production year.
2 Percentage carried over from earlier report. Companies are not required to submit updates after they meet the target.
3 Percentage accounts for the automaker's 2022 models for which specifications are known as of Dec. 9, 2021, but not yet all 2022 models offered by the automaker. CR lacks specifications for all models from Fiat (Stellantis), one model from Ford, four models from Jeep, three models from Mazda, seven models from Nissan, and six models from Porsche.
4 Jaguar Land Rover has not reported that all of its AEB-equipped models conform to the performance requirements outlined in the voluntary commitment.
Share This: