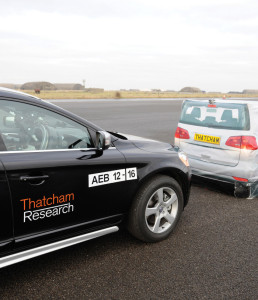 OEMs worth 99 percent of the market share will commit to installing autobraking in every vehicle they build by 2022, Reuters reported Wednesday, citing three unnamed sources.
The formal announcement will come Thursday, according to Reuters.
If Reuters is correct, that officially starts the clock ticking on how soon the technology could eliminate a portion of collision repairers' business.
The average car is 11.4 years old or so and the average repairable claim's around 6 to 7-odd years old (according to CCC and Mitchell), so you can start guesstimating how soon this technology will start making a dent. Right now, it isn't, according to CCC.
The technology's expense does mean that crashes which do happen could be more expensive in terms of parts and labor (scans and calibration). So there's a trade-off in terms of revenue.
National Highway Traffic Safety Administration head Mark Rosekind wouldn't confirm the details when asked by an audience member at Megatrends USA's autonomous vehicles summit Wednesday. However, he seemed to hint that an autobraking announcement of some sort would be coming Thursday.
"Tomorrow, we'll talk about where we are," Rosekind said.
In September 2015, 10 automakers with 57 percent of the U.S. market share committed to make automatic braking standard soon, the DOT, NHTSA and IIHS announced — though they didn't give a due date.
Rosekind said Wednesday it was the NHTSA's hope in encouraging that pledge that OEMs beat rulemaking.
"You mentioned some other numbers that I have no comment on," he said regarding the 2022 rumor.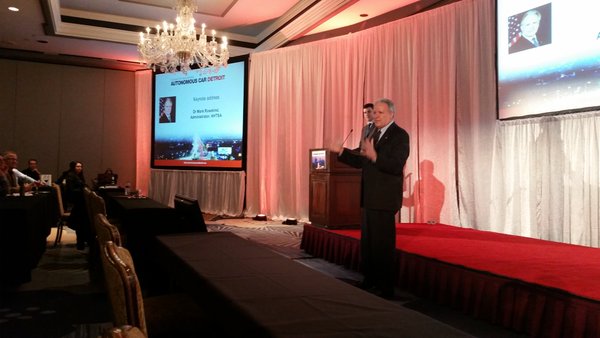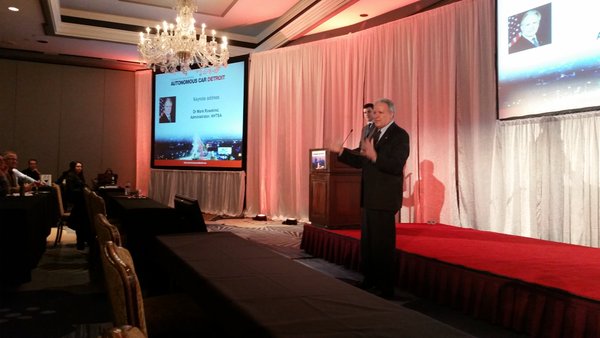 That September announcement involved Audi, BMW, Ford, General Motors, Mazda, Mercedes Benz, Tesla, Toyota, Volkswagen and Volvo — many of which had already planned to offer autobraking standard or as an option in the 2016 model year.
Notably absent then were OEMs like FCA, Honda, Hyundai and Nissan — all of which will presumably be included Thursday if we're talking 99 percent of market share.
Reuters reported that some OEMs will get longer than 2022 to install it on more difficult vehicles, such as stick-shift cars.
It also quoted former NHTSA Administrator Joan Claybrook as calling for legally binding rules, as the apparent deal "was developed in secret with no public record of its factual basis, no legal requirement that companies comply and no penalties if a company lies about its compliance."
According to Reuters, Rosekind has estimated true rules could take at least eight years.
However, he seemed optimistic Wednesday that NHTSA could give OEMs quick turnaround for interpretation on some questions related to autonomous vehicles (for example, vehicle-to-vehicle communication and self-parking cars) — assuming they bothered to ask. He indicated a desire for the agency to move quickly to save lives.
An Insurance Institute for Highway Safety study announced in January estimated that auto-braking paired with crash warnings can cut 39 percent of all rear-end crashes, which works out to about 13 percent of all the crashes in America. The IIHS study compared police-verified rear-ending rates of vehicles equipped with forward collision warning and autobraking and cars which didn't.
When you start considering instances of vehicles hitting a fixed object or another moving object like an animal or cyclist, the number of crashes prevented by the tech really could climb.
More information:
"Major automakers to announce pact to install auto-braking systems by 2022"
Reuters, March 16, 2016
Images:
A December-January study by Thatcham and Direct Line Insurance found that 82 percent of drivers want autobraking standard and free, according to Thatcham. (Provided by Thatcham)
NHTSA Administrator Mark Rosekind, right, speaks during Megatrends USA on March 16, 2016. (John Huetter/Repairer Driven News)
Share This: