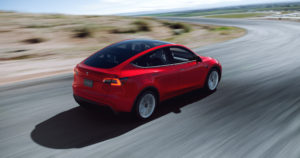 A "superior" rating for its camera-only front collision prevention technology has led the Insurance Institute for Highway Safety to restore the 2021-22 Tesla Model Y's Top Safety Pick+ award, the organization's top safety rating.
IIHS said that the crash-prevention system on Tesla Model 3 vehicles built after April 2021, when Tesla stopped equipping them with radar, also earns a "superior" rating in both vehicle-to-vehicle and vehicle-to-pedestrian evaluations, as a result of a software update.
IIHS had stripped the Model Y and Model 3 of their Top Safety Pick+ awards after Tesla announced that the two vehicles would use its camera-based Tesla Vision system going forward.
"Model Y vehicles built after April 2021 meet all the criteria for the 'plus,'" IIHS said in a Dec. 21 statement. "Following a conversion to a camera only system, the standard front crash prevention system earns superior ratings in both the vehicle-to-vehicle and vehicle-to-pedestrian tests."
The change in technology led the National Highway Traffic Safety Administration (NHTSA) to drop the non-radar cars' listing as having automatic braking or a front collision warning system. NHTSA at the time explained that it "only includes check marks for the technologies on a vehicle model that have been either verified by NHTSA or reported by the vehicle manufacturers as meeting NHTSA's performance criteria. We removed the check mark because we have no test results for Tesla's recent changes."
NHTSA has yet to restore the check marks for forward collision warning, crash imminent braking or dynamic brake support. It gives the Model Y five out of five stars for its performance in crash testing.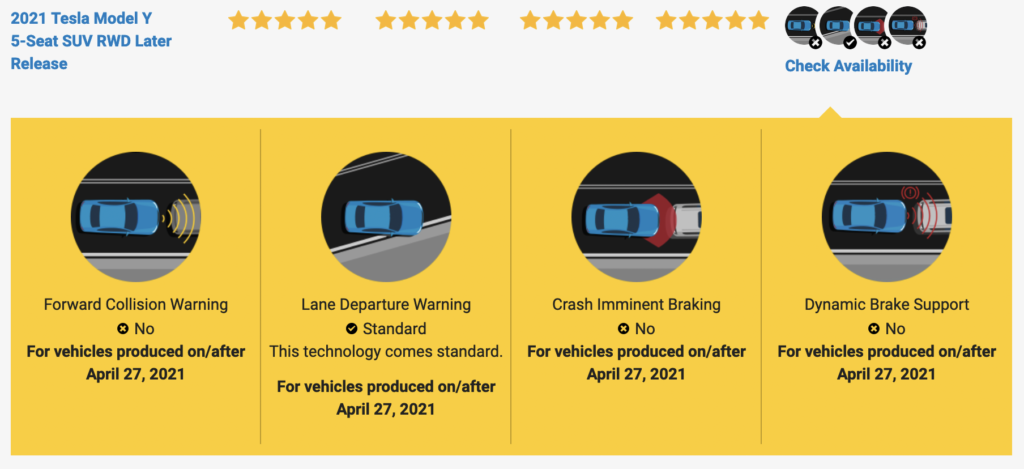 Most OEMs' ADAS systems rely on a combination of cameras, radar and lidar units. Radar systems and cameras, are relatively inexpensive. Among the three, radar stands out for working well in poor weather, but it lacks the resolution of the other .
To be eligible for the IIHS Top Safety Pick+ award, vehicles must be available with a front crash prevention system that earns advanced or superior ratings in both tests.
Other criteria for Top Safety Pick+ awards include "good" ratings in six IIHS crashworthiness evaluations, and standard headlights that are rated as "good" or "acceptable" in all trim lines. For the lower-tier Top Safety Pick award, at least one "good" or "acceptable" headlight system must be offered.
More information
Images
Lead image: A Tesla Model Y. (Provided by Tesla)
Video of 2021 Tesla Model Y driver-side small overlap IIHS crash test. (IIHS via YouTube)
The National Highway Traffic Safety Administration shows certain ADAS features as unavailable on the Tesla Model Y, because it has yet to evaluate the automaker's Tesla Vision camera-only system. The stars, from left, represent overall rating, frontal crash, side crash and rollover. (Provided by NHTSA)
Share This: