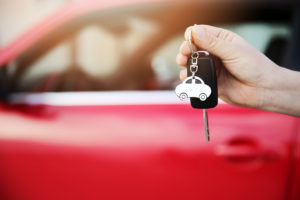 NADA predicts new light-vehicle inventory shortage to continue, sales to increase
By on
Market Trends
The National Automobile Dealers Association's (NADA) 2021 fourth quarter "Market Beat" report found that sales of new-light vehicles were up while inventory was down compared to the same time in 2020, and the popularity of electric vehicles continued to slowly rise.
NADA predicts new light-vehicle inventory will continue to be strained throughout 2022 and sales will increase though they would be much higher if it weren't for the microchip shortage. Sales likely won't return to pre-pandemic levels until the end of 2022 or early 2023, Manzi said.
More than 14.9 million vehicles were sold – an increase of 3.1%, and the Seasonally Adjusted Annual Rate (SAAR) for December was 12.4 million, which was a 23.7% decrease compared to December 2020, according to NADA.

In the report, NADA Chief Economist Patrick Manzi wrote the "major theme" for new-vehicle sales in 2021 was constrained inventory caused by the semiconductor microchip shortage and production cuts as a result of the COVID-19 pandemic. All of those factors led to less new vehicles being sold, used vehicle inventory shortages and increased sale prices, he wrote.
"The semiconductor microchip shortage is likely going to impact sales throughout at least the first half of 2022 with dealers continuing to sell most inventory soon after it reaches their lots," Manzi said in an update video.
Noting the Consumer Price Index measure of year-over-year inflation rate increasing 6.8% by November, which was the highest since 1982, Manzi said consumers are "very worried" about the largest contributors to the hike – gasoline, housing, food and vehicles, both new and used. Consumers did catch somewhat of a break on new vehicle purchases with interest rates averaging just over 4% in December. Price levels are expected to remain elevated through at least the second quarter of this year.
More consumers continued to buy new light trucks in 2021 instead of cars, which added up to 77.6% of new purchases by the end of the year. Manzi said NADA predicts that will continue to trend upward. Hybrid vehicles saw a slight uptick in sales at just over 2% above 2020 to 5.4% of purchases by powertrain type. Though sales dropped 4.2% from 2020 YTD, internal combustion engine (ICE) vehicles remain the most popular at 90.5% of purchases. Plug-in hybrids and electric vehicles (EVs) also gained sales, though only by around 1% each.
Prices on used vehicles have risen as a result of strong demand for new vehicles, Manzi said. The bright side is trade-ins are worth more, which was up 83% in December compared to December 2020, according to J.D. Power. J.D. Power also reported that used vehicle prices at wholesale auctions were up 61% at the end of November compared to the beginning of the year and are expected to increase through the second quarter of this year.
Employment at franchised new car dealerships are predicted by NADA to return closer to pre-pandemic levels as new vehicle production picks up and the microchip shortage "slowly dissipates," according to Manzi.
IMAGES
Featured image: Credit: Handemandaci/iStock
U.S. Light-Vehicle Sales chart (Provided by NADA)
Market Share by Powertrain graph (Provided by NADA)
Share This: