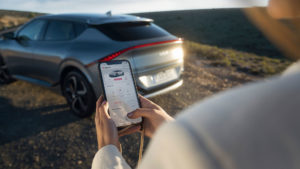 AAI, AG respond to new evidence in Mass. 'right-to-repair' suit; Kia joins Subaru in disabling telematics
By on
Announcements | Legal | Technology
The state attorney general and the Alliance for Automotive Innovation on Friday filed responses to new evidence presented in the legal challenge to Massachusetts' expanded "right-to-repair" law, seemingly setting the stage for a judge's decision in the closely watched case.
AAI, which is asking a federal court to permanently enjoin enforcement of the law passed by voters, also revealed that a second company, Kia of America, directed that its telematics system be disabled in its 2022 vehicles sold in Massachusetts in response to the law.
Post-trial evidence allowed by U.S. Massachusetts District Court Judge Douglas Woodlock in October showed that Subaru of America had taken a similar action for the same reason. Woodlock had allowed Massachusetts Attorney General Maura Healey to submit a new list of questions, or "interrogatories," to AAI in connection with the Subaru evidence.
The supplemental briefs, filed by AAI and Healey ahead of a Jan. 14 deadline, once again grapple with one of the central points in dispute in the case: Whether disabling telematics constitutes compliance with the law.
They also address the issue of AAI's standing to represent the automobile industry, given that Subaru and Kia, two of its members, have taken a different approach than the others.
Under Section 3 of the Massachusetts Data Access Law, overwhelmingly approved by voters in November 2020, any OEM that sells a vehicle in the state "that utilizes a telematics system shall be required to equip such vehicles with an inter-operable, standardized and open access platform across all of the manufacturer's makes and models." The legislation became effective with the 2022 model year.
AAI filed a legal challenge to the legislation on behalf of its members on Nov. 20, 2020, claiming, among other things, that the deadline was impossible to meet, and that OEMs could not comply with the law without violating federal safety and environmental laws.
"These manufacturers' policies of disabling telematics systems in Model Year 2022 or newer vehicles shows that they can immediately comply with Section 3 of the new state law, without violating either the Motor Vehicle Safety Act [MVSA] or the Clean Air Act [CAA]," Healey wrote. "Indeed, Subaru has been selling Model Year 2022 vehicles in Massachusetts pursuant to this policy since June 2021, and Kia has been doing the same since February 2021."
Any OEM, she said, "can continue to sell Model Year 2022 vehicles in Massachusetts, either by installing or building a platform that allows telematics repair data to be shared with those who need it, or by disabling the telematics systems in cars that have them."
"This evidence conclusively demonstrates that it is not impossible under any set of circumstances for any manufacturer to comply with the Data Access Law—the standard that the plaintiff Alliance for Automotive Innovation (the "Alliance") must satisfy to prevail on its facial preemption claims," she wrote.
Healey once again dismissed the AAI's contention that the Data Access Law was in conflict with federal law.
"At the start of this case, the Attorney General moved to dismiss the Alliance's MVSA and CAA claims (as well as the others) because there is no provision in those laws or any regulation promulgated thereunder that conflicts with the Data Access Law. No federal law or regulation addresses the cybersecurity of motor vehicles or access to motor vehicle diagnostic data," she wrote.
Healey said that the decision by the National Highway Transit Safety Administration and the Environmental Protection agency not to regulate these issues "is fully consistent with an intent to preserve state regulatory authority pending the adoption of specific federal standards" established by case law.
In its brief, AAI repeated its contention that disabling telematics features is not the same as complying with the Data Access Law, which requires the creation of "'standarize[d]' access to on-board diagnostic systems and 'vehicle networks.'"
"As this Court has recognized, statutory avoidance is not the same thing as statutory compliance," AAI said, paraphrasing a view expressed by Woodlock during a hearing. The judge has also likened the disabling of telematics as "tak[ing] their toys and walk[ing] off the field."
"[T]urning off telematics simply does not create an inter-operable, standardized, and open access platform — let alone by model year 2022," the Alliance wrote.
"…[T]he state-law duties imposed by Section 3 are not to disable telematics, but to redesign those systems in a way that is inter-operable, standardized, and open access, and that meets a whole host of other new requirements — the very requirements that Auto Innovators has alleged conflict with manufacturers' federal-law obligations," AAI wrote.
The Alliance also argued that voters would be unpleasantly surprised to learn that the law they had approved would result in disabling telematics, depriving them of certain safety and convenience functions.
In fact, the "Information for Voters" summary published before the November 2020 elections tells voters that "A yes vote would provide motor vehicle owners and independent repair facilities with expanded access to wirelessly transmitted mechanical data related to their vehicles' maintenance and repair." That section was written by the AG's office and the secretary of the commonwealth.
In her Friday filing, Healey also took aim at the AAI's standing to represent the automotive industry, saying that the new evidence shows that OEMs "have already taken a diversity of approaches to comply" with the law.
"Whatever the reasons, the new evidence confirms that there exists 'considerable variation in each member [OEM's] particular circumstances' with respect to compliance with Section 3 and federal law, rendering this lawsuit a poor fit for conflict preemption claims pressed by an association instead of by individual OEMs," Healey wrote.
Woodlock had expressed interest in this thought during a hearing on the Subaru evidence, asking, "What do you do when members of an association want to work both sides of the street?"
Case law, AAI argued, has established that an organization's members do not have to be unanimous in their response to a challenged law.
"Associational standing exists precisely for cases like this one — to allow an organization to seek common prospective relief to redress its members' common injury," the Alliance wrote.
It noted that, despite their differing approaches, all member OEMs would receive the same benefits from the relief AAI is seeking from the court.
The AAI has argued that the new Massachusetts law would require OEMs to introduce cybersecurity risks to their vehicles, and that the 2022 model year time frame makes designing, testing and implementing meaningful countermeasures impossible.
Critics have also said that the legislation does not, in fact, expand access to information needed by repairers beyond the state's original right-to-repair legislation, Chapter 93J of the Massachusetts General Laws, enacted in 2012.
More information
"Plaintiff's supplemental brief regarding issues raised in the Attorney General's motion to reopen trial evidence and at the October 28 hearing," Jan. 14, 2022
"Attorney General's supplemental brief on post-trial evidence," Jan. 14, 2022
"Exhibit A: Plaintiff Alliance for Automotive Innovation's responses to Attorney General Maura Healey's third set of interrogatories (January 2, 2022)"
Judge indicates he will accept new evidence in Mass. 'Right to Repair' case
Mass. bills propose extending time for OEMs to comply with 'right to repair' law
Images
Featured image: Kia of America has chosen to disable its Kia Connect telematics system in 2022 and newer vehicles sold in Massachusetts, in reaction to a change in the state's "right to repair" law. (Provided by Kia)
Share This: