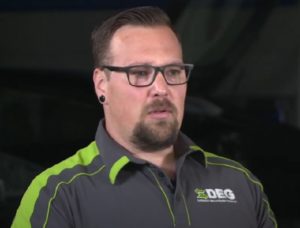 Looking back at changes made to labor times and collision repair procedure guidance in 2021, Database Enhancement Gateway (DEG) Administrator Danny Gredinberg shared details with Repairer Driven News about what he considers the top inquiries of the year.
In the Society of Collision Repair Specialists (SCRS) Jan. 13 Quick Tip video, Gredinberg highlighted an inquiry as an example of how shops can utilize the DEG to get missing information they need. In response to the inquiry, CCC added a missing picture schematic, labor times and a part footnote. 
Missing information, such as parts and labor times, is common in all three estimating systems – CCC, Audatex and Mitchell, Gredinberg said.
"When you run across this, help us help you," he said. "Get us the information so that we can get it submitted to the information provider and get it added quickly to the database so no one else has to run across that same issue."
Here are the DEG's top 2021 inquires, according to Gredinberg:
Honda and Acura roof replacement
An October inquiry submitted by a shop after watching an I-CAR and Honda North America training video for the replacement of a 2021 Honda Accord roof questioned CCC's listed labor times and parts list. The inquiry led to four more inquiries (18986,19155, 19156 and 19157) – one in regard to the 2019 Honda Clarity, another about the 2021 Acura TLX, both of which have similar roof designs, and a third that was specific to Mitchell not having a high enough labor allowance. All five were about welded roof panel operations in relation to a new repair procedure for 2018-2022 models to accommodate the laser braised roof seam, which requires more labor and additional parts.
After review, CCC increased its labor and refinish times for models and added that they do not include quarter glass but does include brackets. Mitchell also updated its labor allowances and clarified that those times include brackets.
Gredinberg said Honda Collision Repair Training and Technology National Assistant Manager Scott Kaboos provided additional feedback that led to a second inquiry and updates, including that certain brackets cannot be reused for 2019-2021 model year Honda vehicles. Guidance for the 2019 Honda Clarity and 2021 Acura TLX was also included in one of the inquiries.
Nissan outer quarter and wheelhouse panels replacement
A May inquiry regarding replacement of the 2016 Nissan GTR outer quarter panel and outer wheelhouse panel centered on labor time. Audatex's booked time was 40.5 hours – 19 for the quarter panel and 21.5 for the outer wheelhouse panel, which was called "inadequate" and "unrealistic" for the actual amount of time it takes on the complex job, according to the inquiry.
"Repair[er] has to manually drill out plug weld holes and weld individual plug welds per procedure," the inquiry states. "Once dressed, needs to be brought up to new and undamaged at welded seams."
After reviewing the OEM repair procedures, labor time was increased to a total of 70.1 hours – an increase of 26.9 hours for the outer wheelhouse panel.
Porsche A/C recharge
A March inquiry regarding the 2013 Porsche 911's A/C system questioned if leak detection measurement after recharging the condenser replacement and visual, pressure, leak detector, or A/C output checks are included in the labor time.
In response, Mitchell updated its labor general information guide to say: "The labor times shown in the Guide represent utilizing A/C servicing equipment in a collision repair environment that evacuates the system by applying vacuum that must then be held by the system for a certain period of time (leak check) confirmed with electronic leak detection equipment post re-fill. Diagnosing a failed leak check test is not included."
DEG added a note to the inquiry to clarify that leak checks are only included to verify there aren't any leaks at the service charge ports using a leak detecting wand or verifying dye. "Any additional diagnostic step beyond the service port area is not included," the statement says.
Mercedes-Benz inner rear body panel replacement
CCC/MOTOR labor times for repairing or replacing the 2019 Mercedes Sprinter cargo van's inner rear body plan, including extensive rear floor work, plus painting were too low, according to the February
inquiry
. Rear floor work took nearly 36 hours compared to CCC's allowance of 25 hours. The rear body panel took an additional 12 hours after overlapping parts were removed.
"The amount of work to fit individual parts, brackets, to the vehicle structure to ensure correct fit with the rear door hinges, door striker points require fit up multiple times, even with jigs, there are no specific holding points at the rear body panel as this needs to be manually aligned," the inquiry states.
MOTOR responded that undercoating, tar or grease removal isn't included in the estimated work times but that undercoating removal would require an "on-the-spot" evaluation. Seam sealer removal and application is included.
MOTOR deducted one-and-a-half hours for the rear floor pan with the crossmember off and updated the following: 9.2 hours labor time from four for rear body panel, 37.3 hours from 25 for the rear floor pan body work, 4.8 hours from two for refinish and 16.2 hours from seven for the rear crossmember.
It's noted in the response that covering/masking the interior of the van to prevent overspray damage isn't included in the refinish time. Brackets, hinge reinforcements and other parts mentioned also weren't included and are considered "standalone operations" by MOTOR.
Audi quarter panel replacement
A May inquiry submitted by an Audi OEM-certified repairer detailed numerous inaccuracies in CCC's body and refinish labor operations for replacement of quarter panels on the 2021 A6. The repairer states the labor time is insufficient
Among several other points made, the repairer said preparation of the inside of the rear floor pan for refinishing needs more time it "requires 100% hand preparation, cleaning, masking surround[ing] areas 36 inches inside the trunk compartment."
They asked that the replacement labor times for the quarter panel and outer wheelhouse be increased as well as the rear floor pan and uniside refinish times. They also requested the operation for the full uniside replacement including glass be corrected.
CCC responded with 11 updates that mostly increased labor times but also changed the footnote applied to the inner wheelhouse to state, "Time is after outer wheelhouse, lock pillar reinforcement and quarter panel are removed." CCC refuted the request to increase the refinish times for the rear body panel and reinforcement stating that they're "appropriate."
CCC's determination on labor time for the back glass based on a test estimate was that it's only included when the complete uniside is selected.
"There are no sectioning operations for the uniside," the response states. "If the quarter panel is not needed then the aperture panel should be selected. The back glass is not included when selecting any of the aperture panel operations."
Chevrolet radiator support refinish
An October
inquiry
says CCC/MOTOR doesn't provide a refinish time for replacing the front radiator support and related parts and only gives a refinish time for chrome grilles.
In response, MOTOR updated the refinish time for the support assembly to 6.7 hours and said the disassemble/reassemble refinish should only be applied to the RST model grille.
IMAGES
Featured image: Danny Gredinberg, Data Enhancement Gateway (DEG) administrator (SCRS Quick Tip video screenshot)
Share This: