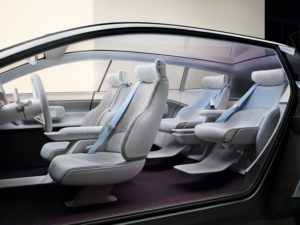 Volvo Cars has announced that its new, fully electric flagship SUV will be capable of unsupervised autonomous driving, with the caveat that the feature will not be available to use until it has been verified as safe and all necessary regulatory approvals have been secured.
The self-driving technology, called Ride Pilot, utilizes inputs from five radar sensors, eight cameras, 16 ultrasonic sensors and a lidar sensor, in conjunction with software that can be updated over the air.
Ride Pilot will first be made available in California, "where the climate, traffic conditions and regulatory framework provide a favourable environment for the introduction of autonomous driving," Volvo said.
Volvo said the purpose of Ride Pilot is to "free up more time for customers and make driving a Volvo even more convenient and enjoyable," without compromising safety.
To date, most self-driving systems, like Tesla's Autopilot, Mercedes-Benz's Driving Assistance Package and General Motors' upcoming Ultra Drive, have been semi-autonomous, requiring the driver to be watching the road at all times and ready to take the wheel or hit the brakes.
Categorized as Level 2 on the SAE International six-level ranking of automated driving, this type of system can "assist" by controlling the steering, braking and acceleration, but it is always the driver who is responsible.
Volvo's technology sounds like Level 3 capability, in which the car, rather than the human, is doing the driving. "The name 'Ride Pilot' implies what the driver can expect: when the car is driving on its own, Volvo Cars takes responsibility for the driving, offering the driver comfort and peace of mind," the OEM said.

Asked if Volvo considers its system to be Level 3 technology, a company spokesperson told Edmunds: "We do not use levels to describe autonomous functionality as we believe it is unclear for consumers. In all Volvo Cars, a car will be either autonomous (meaning the driver can rely fully on the vehicle to drive and use their time for something else) or not (the driver needs to be driving). Ride Pilot will achieve the former."
Mercedes-Benz announced in December that its fully autonomous system, called Drive Pilot, had met the German legal requirements for Level 3 driving, potentially paving the way for offering the system in other countries.
Ride Pilot, once it has been made available, will be activated over the air, and offered on a subscription basis.
"We are proud to announce the planned US launch of our first truly unsupervised autonomous driving feature, as we look to set a new industry standard for autonomy without compromising safety," Mats Moberg, head of research and development at Volvo Cars, said in a statement. "Having Zenseact's brand new AD software and Luminar's LiDAR standard in our new fully electric SUV is a game-changer for Volvo Cars, as well as for automotive safety and autonomous driving."
Volvo has said that its new EV flagship will be unveiled in 2022.
Volvo would be the second OEM, after Lucid, to bring a lidar-equipped vehicle to the North American market. Lucid told RDN that it began deliveries of the Lucid Air in late October, and that every vehicle delivered thus far is equipped with a solid-state lidar sensor.
General Motors has announced its intention to produce lidar-equipped vehicles for the North American market, with its new Ultra Cruise system, bringing lidar into mass production. That system is not expected to debut until 2023, with Cadillac going first. GM has said the Cadillac Celestiq, a new flagship sedan, will be the first model to get the technology.

Mercedes-Benz, Honda and Audi have also produced a handful of premium models that employ lidar.
Although it has a role as a safety feature, lidar is also coming to be seen as a necessary ingredient for fully autonomous driving.
Lidar, which stands for "light detection and ranging," works by firing a beam of laser light at an object, and then capturing the reflection of that beam. Its strengths — excellent performance in bad weather, an ability to detect objects and precisely measure their distance from the vehicle — make it a valuable complement to the widely used cameras and radar.
Radar works in poor weather, and is highly capable of relaying the exact position of objects in a vehicle's path, but it has low resolution. Cameras can provide excellent optical resolution, but don't have the ability to determine how far away an object might be, and don't operate well in bad weather or at night.
Volvo has partnered with Silicon Valley startup Luminar to provide its lidar units, which will be integrated into the vehicle's roofline.
"Luminar's vision is to democratize next-generation safety and autonomy, and we're already seeing this become a reality with the first vehicle launching on Volvo's new platform," Austin Russell, founder and CEO of Luminar, said in a statement. "With Luminar as standard on every vehicle, their next SUV has the opportunity to be the safest vehicle ever produced, while also being the first to enable true autonomy and at highway speed."
More information
Tech firm CEO predicts automotive lidar technology is about to go mainstream
Images
Featured image: The interior of the Volvo Concept Recharge. (Volvo Cars)
Volvo Cars' Concept Recharge safety illustration. (Provided by Volvo Cars)
Volvo Cars' Concept Recharge with Luminar's Iris lidar on. (Provided by Volvo Cars)
Share This: