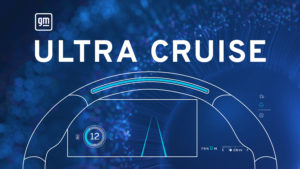 General Motors has unveiled Ultra Cruise, an advanced driver assistance system that will rely on a combination of cameras, radar and lidar, including an integrated lidar unit behind the windshield, to control a vehicle's steering, acceleration, and braking.
GM said Ultra Cruise, which builds on its existing Super Cruise technology, was designed to ultimately enable hands-free driving in 95 percent of all driving scenarios. The eventual goal, it said, is capability on all paved roads in the United States and Canada.
Ultra Cruise will debut on certain models in 2023, with Cadillac going first. GM has not yet identified the specific models.
The automaker has said that Ultra Cruise will use "more sensors" than the existing Super Cruise technology, which debuted on the 2017 Cadillac CT6, but has not revealed how many there will be, or where they will be located. We do know that there will be an integrated lidar unit behind the windshield, a capability that has not yet been reached on a production vehicle.
GM spokesman Philip Lienert did not respond to questions from Repairer Driven News, but told Consumer Reports that Ultra Cruise will have "approximately 70 percent more" of the sensors used by Super Cruise.
The planned use of the lidar unit is significant. The units are expensive, and there have been technical issues to work through, as well. Until now, their use has been limited to experimental self-driving cars, or in extreme high-end vehicles, such as the limited-edition, Japan-market Honda Legend, whose Honda Sensing Elite system incorporates five lidar units.
Lidar (light detection and ranging) units measure distance by illuminating a target with laser light and measuring the reflected light with a sensor. Differences in laser return times and wavelengths give a picture of what object lies ahead, how far away it is, and how fast it might be moving in any particular direction.
Getting lidar to work acceptably well through a windshield has been a subject of research by several manufacturers. AEye, for instance, has announced it has successfully tested its lidar behind windshield glass at a range of 1,000 meters amid rainfall.
Some drawbacks to lidar are the heat that the units generate, which could require a cooling unit if used behind the windshield, and the need for an infrared-transparent area in the glass that the unit can see through. Some lidar units have been tested mounted to the roof, where they are vulnerable to being blocked by snow, rain and insect splatter.
Not all of Ultra Cruise's cameras will be outward-looking. The system will incorporate Super Cruise's Driver Attention Camera System, which is meant to ensure that drivers keep their eyes on the road. It will also incorporate a "Human Machine Interface," through which it will present information to the driver and communicate when they need to take control.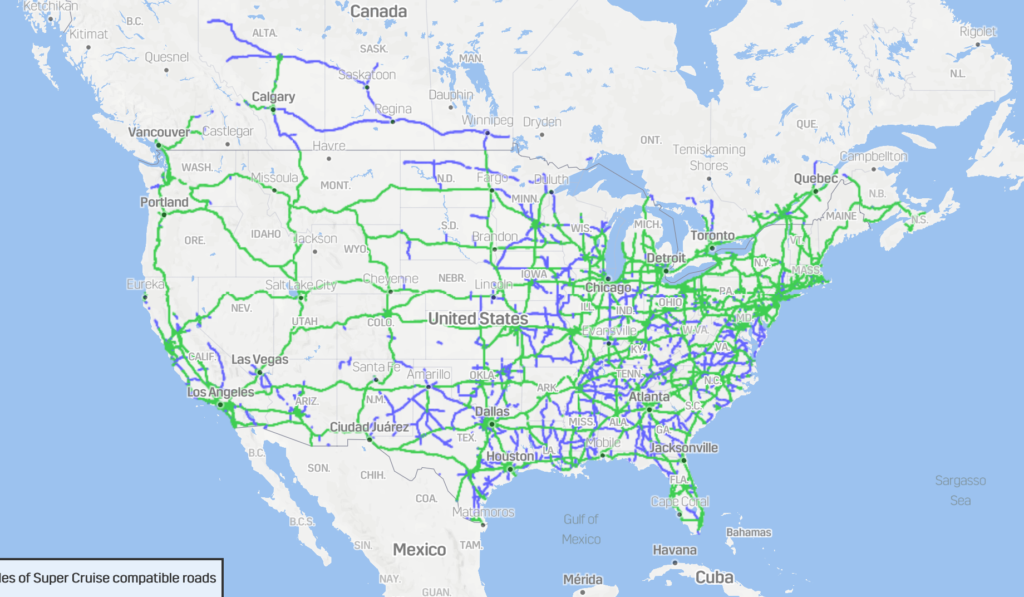 "Ultra Cruise is not just a game changer in terms of what it enables ­− a door-to-door hands-free driving experience − but a technological one as well," Doug Parks, GM executive vice president of Global Product Development, Purchasing and Supply Chain, said in a statement.
"The combination of Ultra Cruise for premium offerings and Super Cruise for lower-cost products will enable us to offer driver-assist technology across price points and segments," Parks said.
Ultra Cruise will make use of the lidar-generated road maps developed for the Super Cruise system, but will also be able to operate on roads that have not yet been digitally mapped, relying on its own array of sensors. A light at the top of the steering wheel will illuminate when the system encounters a road it cannot navigate on its own, alerting the driver to take over.
GM is also developing an Ultra Cruise app that will be viewable in the center display of Ultra Cruise-equipped vehicles only when the vehicle is parked. The app will provide more centrally located information, including driver's statistics, trips and history.
Ultra Cruise is powered by a 5-nanometer, scalable compute architecture future-proofed through the Ultifi software platform and Vehicle Intelligence Platform. Ultra Cruise can add features, functions and services over time through frequent over-the-air updates.
With its reliance on several types of sensors, and its monitoring system to make sure drivers keep their eyes on the road, Ultra Cruise stands in contrast to Tesla's Autopilot system. Tesla in May announced it would eliminate the Model 3 and Y's radar on new North American deliveries effective this month.
Tesla said the vehicles would be its first to run its Autopilot advanced driver assistance system suite and "certain active safety features" using cameras alone. It calls this "Tesla Vision."
The Model S and X will keep radar and rely on it for Autopilot "until we determine the appropriate time to transition those vehicles to Tesla Vision," Tesla said.
Tesla said switching the higher-volume Model 3 and Model Y "allows us to analyze a large volume of real-world data in a short amount of time, which ultimately speeds up the roll-out of features based on Tesla Vision."
Images:
Featured image: Graphic of Ultra Cruise system (General Motors)
Map of Super Cruise compatible roads (Cadillac Motor Division)
https://supercruise-map-viewer.cp.gm.com/
More information:
GM Announces Ultra Cruise, Enabling True Hands-Free Driving Across 95 Percent of Driving Scenarios
https://media.gm.com/media/us/en/gm/home.detail.html/content/Pages/news/us/en/2021/oct/1006-ultracruise.html
Next generation Volvo cars to be powered by Luminar LiDAR technology for safe self-driving
https://www.media.volvocars.com/us/en-us/media/pressreleases/268323/next-generation-volvo-cars-to-be-powered-by-luminar-lidar-technology-for-safe-self-driving
AEye continues to find success testing lidar behind windshield
Cadillac: Automated Super Cruise lane changes possible on '21 CT4, CT5 and Escalade
Share This: