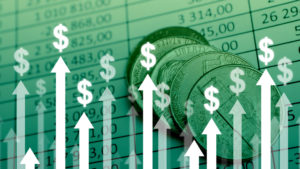 Supply chain issues go hand in hand with increased costs – that's a given that repairers and business owners see at work and at home – and as inflation rates soar, what are the factors that lie behind the current economic grappling?
Collision repair shop owners are facing rising commercial insurance, parts, material, shipping and utilities costs as prices adjust for inflation while CCC Intelligent Solutions Senior Director and Industry Analyst Susanna Gotsch said insurers have seen the cost per claim rise sharply over the last two years.
Insurers base their rates on historical frequency, or the number, of claims and repair costs. For decades, both had been consistent until the pandemic hit.
"With the pandemic, however, it has been difficult to estimate how quickly claim counts would return to pre-pandemic levels as there was no historical precedent," Gotsch said.
A Wills Towers Watson's Commercial Lines Insurance Pricing Survey (CLIPS) compared commercial insurance prices charged during the second quarter of 2021 with those charged during the same quarter in 2020, and found that prices rose just above 6% on average.
The cost of raw materials going up, parts and chip shortages as well as supply chain issues including cargo ships backlogged at Los Angeles and Long Beach ports have all led to the inflation hike.
As Gotsch pointed out, when the COVID-19 pandemic hit, goods were stuck on the other side of the world and as outbreaks continue overseas raw materials and goods production as well as shipping capabilities remain limited. Demand also surged at a much faster rate than anticipated.
Gross domestic product (GDP) –  a comprehensive measure of U.S. economic activity – increased at an annual rate of 2.3% in the third quarter of 2021, following an increase of 6.7% in the second quarter, according to the U.S. Bureau of Economic Analysis. The bureau attributed the slowdown to decreased consumer spending and a resurgence of COVID-19 cases that led to new restrictions and delays in businesses reopening.
The annual Consumer Price Index rose 7% by the end of December over the last year, which was the largest 12-month increase since the period ending in June 1982. A November Pew Research article attributes the "acceleration" of the inflation rate to "continuing disruptions in global supply chains amid the coronavirus pandemic; turmoil in the labor markets; the fact that today's prices are being measured against prices during last year's COVID-19-induced shutdowns; and strong consumer demand after local economies were reopened."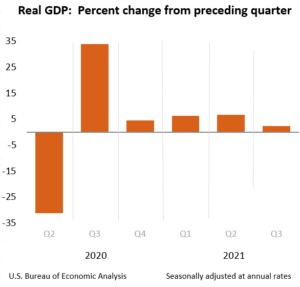 As chip supply improves and automakers start to ramp up production, there will likely be suppliers who could shift their focus to making parts for new vehicles versus existing vehicles. "It's a much more lucrative proposition for them and they can make bigger batches of it and not worry about it sitting there and not getting used," Gotsch said. She predicts the same for the aftermarket side of the industry.
Replacement parts
Last year saw substantial increases in the cost of all replacement parts. The average aggregate cost per replacement part through early December went up more than 8% in 2021, which Gotsch called "unprecedented."
Historically, annual increases have been in the 0.5-1.5% range, she said. "It's not just windshields, it's not just sheet metal, it's not just aluminum," Gotsch said. "It's across all part types whether it's aftermarket or OEM.
"The challenges are when you look at repair costs, for example, historically about 42% of the overall cost is for replacement parts so we know we've got significant inflation there and that's been in place through 2021."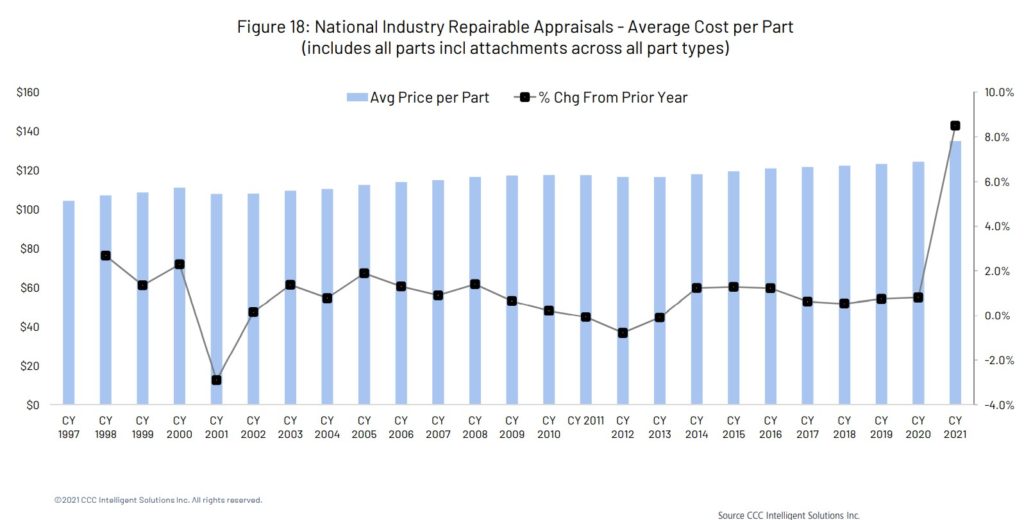 While the rise in parts costs are a large portion of what insurance companies are seeing as repair costs escalate, that's not necessarily a contributing factor to overcoming or easing the other rising costs facing collision repair businesses.
"We're in a market where frequency is slowly recovering, but costs have accelerated at a much, much faster rate than anybody had anticipated," Gotsch said.
Mitchell International Claims Performance Director Ryan Mandell said there are "two different forces at play" when it comes to inflation – core, or real inflation based on individual part prices, and complexity of parts.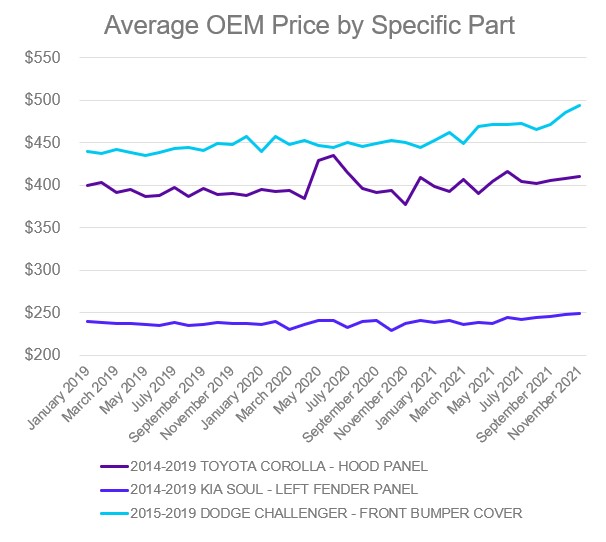 "Parts have been relatively stable for some time and those parts prices increased then obviously that just increases the overall cost of repair," Mandell said. "The paint material side, we're seeing most shops outside the Southeast pretty much just use an hourly rate to calculate their paint materials. I think we're going to see a lot of fluctuation in those prices over the next couple years so that's going to play into this as well in addition to all of the actual pure core inflationary pressures."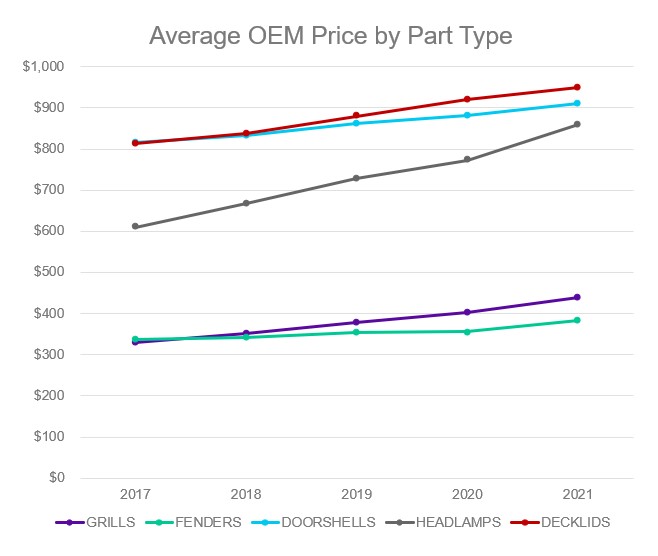 Parts that have to do with technology have the highest cost increase followed by grills because of front-wave radar sensors, according to Mandell.
Mandell noted that insurers are looking at inflation from the cost side and plays a role in total loss outcomes. Total loss frequency is declining right now with the rise in used car prices, he said. Used car prices have been going up since 2020, purportedly due to the pandemic decreasing the amount of new cars being manufactured. Look at it this way – if a car that was worth $10,000 six months ago needs a $6,000 repair it's likely going to be deemed a total loss. On the other hand, if it's worth $12,000, the $6,000 repair will likely happen, Mandell said.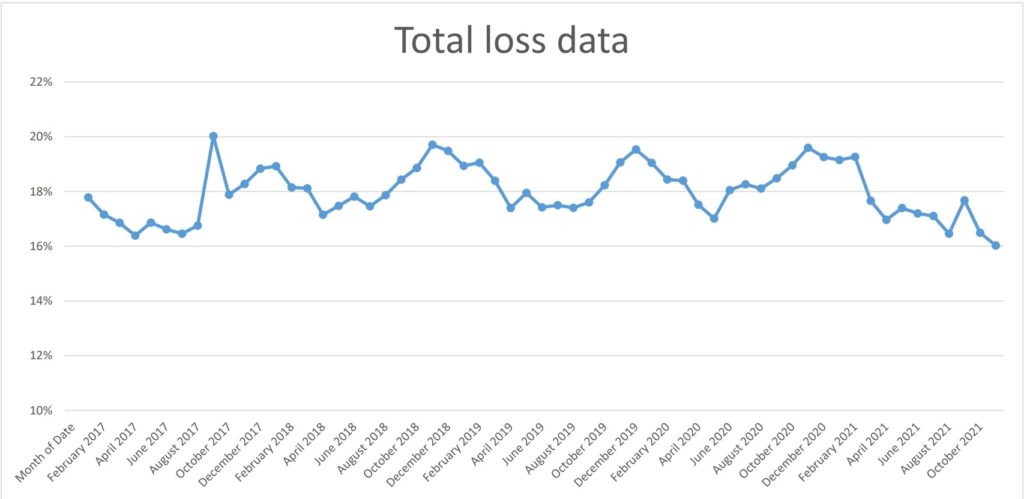 Gotsch wrote in CCC's 2021 Midyear Crash Course Report that repair costs for all loss categories increased 6% from the second quarter of 2020 to the first quarter of 2021.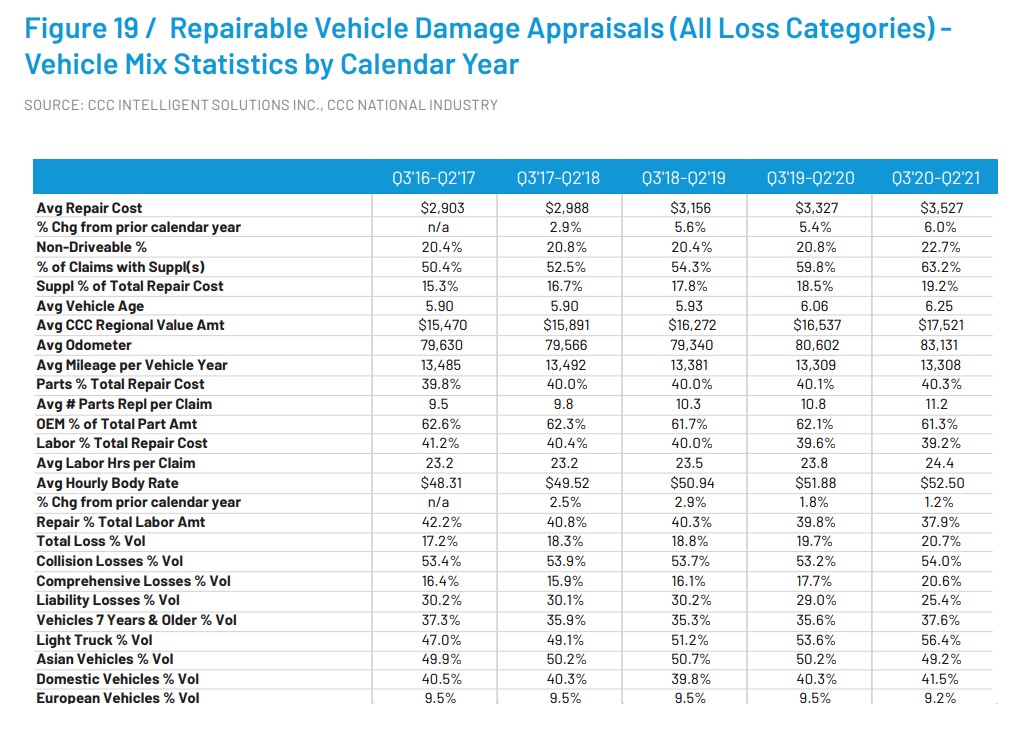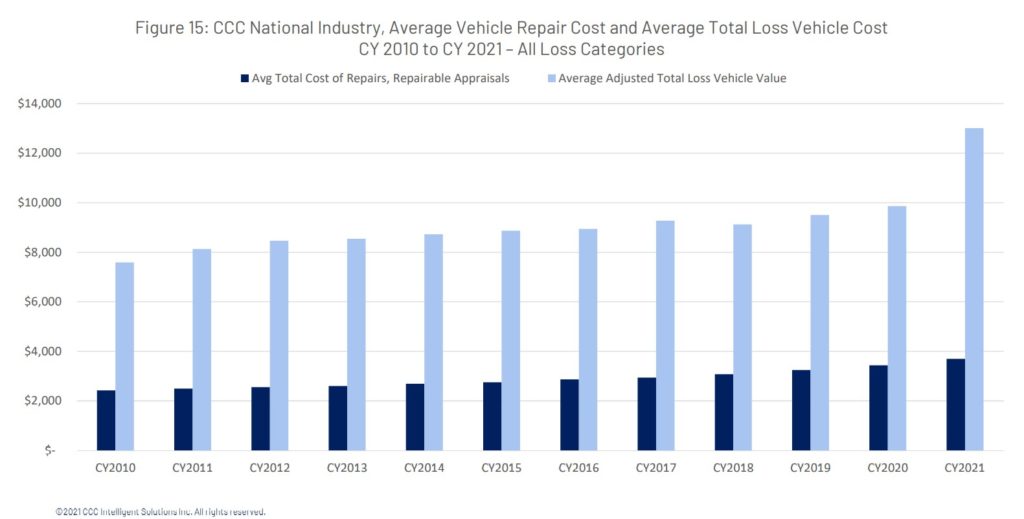 In just one of many articles detailing repairer and consumer frustrations with supply chain shortages pushing out repair times – what used to take days can now take weeks or months – The Detroit News reported in December that the extended repair time is caused by collision shops and dealers having to wait on needed parts leaving customers without a ride. Those that have the option for insurance to pay for a rental are met with time running out and paying out-of-pocket to rent. Enterprise Rent-A-Car's 2021 third quarter U.S. Length of Rental (LOR) report showed a national average LOR of 15.2 days – an increase of almost three full days when compared to the 2020 third quarter report.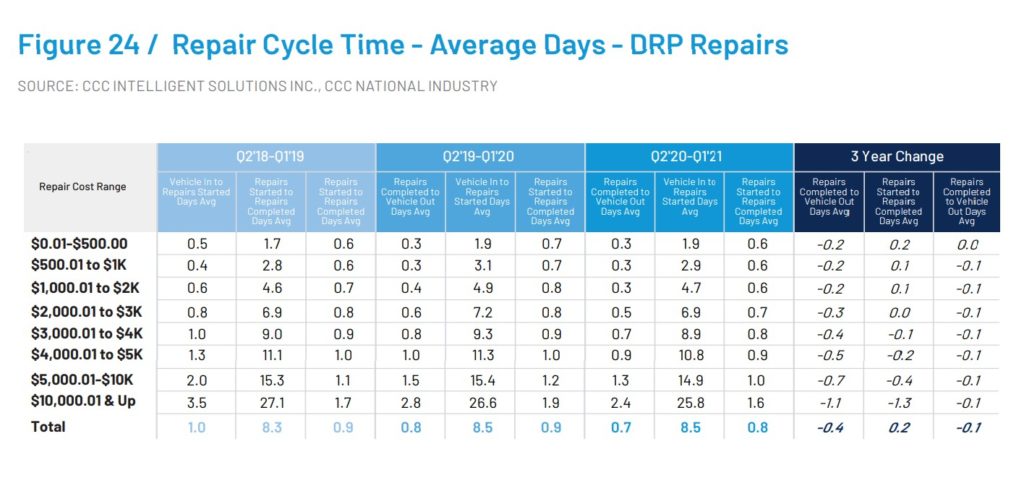 Paint and other materials
Paint price hikes had already been happening for several months by July 2021, due to "unprecedented" rising costs for raw materials. PPG Industries increased its prices twice from August 2020 to August 2021. Chairman and CEO Michael McGarry said during a second quarter earnings call those increases paired with rising transportation costs "drove raw material inflation to be up a mid- to high-teen percentage on a year-over-year basis versus our original estimate of a high single-digit percentage increase." He added that despite PPG prioritizing selling price increases across all of its businesses, the "inflationary environment" was worse than expected.
PPG wasn't alone; every refinish company communicated larger, and more-frequent than usual increases. In fact, readership documented three price increases from Sherwin-Williams over the course of 2021 on Jan. 1, Aug. 1 and Nov. 1.
A flyer from Sherwin-Williams details out paint cost increases and shortages as a consistent result of raw material price increases, ongoing raw material shortages due to the impact of Winter Storm Uri, trade conflicts and the COVID-19 pandemic as well as increased labor shortages. Resin and latex costs have gone up 11-19%, pigments by 1-2%, containers 7-12% and additives and solvents by 17-30%, according to the flyer.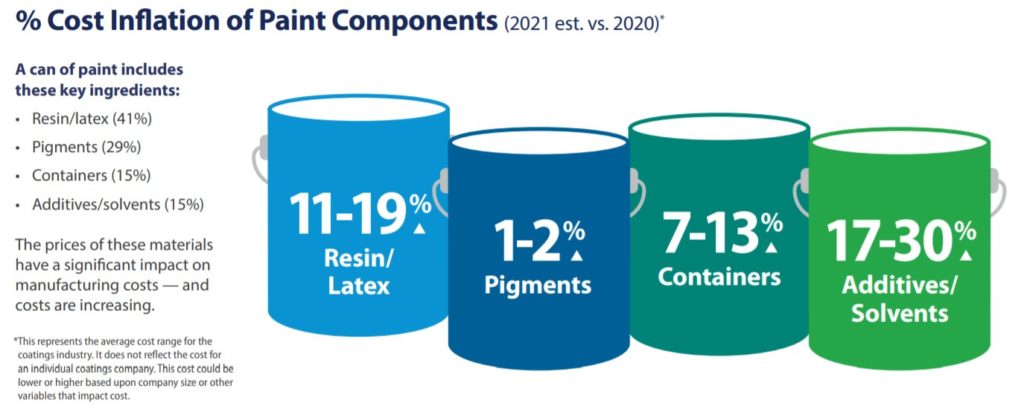 In a July 15, 2021 press release announcing price increases, Axalta Coating Systems CFO Sean Lannon said even with "aggressive cost-control" measures the company was facing "extraordinary cost and inflationary pressures." Axalta is a global supplier of liquid and powder coatings.
"These pressures have made it necessary to appropriately raise prices to help offset ongoing cost increases and ensure our ability to continue delivering exceptional support, innovative solutions, and best-in-class products to our customers," he said.
British Coatings Federation reported earlier this month that in the last quarter of 2021 solvent prices were up 78% by the end of November compared to the same time in 2020 and resins and related materials were 39% higher. Packaging prices were also up by 19%.
Echoing Sherwin-Williams' report, Mandell also referenced factors that led to recent increases are manufacturing and shipping costs going up. Raw material prices have increased significantly, especially steel and plastics, which the creation of requires petroleum and petroleum costs have also increased, he said.
"All of that is going into this situation where the manufacturers' input costs have increased and they don't have the same flow of volume and so they have to make up for that margin in some way," Mandell said. "You also have to think about manufacturers in terms of how they've been impacted throughout this pandemic.
"While used car prices are extremely high right now we still haven't seen a return to the dealer volumes that we've seen in the past and so manufacturers need to make up profit lost from the sale of new cars and so parts is one strategy for doing that."
Mitchell plans to release a comprehensive study based on 2021 data on several parts to determine the real inflation impact last year.
Many companies have had to pass on increased costs for packaging, freight and other expenditures on to their customers.
Trade publication USGlass magazine reported in May that architectural glass fabricator Viracon had notified customers of a upcoming price increases of 8-13% on float glass and coated float glass due to increases from primary glass suppliers.
Concrete accessories manufacturer and distributor OCM Inc. and Yamato Transport USA are just a couple of several companies that announced freight surcharges to offset increasing costs. OCM stated in a March 23, 2021 notice to customers that it could no longer absorb the full cost of shipping on freight orders and would soon implement a 3% surcharge.
"… market conditions continue to put immense pressure on the cost of raw materials and finished goods," wrote Ray Sullivan, vice president of sales and marketing, in the notice. "At the same time, rising diesel fuel costs and a limited supply of drivers have also increased shipping rates dramatically and this trend is expected to persist over the next few months.
Yamato began charging a 6.5% emergency situation surcharge in April 2020 in addition to its fuel surcharge citing "sharp increases in air freight costs due to flight suspensions and unexpected additional costs for internal and external safety measures" due to the pandemic.
Raw materials
CRU Group's Jan. 11 Steel Market Update reported hot rolled steel dipping below $1,500 per ton for the first time since April 2021 with prices reaching a high of $1,955 per to by September. The average price this week is $1,480 per ton, down $55 from last week with cold rolled and galvanized steel prices seeing similar declines of $30-45 per ton, according to the report.
In May 2021, The Dow Chemical Co. increased its glycol ether prices five to 10 cents per pound. Global journal Coatings World reported in January 2021 that sharp price increases for epoxy resins and supply bottlenecks were adding to the difficulties of paint and coatings manufacturers in the United Kingdom and across Europe compounding the "already existing pressures" caused by the pandemic.
"Strong demand from certain markets is driving up prices while an unexpectedly rapid V shaped recovery in China is also fueling demand for these essential raw materials," the report states.
The U.S. Energy Information Administration reported earlier this month that crude oil climbed more than $13 from December to January to around $80 per barrel. In 2021, the average price was more than $70 per barrel as the global demand for petroleum products increased faster than production, leading to global inventory draws, according to the EIA.
Rising utilities costs also must be considered as consequences of inflation, and that's not limited to an added expense for shop owners – households and businesses across the board are feeling the sting. The U.S. Energy Information Administration's Winter Fuels Outlook 2021-2022 report found that 48% of households heat their homes with natural gas and it's estimated they'll spend over 30% more to do so than they did last winter. The EIA estimates the 39% that heat with electricity will spend over 6% more.
While a much smaller portion of the population heats their homes with heating oil and propane — 4% and 5% respectively – they're likely seeing the highest cost increases. The EIA estimated heating oil will cost 43% more and propane 54% more this winter.
For a large business, or even smaller shops with budgets that are already tight – imagine how hard increases such as those could impact bottom lines. And it's not just heating costs. Energy prices are up 33.3% overall with fuel up 59.3%, natural gas up 25.1% and electricity up 6.5%, according to the November Consumer Price Index by the U.S. Bureau of Labor Statistics.
Ron Reichen, owner of Precision Body & Paint in Oregon, said his natural gas bill has gone up 11% making it $7 an hour to operate each of his paint booths. One of his locations has six booths that run 15 hours a day – that's $630 a day just to operate the booths at one location.
Labor rates
Labor rates are always the last cost to change when it comes to inflation because once they're up, employees won't be happy if they're brought back down, Gotsch said, but it's a fight repairers and advocacy groups have been waging for several years. One recent example is when auto body shop owners told Massachusetts representatives and senators in September that they're reimbursed an average of $40 an hour for skilled labor, which they said is the lowest rate in the nation. They testified during a Joint Committee on Financial Service hearing that insurers use a "prevailing rate" that's based on deals made with a minority of Bay State repairers, and that the state needs to step in to regulate the rate. The fight against the prevailing rate practice is also being fought in Texas. 
Gotsch predicts the auto technician shortage will get worse this year as demand rises and shops start increasing labor costs. "Those costs will have to be passed along to the marketplace."
When insurance companies deny the rate increase, shops have very little options, and oftentimes this difference further strains small businesses to the point of closure or consolidation or forces them to pass costs on to their customers. Arguments made by insurers to legislators that increased rates will raise premiums feels empty when consumers are saddled with the direct bill for items that are denied in claims.
During a Jan. 11 Auto Body Association of Texas meeting, AkzoNobel Performance Coatings Senior Services Consultant Tim Ronak cautioned against waiting for the consequences of inflation to take their toll. Small businesses, he said, tend to have a reactive response to cost increases and lose profits rather than increasing prices ahead of time like larger businesses usually do with a strategic proactive approach. Ronak noted that labor rate increases are valuable but not as much as getting paid for all the procedures that need to be performed.
"I don't want you thinking that if a labor rate increase isn't coming then your world comes to an end," he said. "There are other pieces of this equation that you need to be able to bill for."
Ronak recommended using the Billable Genie tool to identify operations that shops aren't billing for and said now is the time to figure out how they'll pay their employees more to help them cover the cost increases they're facing at home. ABAT encouraged shops to take labor rate surveys to keep databases current and make the market more fair for everyone in the collision repair industry.
Moving forward, Gotsch recommends shops lay out their cost structures, what's driving their costs, know what costs they can cover and those that they can't, what can be managed by changing processes rather than raising costs. Should be able to break down reasons for cost increases and cost structure to insurers.
IMAGES
Featured image: Collision centers and body shops say supply chain issues go hand in hand with inflation and insurance companies are slowly taking rising costs into consideration. (Credit: gesrey/iStock)
Average OEM price by part type and specific part charts (Ryan Mandell, Mitchell International)
Total loss chart (Ryan Mandell, Mitchell International)
Percent cost inflation of paint components graphic (Sherwin-Williams Co.)
Share This: