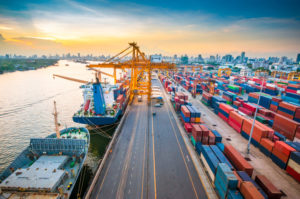 President Joe Biden announced last week an agreement for new around-the-clock port operations in Los Angeles as a way to try and free up a link in the clogged global supply chain wreaking so much havoc on so many industries and consumer goods in the U.S.
The Biden administration also got a commitment from retailers like Target and Walmart to move more of their goods at night.
Biden called all that a "big first step," but also said, "we need the rest of the private sector chain to step up as well."
The Port of Los Angeles is the top gateway for U.S. oceanic trade with China, and despite it being very jammed up, imports through it are up 30 percent compared to last year's record-setting pace. It joins the Port of Long Beach in moving to a 24/7 operation, meaning 40 percent of arriving U.S. port goods will be handled constantly.
Or at least that's the plan.
The U.S. Department of Commerce estimated that 76 percent of all American trade is handled by U.S. ports. At the Port of Los Angeles, some 250,000 containers of cargo are stacked up on the docks, which has blocked the flow of other ships that need to access the port. The average anchor time in the Port of Los Angeles is more than 11 days.
Turning that around would certainly be quite helpful.
Still, operating the Port of Los Angeles – which is made up of lots of separate entities, is overfull and understaffed and must determine how in the world to operate all the time as quickly as possible — 24/7 is just a tiny piece of a really large puzzle.
"What the president's doing isn't going to really hurt," Steven Ricchiuto, the U.S. Chief Economist at Mizuho Securities, told Reuters. "But at the end of the day, it doesn't solve the problem."
That's because so many links to the global supply chain have grown so very thin.
Perfect storm
Unprecedented labor shortages – jobs openings rose to a record 9.3 million in the U.S. in April and that trend has remained – are another big problem as are equipment shortages and a lack of storage space.
Really, the list goes on and on and on.
By a giant margin, Americans are the world's top consumers and they have illustrated that during these latter stages of the pandemic that is eying its third U.S. birthday in less than three months. There is pent up demand to buy new cars, and to stop pushing back the repairs needed on the ones they have.
But a lack of parts has crippled the automotive industry.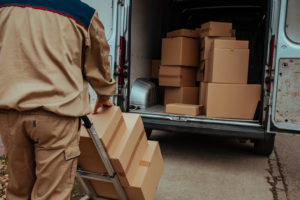 Repairer Driven News reached out to several automakers for comment on this story, but only Honda responded.
Dane Rounkles, Honda's wholesale parts and marketing manager, said he knows well everyone involved is extremely aggravated with parts delays.
"Absolutely," Rounkles said. "I believe every manufacturer is facing the same problems. Consumers, dealers, shops, everybody in between, they need the product to be able to take care of the consumer. It's frustrating for consumers and it's frustrating for us to not be able to fulfill that."
Unfortunately, there seems to be not only no quick fix, but, frankly, no end in sight because the problems are literally all over the map.
"As far as an end in sight, right now it's unknown because as you know it goes all the way back to raw material all the way to delivery to the door," said Rounkles, who pointed out the biggest U.S. impact began last March and April as things began opening back up. "I can't give you an idea of end in sight because every segment is affected differently.
"One segment will get up and going and the next segment down the line has a shortfall of something and we move on down the line and maybe we're back to the middle of the supply chain because we have an issue there."
Even as the global economy finally begins to slowly start recovering, the supply chain is getting no boost.
In a report released last Monday, Tim Uy of Moody's Analytics said the supply chain problems "will get worse before they get better."
"As the global economic recovery continues to gather steam, what is increasingly apparent is how it will be stymied by supply-chain disruptions that are now showing up at every corner," Uy said.
"Border controls and mobility restrictions, unavailability of a global vaccine pass, and pent-up demand from being stuck at home have combined for a perfect storm where global production will be hampered because deliveries are not made in time, costs and prices will rise, and GDP growth worldwide will not be as robust as a result.
"Supply will likely play catch up for some time, particularly as there are bottlenecks in every link of the supply chain – labor certainly, as mentioned above, but also containers, shipping, ports, trucks, railroads, air and warehouses."
Automotive industry crashes
The automotive industry has perhaps taken the biggest hit from the supply chain problems.
In fact, according to a recent survey conducted by the Economist Intelligence Unit for Citi among 175 supply chain managers, 51.7 percent of respondents from the automotive industry said the supply chain disruptions were "very significant," the highest proportion among the six industries surveyed.
In August, IMR Inc., surveyed 500 automotive repair shops nationally represented by their U.S. locations about supply chain disruptions since the beginning of the pandemic. Every single one – 100 percent – reported that it is taking longer than normal to complete repair jobs. About half say they are "frequently" having delays in receiving parts and 34.3 percent of shop managers said they are "occasionally" having disruptions due to lack of parts.
According to IMR, 74.3 percent of shops are asking customers to wait longer to bring in their vehicles for repairs.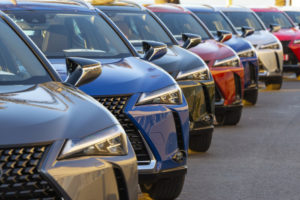 The most common reasons for the repair and service backup (taking an average of a day and a half longer) were delays in receiving parts (45.7 percent), parts distributors running short on drivers (41.4 percent), a shortage of technicians available for work (25 percent) and difficulty in finding qualified technicians (14.3 percent).
Quite a few collision repair shops and consumers report customers taking their vehicles back before all the trim is replaced. Rounkles said, at least for Honda, trim parts have not been put on the back burner.
"One thing we have not done is we have not said, 'OK, we don't need trim, we need fenders,'" Rounkles said. "We haven't done that. We have orders out for everything and we're constantly getting freight in just as soon as the supplier can get it to us.
"We haven't cut off areas of supply. All our orders are still there just as if we were doing business two years ago. We haven't altered our requests."
What comes in and what does not depends on so many factors.
"It depends on materials, the supplier, the location of the supplier all the way to the raw materials to the vendor who supplies it to us," Rounkles said. "Different parts of the world are experiencing new surges in Covid. There's the labor shortage."
As far as distribution of Honda parts, Rounkles said the process is the same – corporate delivers to the dealers who distribute them to repair shops.
"As far as how our dealers receive [parts], we do it based on when the part was ordered vs. how many quantities we have coming in," Rounkles said. "Once we receive that quantity, then we go back and fill the backorders, basically, oldest to newest.
"In some cases, our vendor may have the part, but we can't get it here. There are a million different reasons why we have a back order."
Production of new vehicles has taken a massive hit from Covid. A September study by consulting firm Alixpartners reported global automakers could lose $210 billion in revenue this year because of the clogged supply chains. Automakers are on track to lose production of 7.7 million vehicles this year.
Honda briefly halted production at most of its U.S. and Canadian auto factories last March due to the supply chain shortages. Toyota had a shutdown in output from its Kentucky plant that led to cuts in the building of Camry and Avalon sedans and its hybrid version of the RAV4 SUV.
General Motors, Ford and Nissan all have announced production cuts or temporary shutdowns due to a shortage of chips.
VW said the unexpected Texas blizzards as well as the chip shortage left it with a big backlog of unbuilt vehicles. VW is trying to make that up now in the midst of the prolonged supply chain debacle.
The chips are down
A study by IHS Markit also released last month said largely due to semiconductor shortages and the delayed packing and testing of the chips, production of global light vehicles will fall by five million this year.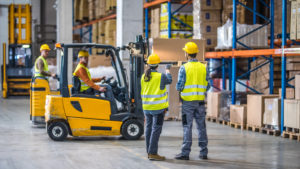 Honda's Rounkles' expertise is collision, not chips, but he has a bit of an understanding on this issue of the lack of chips that's been at the forefront for quite some time.
"It was first recognized and made more public because of how it affects new car production, let alone replacement parts," Rounkles said. "It does fall right along with everything else. The demand is greatly higher than the supply, currently."
Automakers may feel largely helpless, but they are trying to come up with solutions to the supply chain choking.
"I know we are doing a tremendous amount of things to get this resolved," Rounkles said. "Our suppliers have really stepped up and they're getting it handled as best they can with what they have to work with."
For instance, there's a pronounced shortage of plastic resins and sheet metal. Some of the biggest producers of those are working feverishly to try and prepare orders out through 2022, something Rounkles said was a big positive.
And Honda has been trying to be very proactive with sheet metal.
"We requested an increase in sheet metal that we actually stamped and we received an increase in stamping," Rounkles said. "However, that doesn't eliminate back orders because we have different vendors who do different pieces. So we still have some back orders on sheet metal.
"At this point, sheet metal is looking pretty good, but it's not perfect by any means. We still have numerous back orders out there whether that be for a tailgate or a quarter panel."
There is a silver lining that should last far longer than this supply chain meltdown. Lots of suppliers and other industries have been working to ensure this paralysis doesn't happen again.
"I believe we will all learn from this and put safeguards in so it doesn't happen again … or at least try to prevent it to the best of our ability," Rounkles said.
Images:
Featured: Ports handle 76 percent of incoming U.S. trade goods according to the U.S. Department of Commerce. (primeimages/iStock)
Other images: Dating back to the start of Covid, every portion of the global supply chain has been affected, including last-step deliveries. (Dimensions/iStock); New vehicle lots are seldom full due to the supply chain blockages. (Tramino/iStock); Storage in warehouses is even greatly affected by the supply chain issues. (Simonkr/iStock)
More information:
Supply chain and COVID-19: shops discuss changes; Uni-Select says some sites closed
Toyota defines authorized supply chain, 'Toyota part,' says warranties don't carry downstream
Term for OEM parts outside of official supply channel, warranty deadlocks CIC panel
Share This: