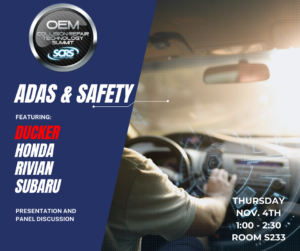 The Society of Collision Repair Specialists (SCRS) has announced that the final presentation, Session III, of its 2021 OEM Collision Repair Technology Summit (Summit) during the SEMA Show will be on Advanced Driver Assist Systems and Safety.
Session III will take place from 1-2:30 p.m. on Thursday, Nov. 4, in the Upper Level of the South Hall of the Las Vegas Convention Center. To register for the Summit in advance, visit www.scrs.com/2021RDE, or tickets can be secured onsite at the event outside education classrooms S229-S233.
The session will kick off with a presentation from Abey Abraham, Managing Director of Automotive and Materials, and Scott Ulnick, Managing Principal at Ducker – a research and consulting firm with a rich history in the automotive space providing in-depth market research and strategy consulting to automotive OEMs and suppliers. The duo will deliver the audience with a market-based overview of ADAS and safety technologies nuances, and a practical view on key existing technology as well as developments to come.
Abraham and Ulnick are both veteran presenters in SCRS SEMA programs, having delivered past presentations during previous iterations of the Summit, and the IDEAS Collide Showcase. 
Following the introductory presentation, Ducker will welcome a panel of automakers – Honda, Subaru and Rivian will be represented — to conclude the session by discussing their specific vehicle platforms and their unique collision repair considerations.
Abraham and Ulnick will be joined onstage by Ted Hicks, Subaru of America, Regional Technical Training Manager; Scott Kaboos, American Honda Motor Co., National Assistant Manager of Collision Repair Training and Technology; Frank Phillips, RIVIAN, Manager, Collision Repair Program; and Taylor Jozwiak,  RIVIAN, Collision R&D Workshop Manager.
ADAS and safety go together, of course, and that's happening more than ever now as safety provisions are being assessed and passed at the governmental level, increased integration of crash avoidance features and safety tech grows and the further development of safety and ADAS in vehicle designs accelerate.
Understanding what all that means for the collision repair industry is as important as understanding the vehicle-specific integrations of the technology. While these technologies are effective, they do not fully eliminate the crashes and resulting damage they are designed to prevent. The safety benefits of crash avoidance technologies can only continue to be realized by consumers when they are fully restored in the repair process after a collision.
"This Summit has always been about how we help the industry understand the ways in which the sophisticated advancements in automotive technology are going to reshape how we approach collision repair," said SCRS Chairman Bruce Halcro. "This session continues to build on the other programs we've delivered to highlight both the trends and the specific automotive developments we are seeing in today's vehicles.
"There is no one in the collision repair space who wouldn't benefit from increased understanding of the systems designed for occupant protection, and the ways in which we can be good stewards of that technology in the repair process."
There will be two other OEM Summit sessions held before the ADAS and Safety presentation on Nov. 4.
From 9-10:30 a.m., Session I will be about Electric Vehicles (EVs) and will include representatives of General Motors, Lucid Motors and Rivian discussing their unique EV platforms, their history, construction and repairs, which should greatly help collision repair industry workers adapt.
From 11 a.m.-12:30 p.m., Session II will feature Ryan McMahon, the Vice President of Insurance and Government Affairs for Cambridge Mobile Telematics. McMahon's presentation will be on Data Acceleration.
Summit sessions can be selected individually or as part of the Full Series Pass. To register or to learn more, visit www.scrs.com/2021RDE.
Images:
Featured: Society of Collision Repair Specialists Education logo. (SCRS)
Video: Scott Ulnick, the Managing Principal of Drucker, will be making another appearance for SCRS during the SEMA Show. (SCRS/YouTube)
More information:
Cambridge Mobile Telematics VP to present at OEM Summit During SEMA
SEMA issues update on health, safety requirements for 2021 show
SEMA: New collision location allows larger booths, more exhibitor space at 2021 show
Share This: